One Nation Fizzles Together: Pictures from 10/2/10 Rally in DC


A Walk through the Rally
Sign-a-palooza: Party-approved and not-so-much
The list of sponsors: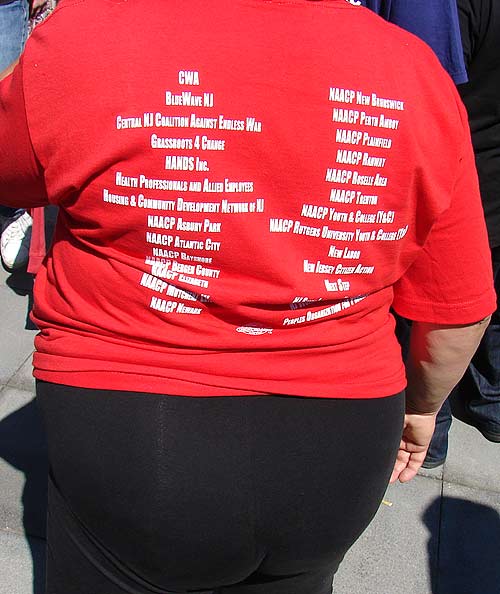 Some of the main themes of the rally: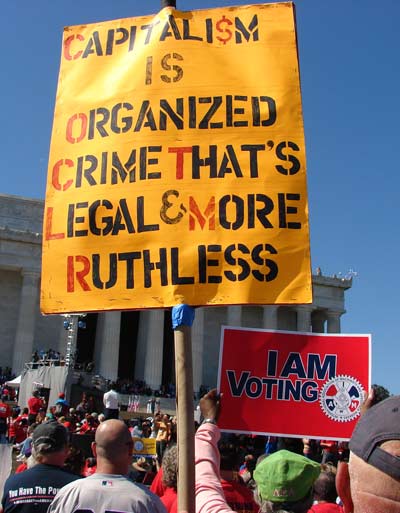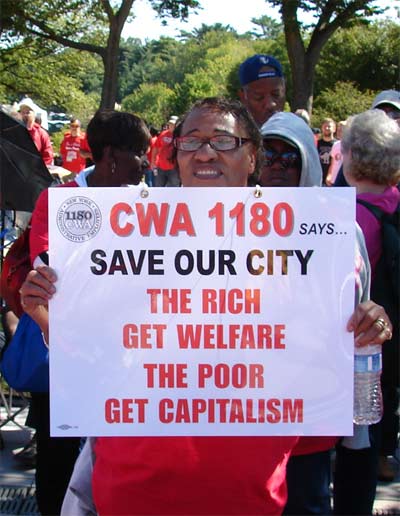 A lot of money went into paying capitalist corporations for providing the rally with free water and port-a-potties. The toilets were almost as numerous as the participants. Judging by the omnipresent rows of port-a-potties alone, the organizers hugely overestimated the turnout.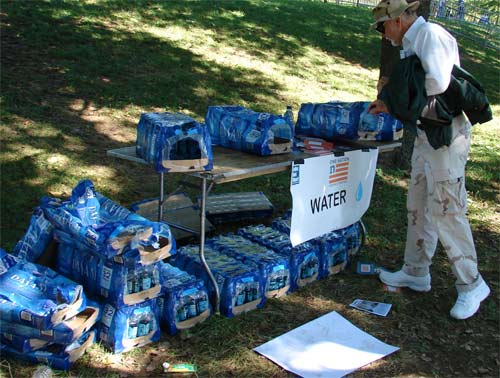 This "Uncle Sam" obviously regrets not making his stilts lower than the door of the port-o-potty. Will he be smart enough to use his red plastic pipe as a catheter tube?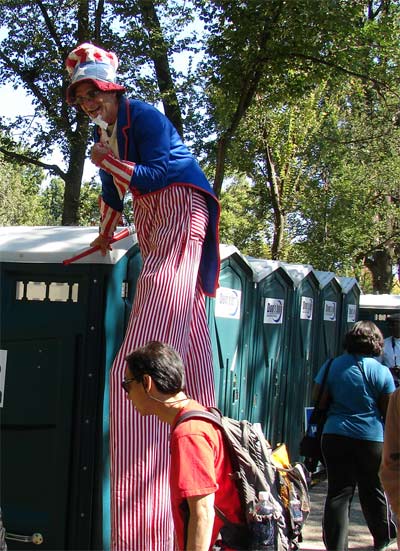 Local law enforcement had also expected a greater and a more energetic crowd. The machine gun was out of place on this empty, sleepy lawn.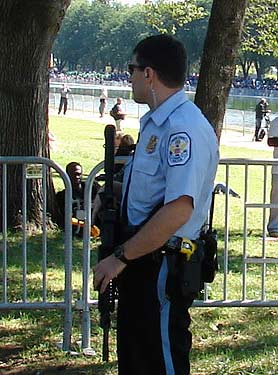 The area around the stage was initially more crowded.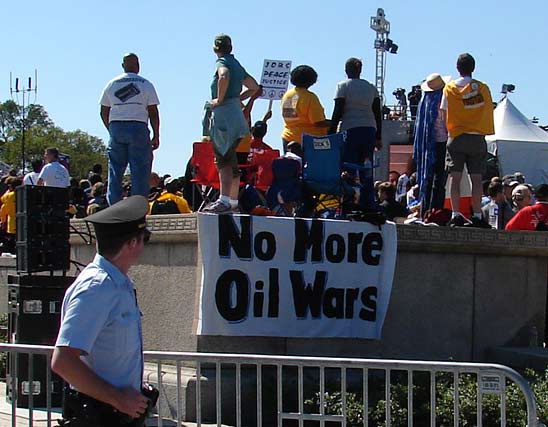 The stationed policemen resembled characters from The Matrix.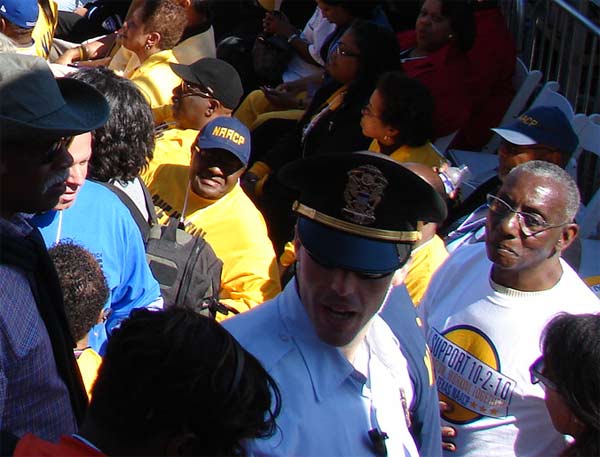 The media was also prepared and showed up in full force.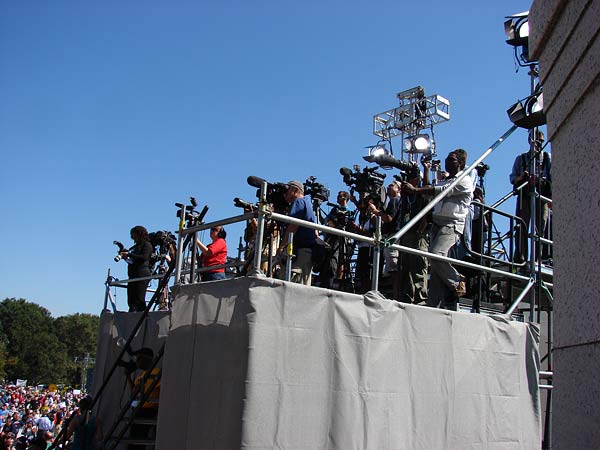 Each union had its own color-coded pen.
American Federation of State, County and Municipal Employees (AFSCME)
is the largest public employee and health care workers union in the United States.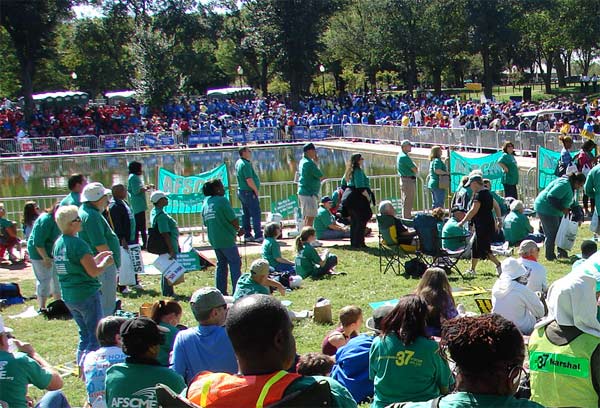 Whatever union held the reservation for this are must have canceled due to low interest.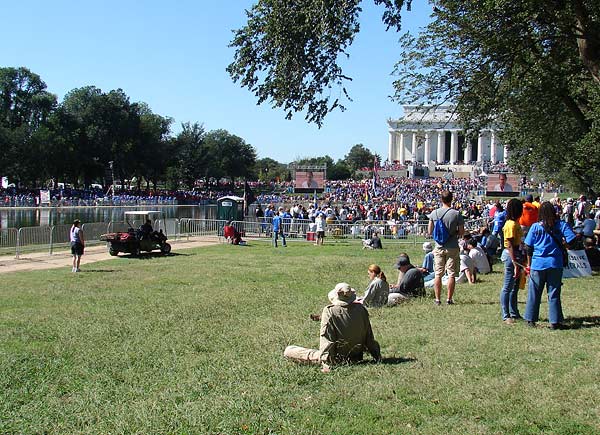 Unionized teachers protest the recently released documentary blaming the failing public schools on the unions - Waiting for Superman.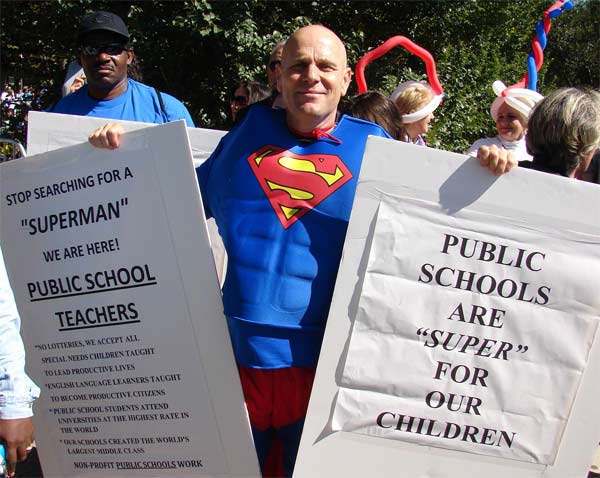 American Federation of Teachers (AFT) has more than one million members nationwide, and has grown into a trade union representing workers in education, health care, and public service.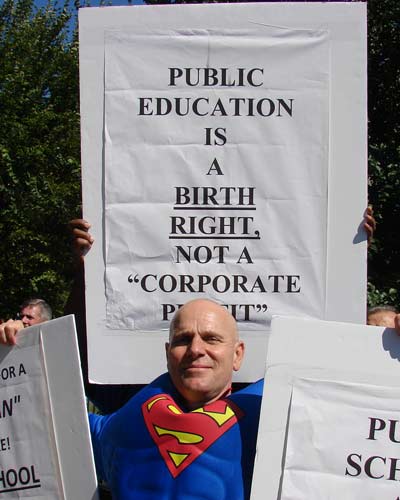 Did someone say "Superman"?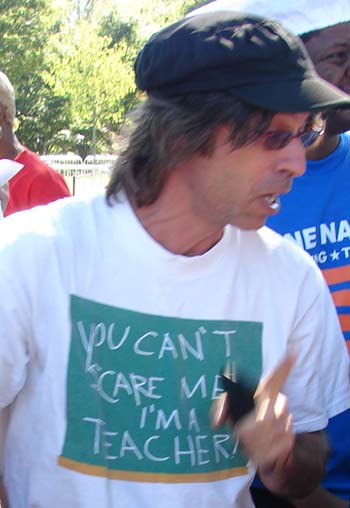 The National Education Association (NEA) is another union defending public schools. Along with SEIU, they probably had the greatest head count at the rally.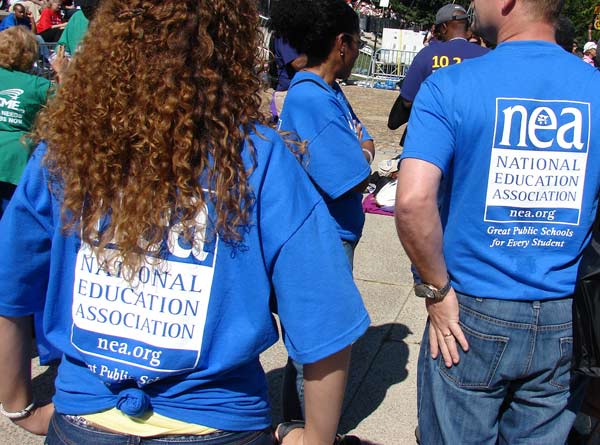 Public schools couldn't give the kids correct education without the parents' participation!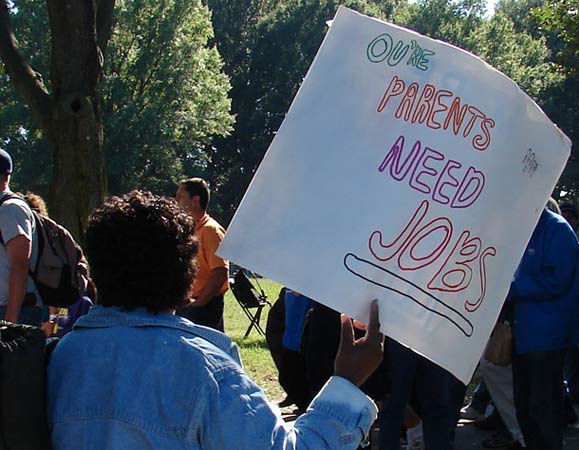 A unionized family unit enjoying quality time and a meditative moment together.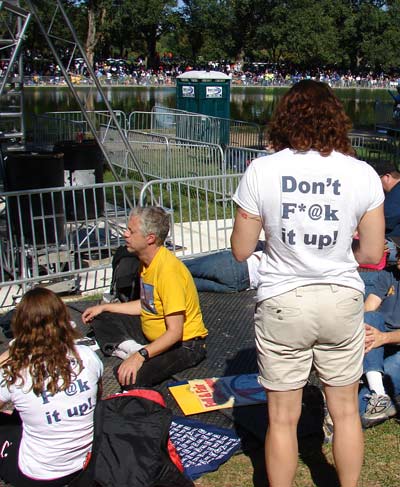 The head scarf suggests they represent TWU - Transport Workers Union of America. What family activity can be more fun than Israel-bashing?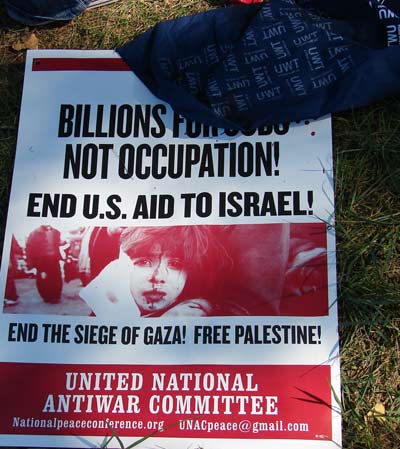 The two female public school graduates in "I heart pro-choice boys" are zeroing in on the target. Someone is going to get lucky this afternoon.
Who of the young people doesn't think of Eleanor Roosevelt and Cesar Chavez as personal heroes?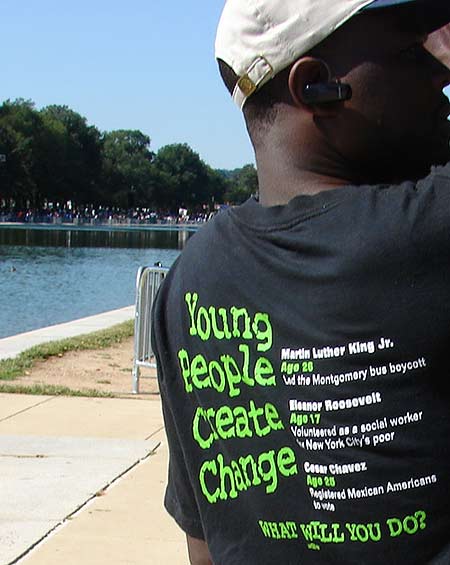 Why would anyone think that these cute animal costumes are targeting children? They're not like Joe Camel or something.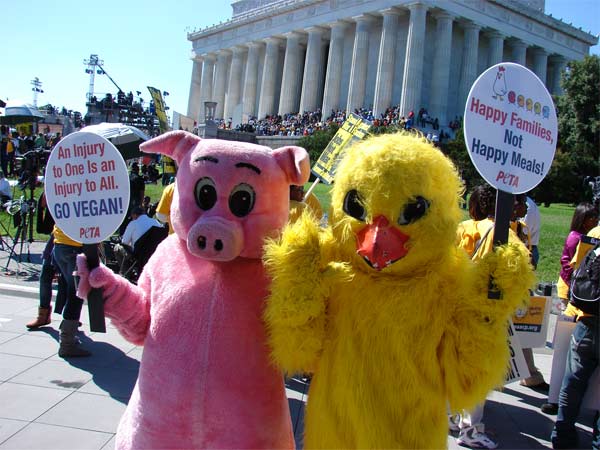 This group of progressive students made an attempt to be funny, but they overestimated the capacity of unionized workforce to discern irony. As a result, they were repeatedly showered with F-bombs by passing groups of SEIU members who felt personally insulted by the middle sign. An exchange that I witnessed went like this:
"What? F*@# socialism? F*@# you!"
"Wait, it's not what you think..."
"F*@# you! F*@# you! F*@# you! F*@# you! F*@# you! F*@# you!"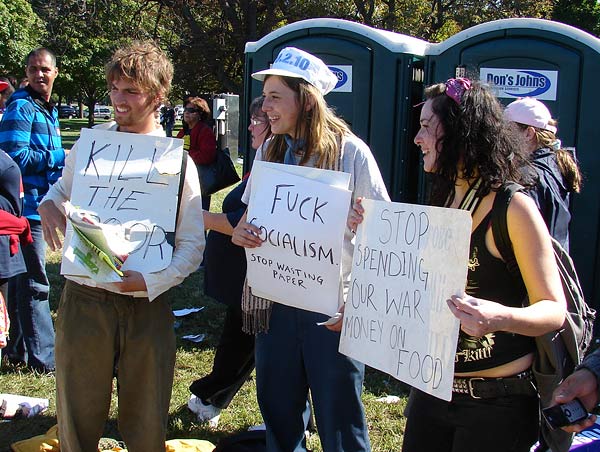 To be fair, I myself was often puzzled by the messages. Are the twin signs below sincere or ironic? Could the twins holding them be sarcastic Tea Party infiltrators?
Don't worry, kids! This kindly grandfather will take care of your needs by demanding shovel-ready jobs with the resurrected Work Projects Administration (WPA) - the largest New Deal agency - and the Civilian Conservation Corps (CCC) - a public work relief program for unemployed men age 18-24, providing unskilled manual labor for government projects. Forget stupid computers! Grab a shovel - the future looks bright!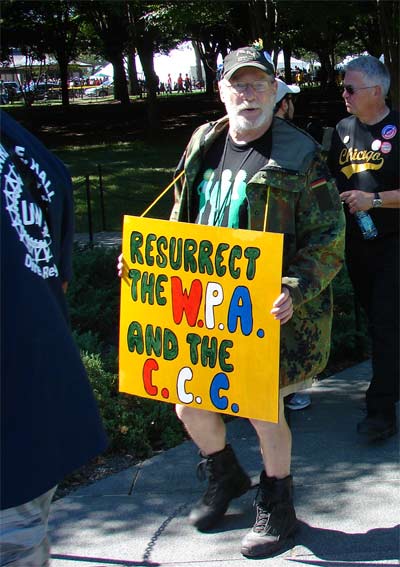 The future of electrical transportation is already here!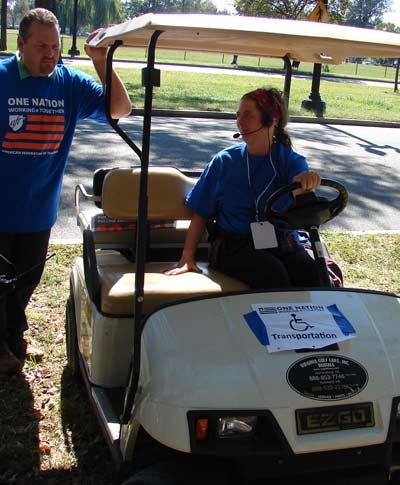 Why is he wearing a jester's hat with that sign? Another Tea Party infiltrator?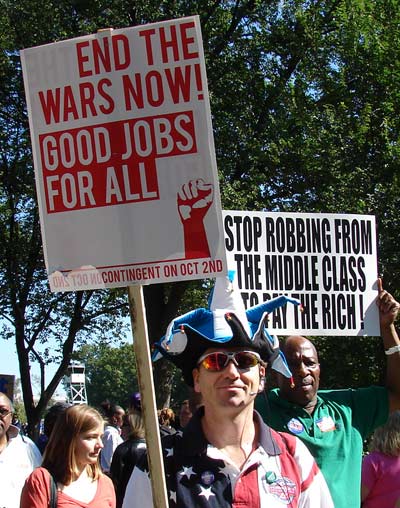 Meanwhile, Ed Schultz delivers a long, fiery speech.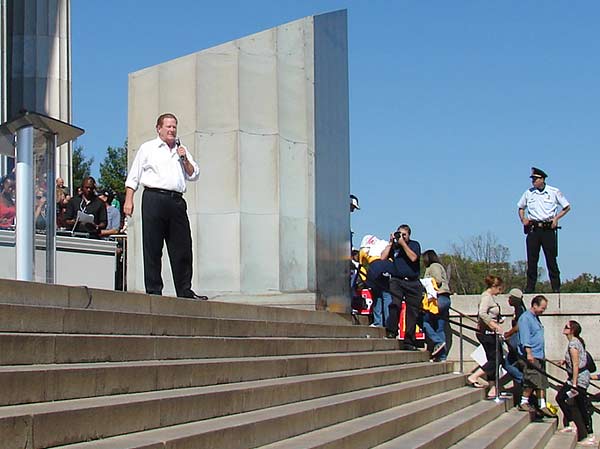 These signs by the communist front group ANSWER were some of the most numerous at the rally, making one wonder about the source of such generous funding. The second question would be if MLK had ever actually said "Jobs not war" - or if it's only an elegant way to conflate several different issues in people's minds.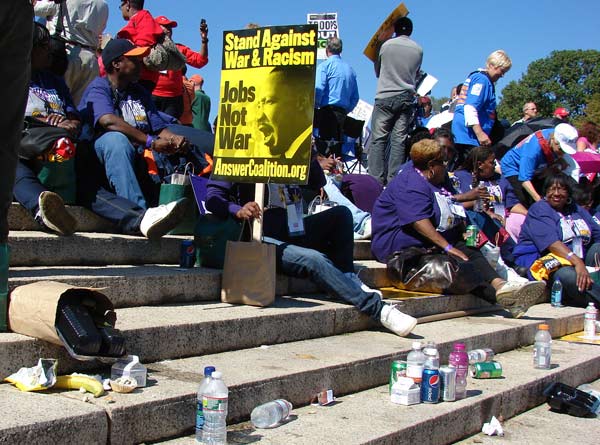 Legal treason is not what you think.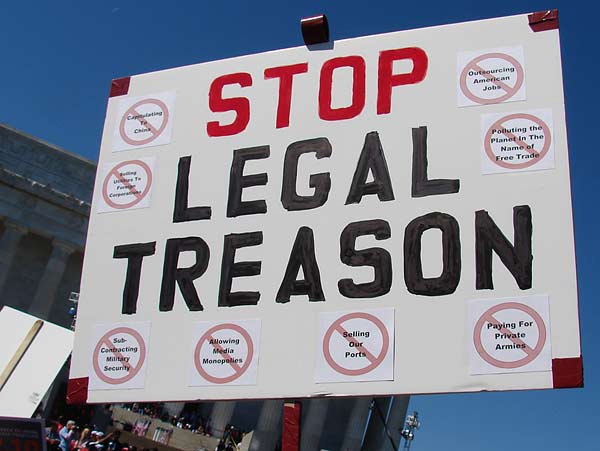 A helpful mnemonic exercise for the easily distracted Democrat voters.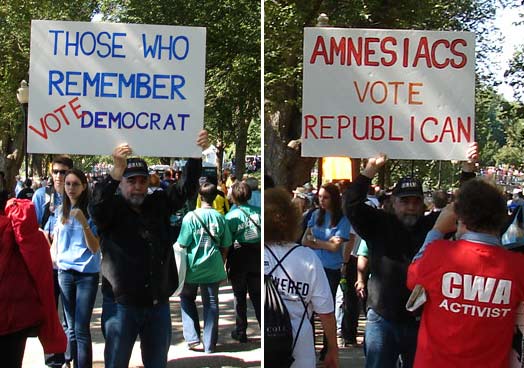 The double-sided flip signs seemed to be a new fad. Those holding them had to constantly rotate the stick in order to "be clear."

Not only the organized labor is now trying to co-opt the unemployed, they are also co-opting the People's Cube logo!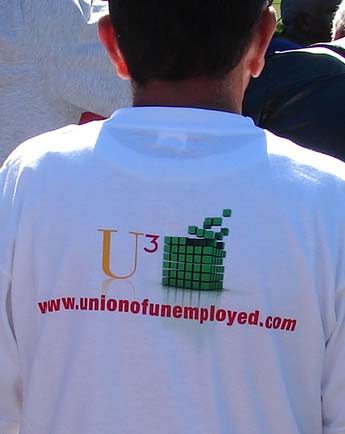 Remember the good old days when chains and orange jumpsuits were a sign of middle-class impersonators of Gitmo prisoners? Not anymore!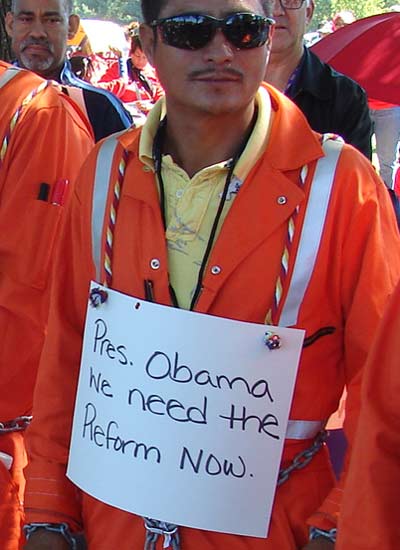 Now that Bush has been dethroned, the costumes are being recycled to equate Mexican laborers with enemy combatants.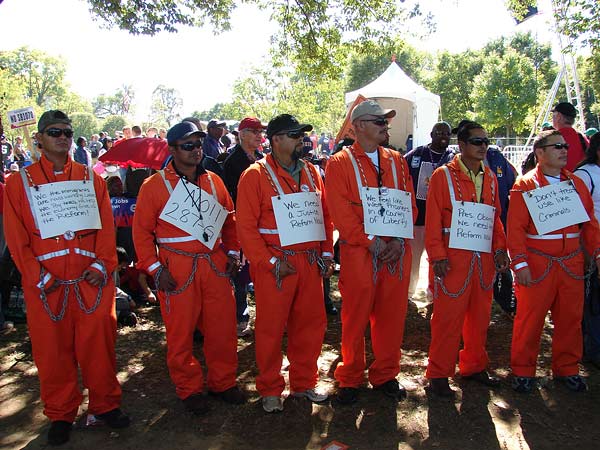 Another Halloween costume idea...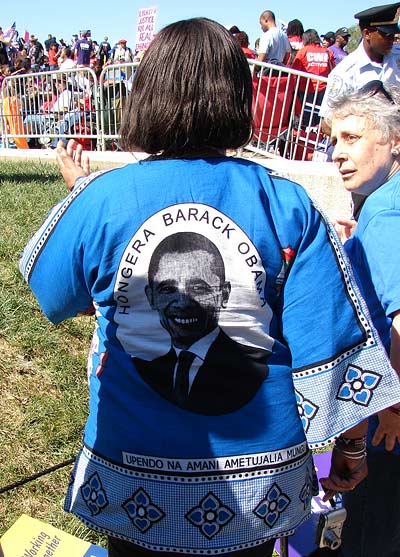 Free markets will not be fair until they are rigged! We trust Obama to do just that.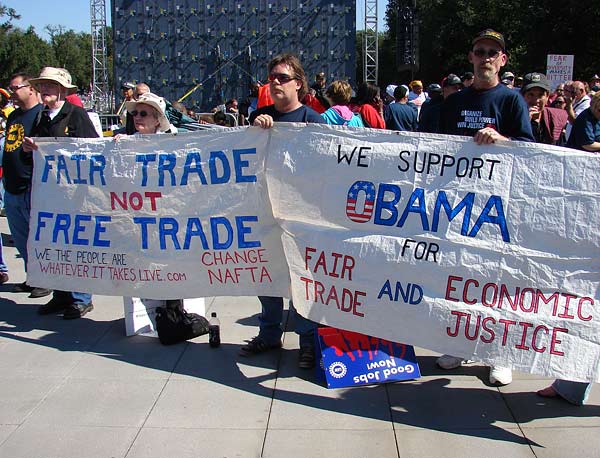 I don't even want to know what the man is photographing and why. My curiosity has limits.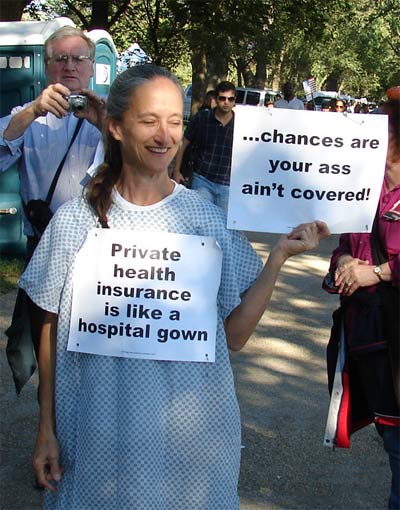 Progressive filmmakers didn't miss a chance for a product placement.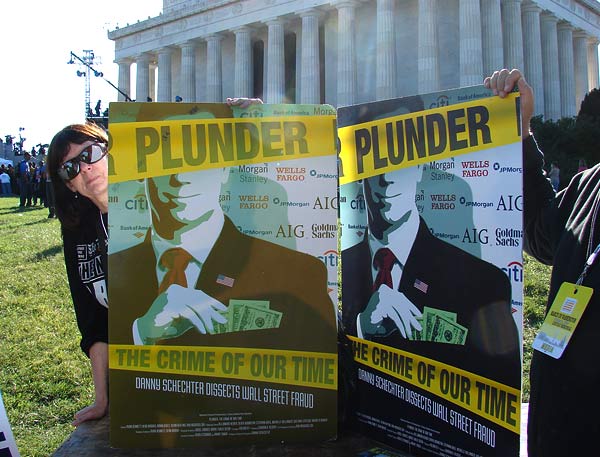 Put America back to work... making war art...?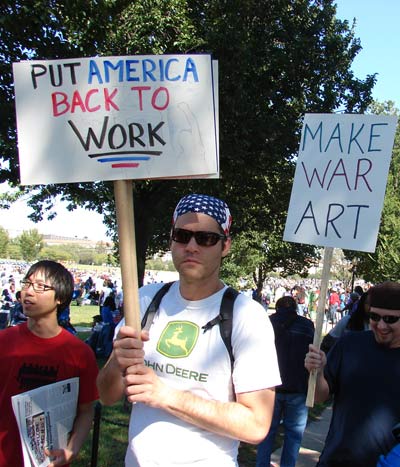 Does this qualify as war art?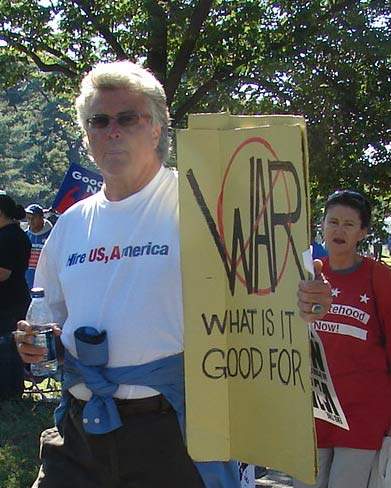 Many signs demanded that something or other be banned. Here's one.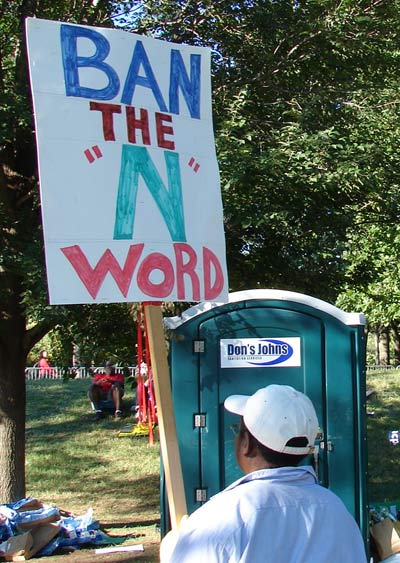 Of the very few American flags at the rally, this one may well be the largest. It was probably made by a color-blind person. I wonder what the pledge of allegiance to this flag sounds like, and for which republic it stands, if any?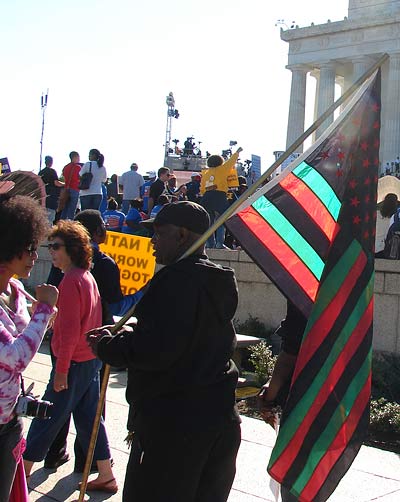 Let's take a closer look at the participants inside the color-coded pens.
They were driven all the way from St. Louis on a union bus to demand a $800 Billion jobs bill.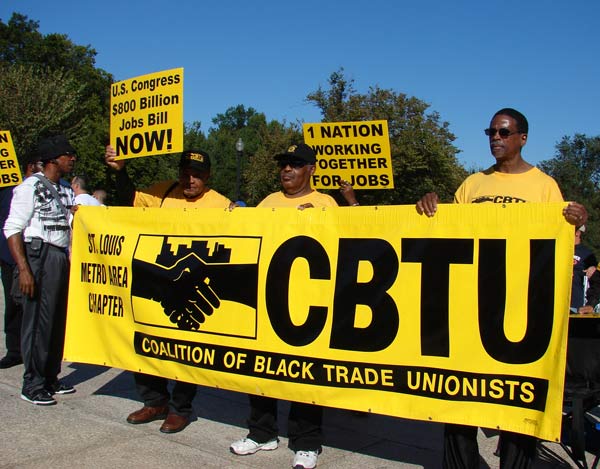 SEIU Healthcare workers got a free bus ride from Michigan.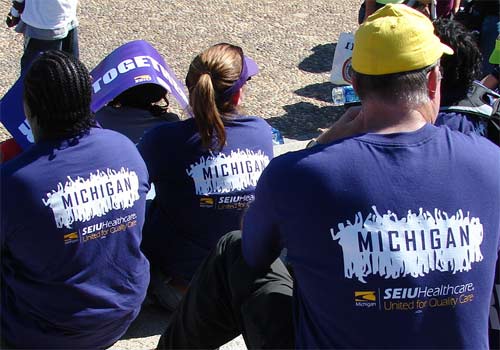 These are... let's see... Planters?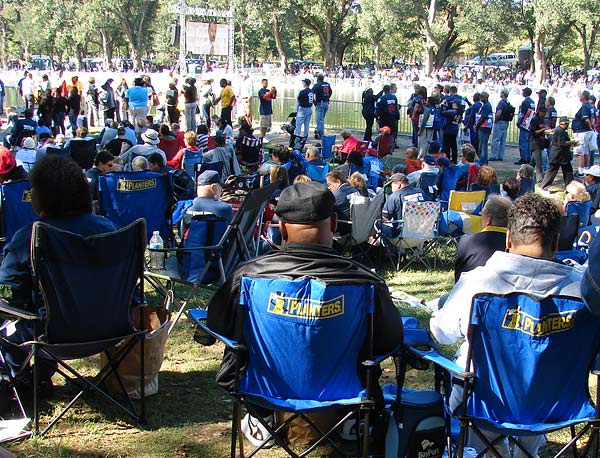 United Auto Workers - apparently from Detroit. I doubt the girl with the anti-Israel sign is part of the group. Something tells me these particular auto workers don't care much for her sign or her standing with it inside their pen.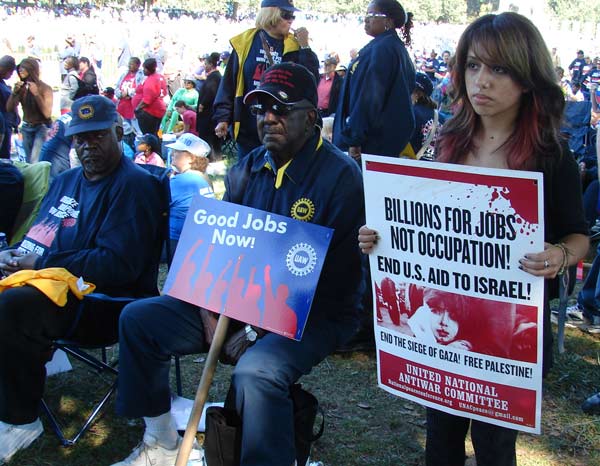 Another UAW group - Local 1250 from Cleveland, OH. If they really do what their shirts say (organize, build power, and win justice), Cleveland is on its way to become the next Detroit - just as powerful, fair, and well-organized!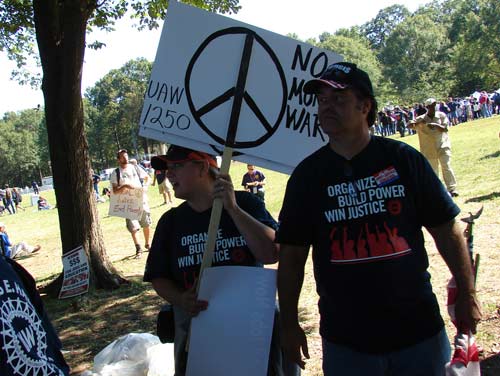 TWU Local 100 - New York City public transportation system.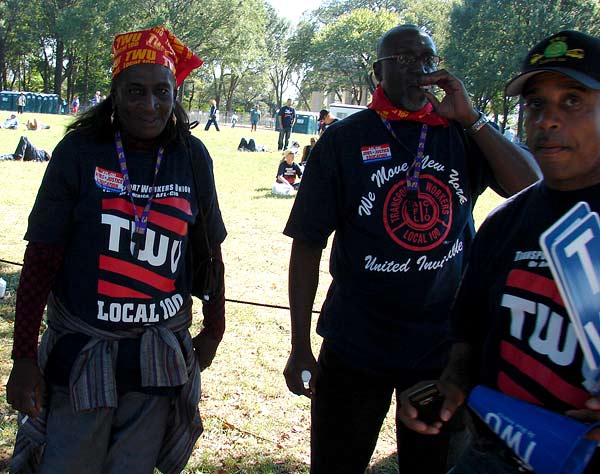 CWA Local 1033 - law enforcement and criminal justice workers from Trenton, New Jersey believe in making ruckus, disobedience, opposing violence...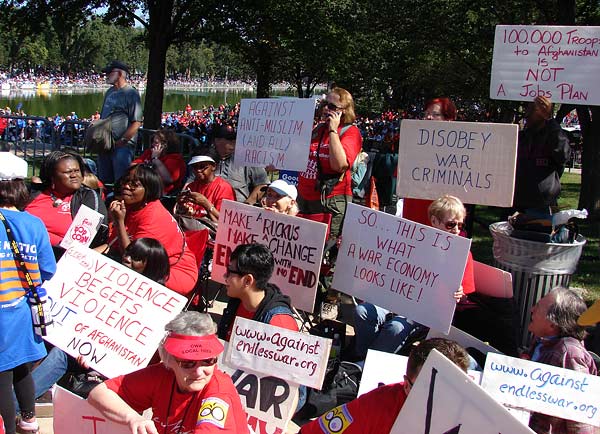 ...and disclosing classified documents that endanger US troops, complete with a demand to free the leaker, Pfc. Bradley Manning. Conflict of interests, anyone?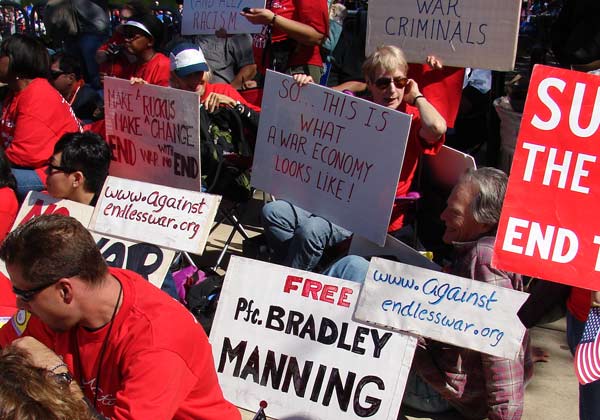 Sneaking around the bushes are migrant farm workers representing the Farm Labor Organizing Committee (FLOC), AFL-CIO.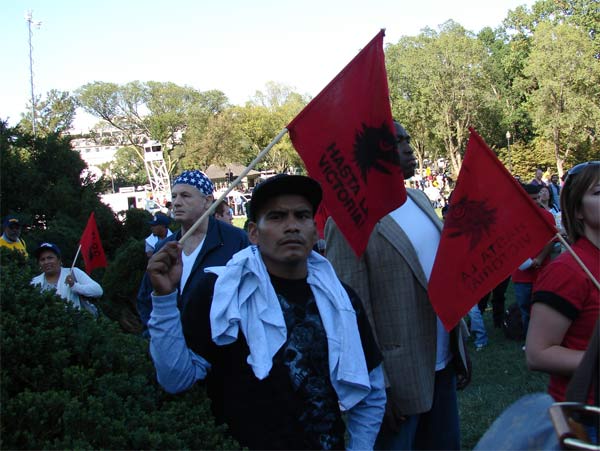 I AM ILLEGAL - AND I AM VOTING! HASTA LA VICTORIA!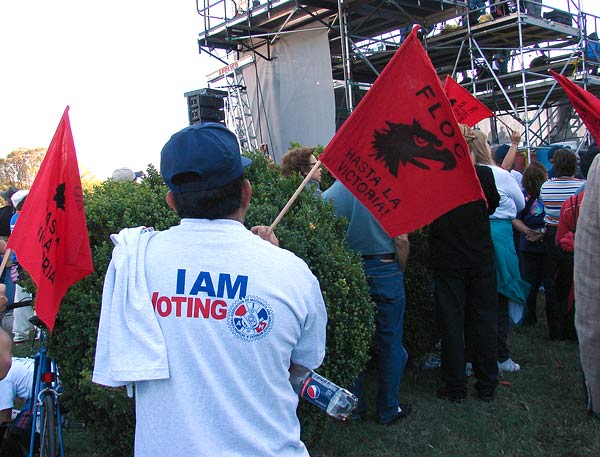 IBEW stands for International Brotherhood Of Electrical Workers. They want JOBS NOW - as opposed to certain evil antagonists who want NO JOBS FOREVER.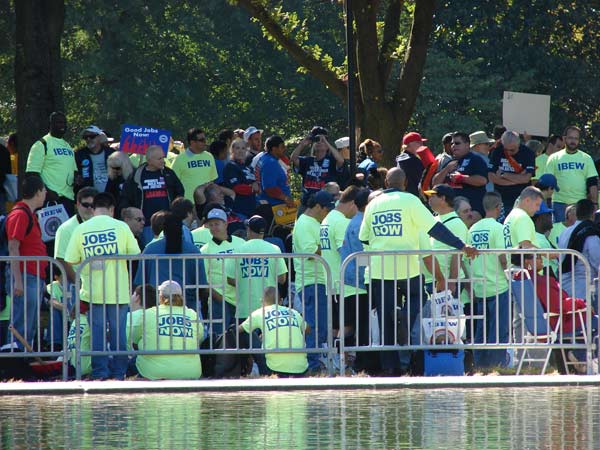 Their pen was decorated with multiple signs protesting the recent FBI raids of "peace" activists suspected of providing material support to terrorists. Notice that BailOutPeople.org is a front group of the radical anti-American International Action Center run by Ramsey Clark.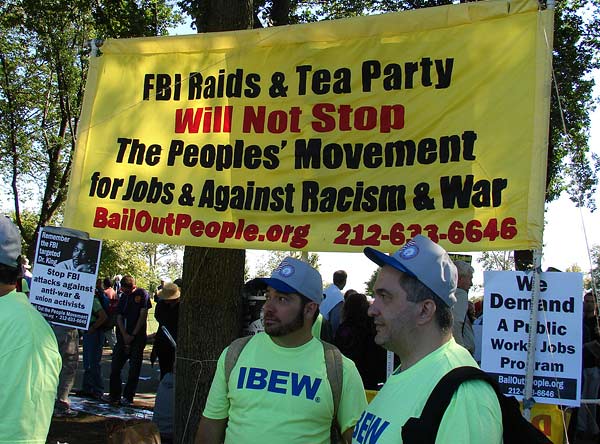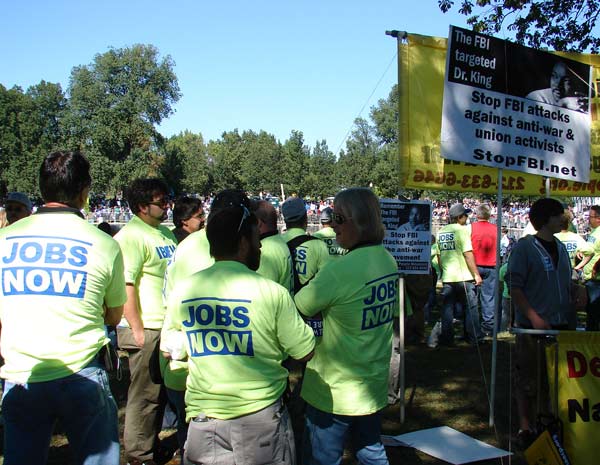 The IBEW members stayed in their pen as long at it took to get bags with free lunch.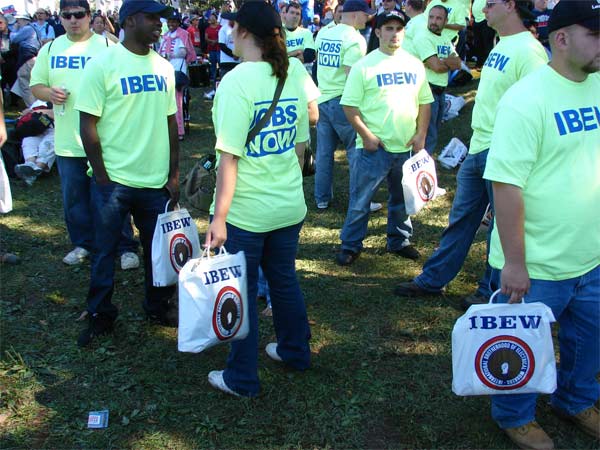 As soon as they ate - and long before the rally was over - the workers were gone, dropping the empty bags, protest signs, and other garbage on the ground.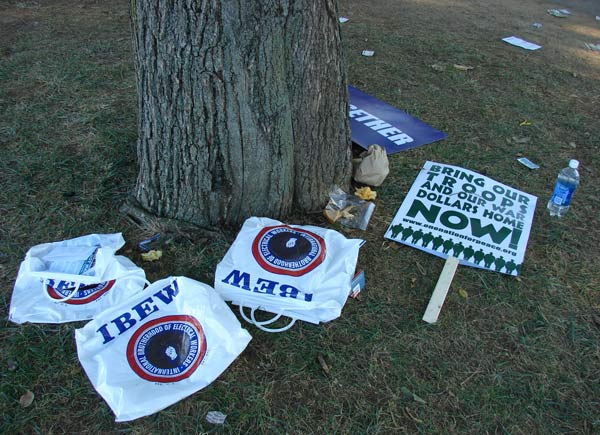 More protesters from the AFT - American Federation of Teachers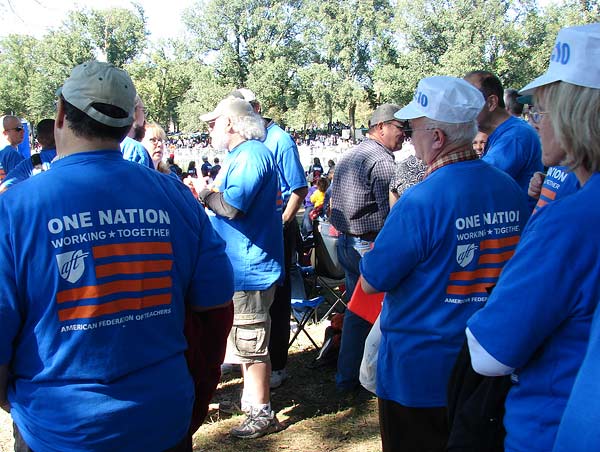 The Utility Workers Union of America, AFL-CIO (UWUA) describe themselves as "one of the most successful and progressive unions in all of the labor movement."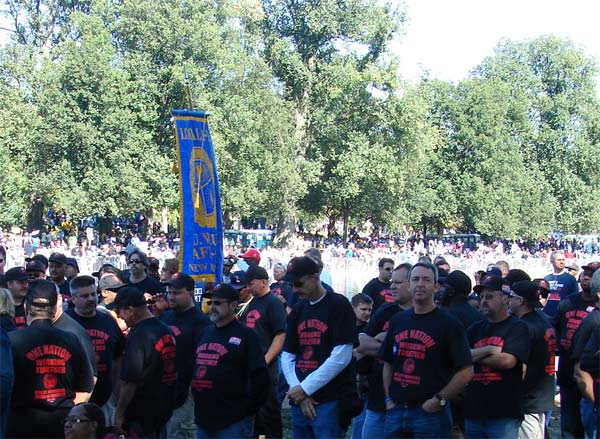 Writers Guild of America were also protesting, bringing to the table their own long list of grievances related to exploitation and work safety.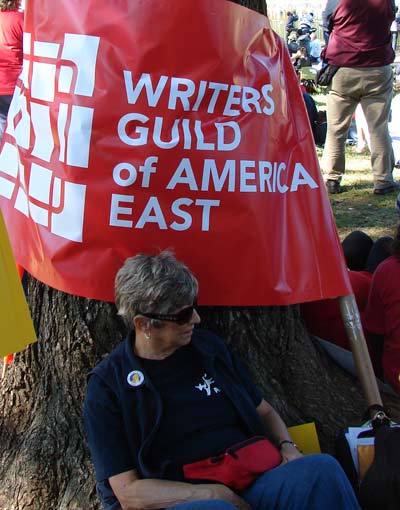 "Hire us, America!" To do what exactly? In fact, do self-employed unpublished writers qualify for unemployment benefits?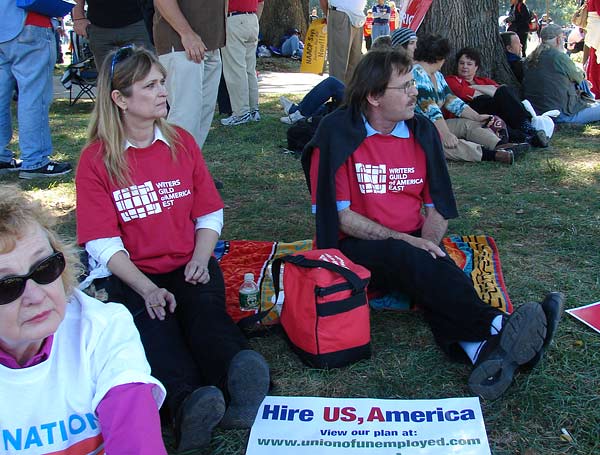 And if they receive unemployment but continue to write it their homes, would that disqualify them from benefits? Shouldn't an honest writer abstain from writing for as long as he is paid unemployment benefits, or until he publishes something, whichever comes first?
This man/woman is a writer, and has a shirt to prove it.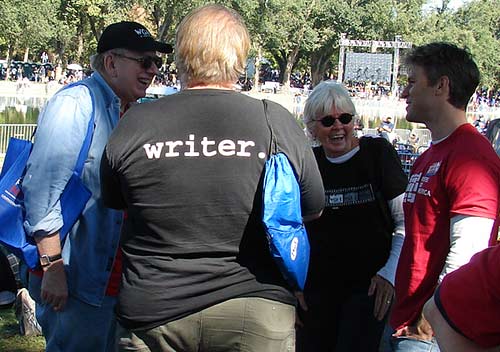 The rally officially lasted from noon to 4:30 pm. But already around 2pm, the audiences began to feel restless and scurried towards the exists in small groups.
What united One Nation rally the most, was the urge to get away as soon as possible.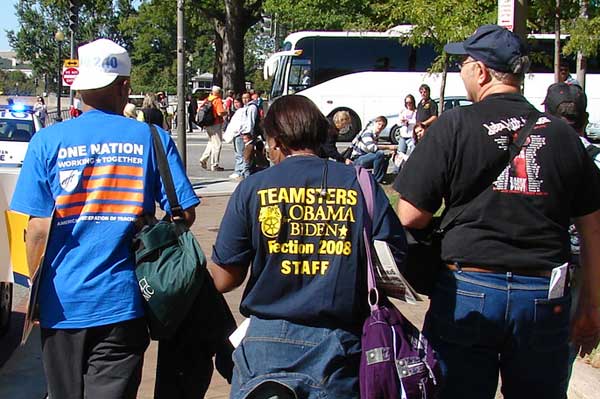 This picture was taken at 2:46. By then people were leaving in droves.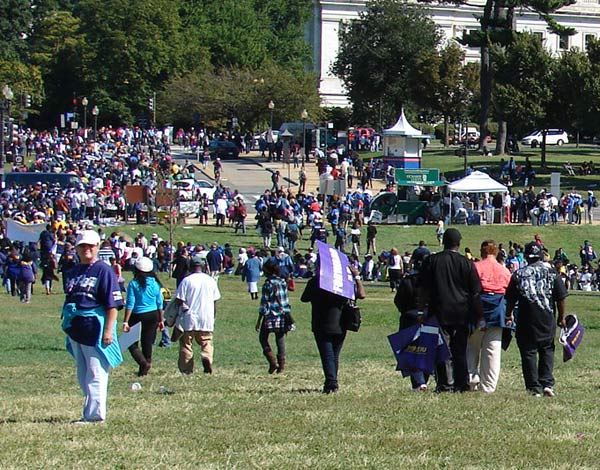 2:49 - Union workers have trouble climbing over a small fence. Cushy jobs don't prepare them well for excessive physical strain.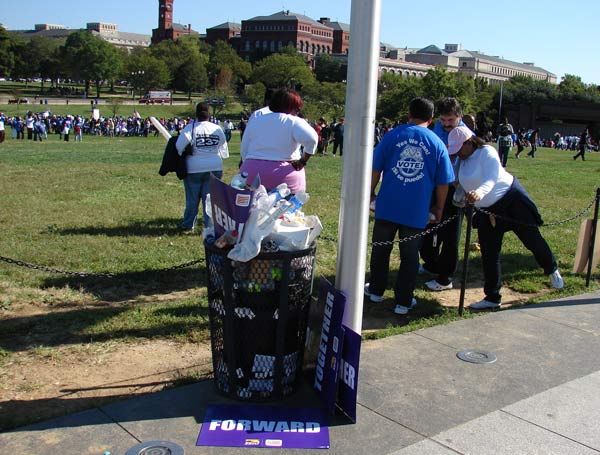 2:50 - One Nation Deserting Together.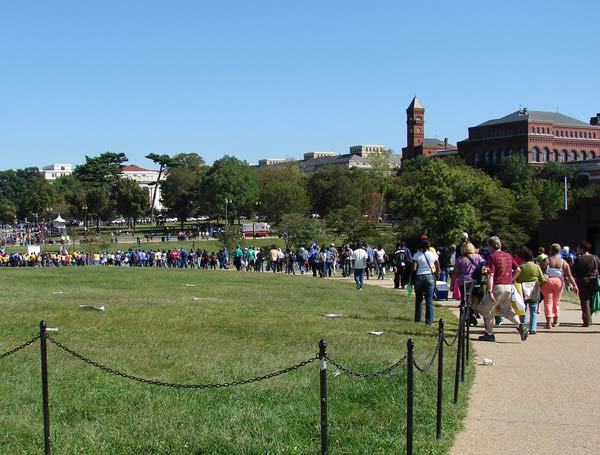 2:51 - What looks like a massive march is, in fact, a massive exodus of teachers, auto workers, electricians, and other unions "dedicated to working together."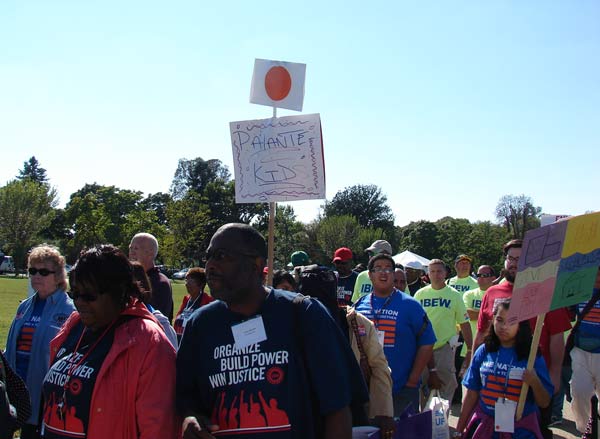 Socialists relocated their signs to the exits, hoping that those who weren't interested in long speeches might be attracted by shorter slogans.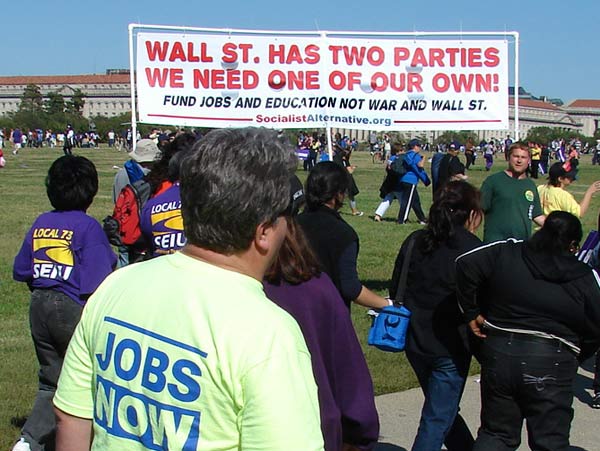 Back at the rally, Jesse Jackson was speaking largely to empty littered lawns.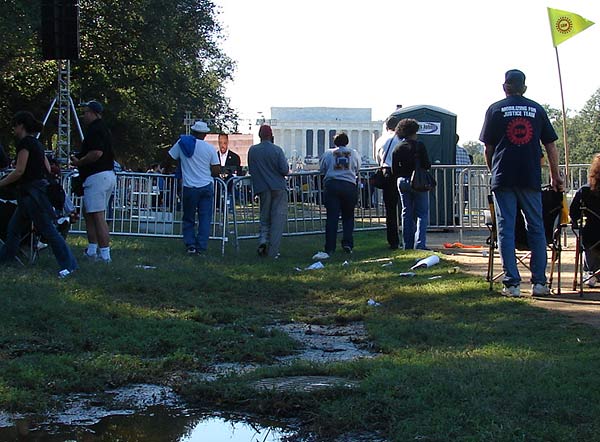 This is what he saw: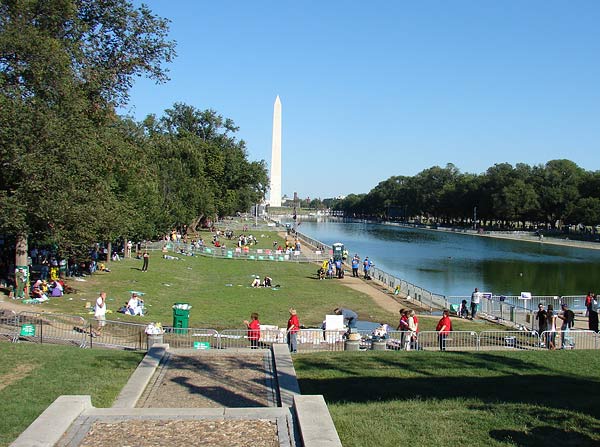 In the stage area, people also scurried away, leaving behind easily identifiable garbage.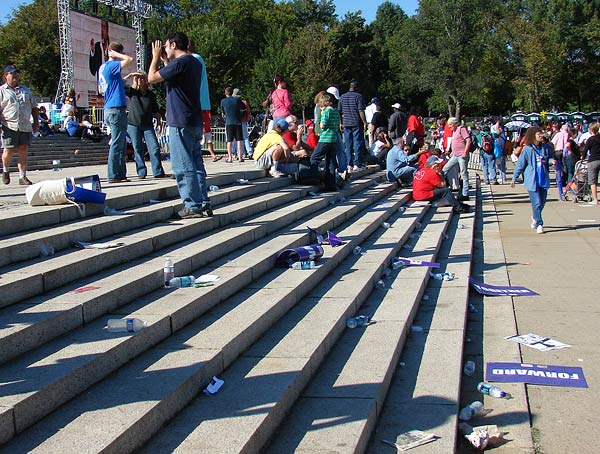 4:09 - The rally still isn't over, but no one is listening to calls for justice and equality from a recurrent oppressed/minority/illegal/gay/lesbian/progressive activist.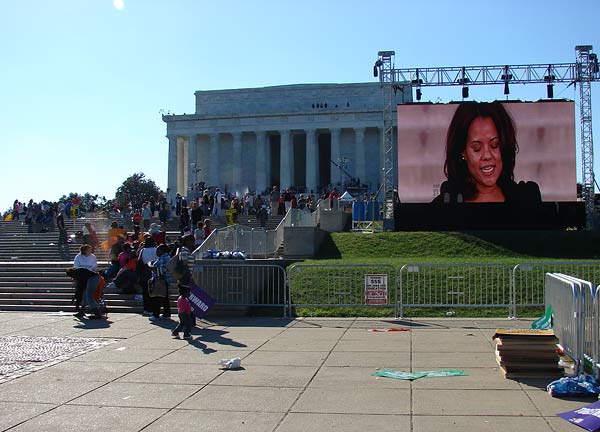 4:10 - Those who could move quickly have already left.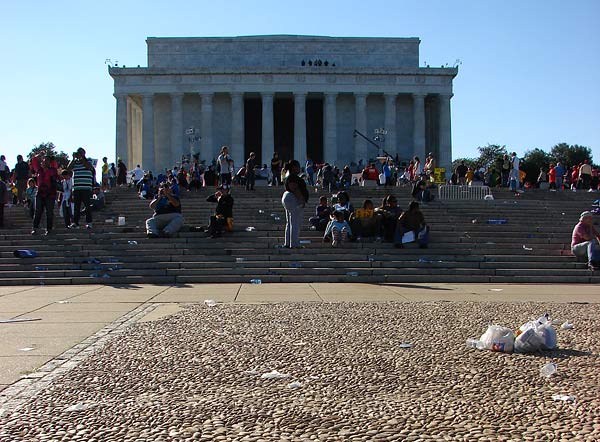 These radical enablers of the Iranian mullocracy used the opportunity for a photo op. Consider what might happen if American patriots were to unfold their sign in one of Tehran's holy places, advocating for American foreign policy and critical of the local regime. Consider also that two American hikers have spent over a year in an Iranian jail and are still kept there simply for crossing the border.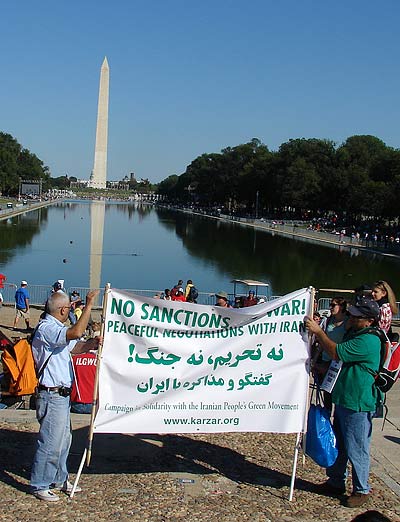 What excites your progressive heart more - the slanderous sign openly held by the insolent agents of the Iranian regime in front of the Lincoln Memorial - or the happy faces of local American progressives, oblivious to what is happening behind their backs?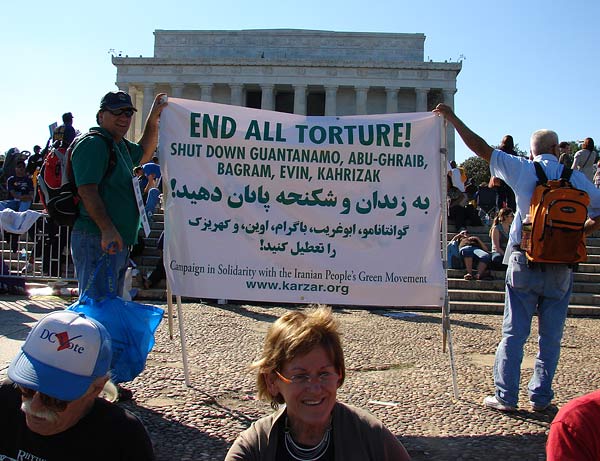 And lastly, in case you were wondering who trashed the place - "It's the Republicans, Stupid!" And we'll just sit here amidst the garbage and wait for someone to clean it up.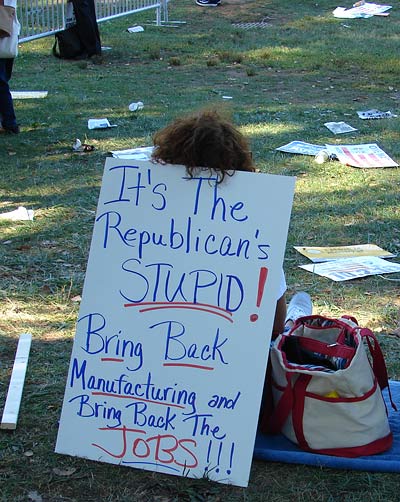 Woodstock Isn't Dead
This wasn't a hippie event, but they still came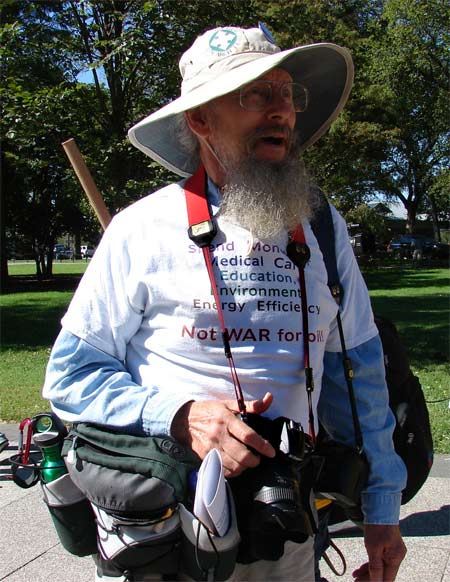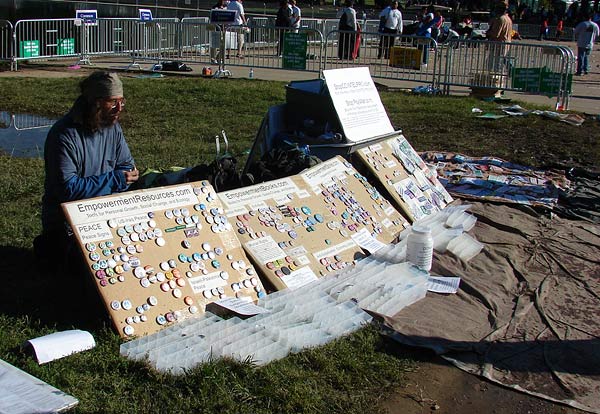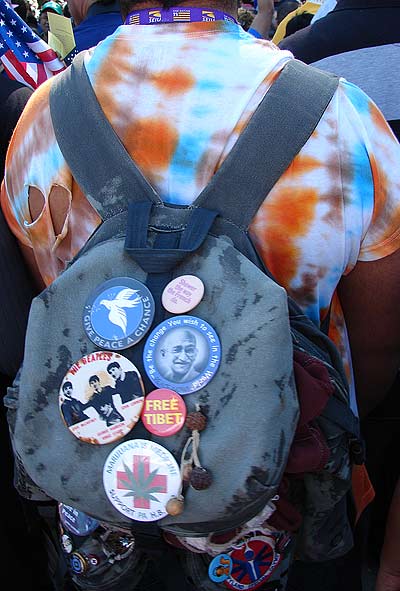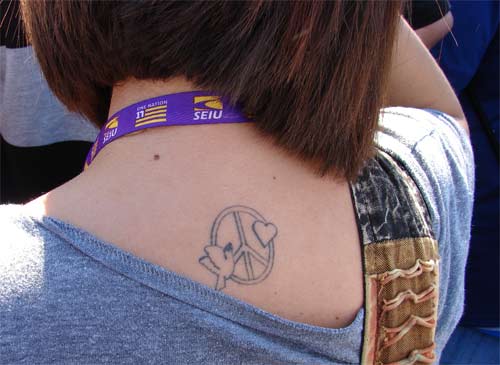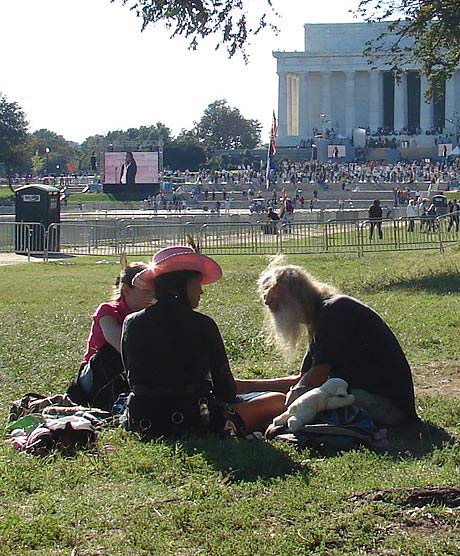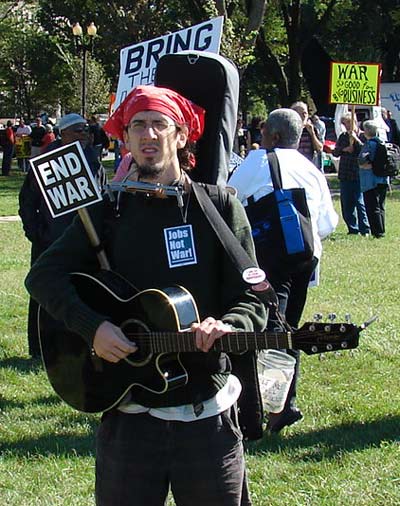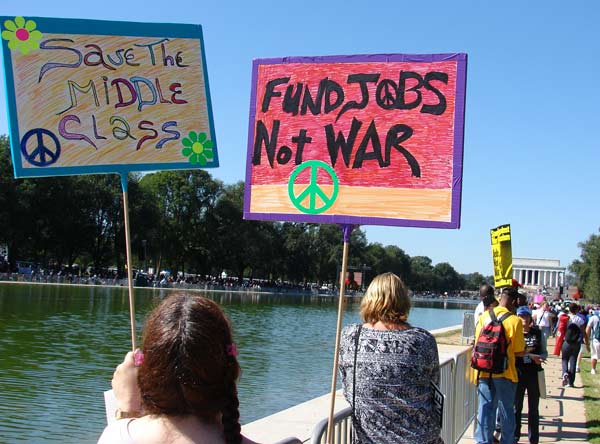 ---
<< BACK TO 'ONE RALLY FIZZLES TOGETHER'
MORE HERE:
The Astroturf
How to plant the seeds of socialism and grow a semblance of a vibrant movement
The March
Marching youth is more photogenic than fat union slobs lying on the grass
The Rally
Sign-a-palooza: professionals and amateurs compete in spreading Party-approved messages
The Sleepers
Sleeping on the job is a human right, especially if you're a union member
The Haters
Stop hate speech - unless you speak of Tea Parties, Republicans, Bush, corporations, and the capitalist system in general
The Absurdities
Dialectical contradictions of socialism in pictures
The Radicals
Agitation and propaganda for the masses
The Trash
Cleanup is not in our job description; some union gets paid weekend rates for doing that
Dissing 'Imperialist' War Memorials
War memorials - what are they good for?