Comradette Anne

Comrades, our komical pals in the equal art of satirical wit have given us an astute observation of our crybaby of a House Speaker. Letterman is nowhere near as astute as that of Dr. Garafalo's previous analytical studies of the reichwing epidemic, as her contribution to the People's study of the extremists has aided us well and explains all too much. His observation, however, may hint at the many possibilities of his tanning bed addiction and Republikkkanism going to his brain.
http://hotair.com/archives/2011/01/04/l ... ical-help/
And the gavel's taken from Nanny to this unstable, brown cretin? These teabaggers from Boehner to Beck have completely lost their heads and are reduced to tears within minutes of mentioning the Founding Slavers or Amerikkka as a whole.
Exit question: second look at more scientific studies about what infects the reichwing brain with instability on so many levels?

It took a while for the media goons to joke about the House Speaker being drug-addled and crazy...once Blinky left the position, eh?

General Confusion

Comradette Ann,

One thing Letterman can count on, every day he shaves the most intelligent man he knows.

Just let that sink in for a while, before you determine what you think it means.


Opiate of the People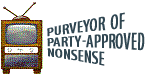 Our brilliant elitist media knew right away this person Bone-head is a fool, as soon as they saw him smoking.


Leninka

I really admire David Letterman,

When he was found out that he was screwing many members of his staff up in a room at the studio, he never shed a tear of remorse. That's what I call a tearless and proud philanderer.