Red Square
As if Rocky J. Squirrel hasn't damaged the cause of progressivism enough, his anti-big-government stand is now being joined by Oliver: a super-squirrel with dubious conservative and right-wing Christian leanings.
Oliver's Tale: A Squirrel's Story of Love, Courage, and Revolution
was written by
Paul Ibbetson
, a radio talk show host from Kansas who has
interviewed
us twice and claims to be a fan of this website. In some ways, his Acorn-crunching Tea Party Animal with God-given superpowers may as well have leaped straight from our web pages - or from Orwell's Animal Farm for that matter.
By turning out the way he has, this squirrel is in violation of the Party mandate, which requires all cute furry animals to be liberals (it's good for the Children™). Marx only knows what this fuzzy hooligan may do to our
Democrat-voting Single-Mother Squirrel
and her offspring with heads full of mush if they ever meet in real life! It might offset our Animals' Rights movement for many years, and cancel out volumes of unreadable politically correct literature generated by the Writers Union members on Party orders.
This "squirrel-in-the-pants" situation poses a number of serious questions. Is the timing of Oliver the Squirrel's ascent and the enhanced pat-downs of all passengers at the airports a mere coincidence? We don't think so! If this squirrel is ever caught by the TSA agents, that will be a single animal-control incident to which PETA, I'm sure, will have no objections.
Comrade Whoopie
Chief Wiggum: Well, shut my mouth. It's also illegal to put squirrels down your pants for the purposes of gambling.
--The Simpson's

General Confusion
Comrades,

Let us hope no one puts squirrels down his own pants for the purposes of biting!

Red Square
Rocky comes to America circa 2010, where Boris chairs House Financial Services Committee, Natasha is the Speaker of the House, and Fearless Leader is in the White House...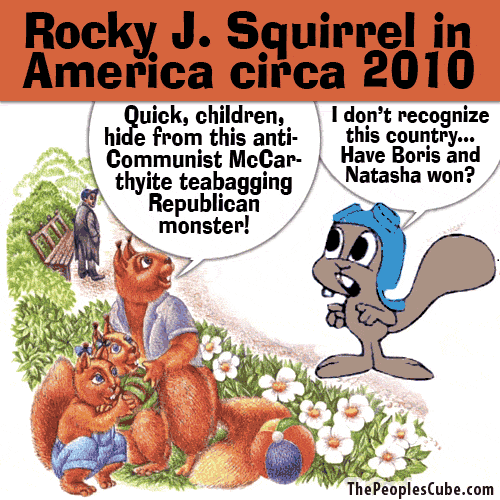 Kim Jong-Un
America isn't the only place where progressive agitprop employs cuddly cartoon animals.