Obamugabe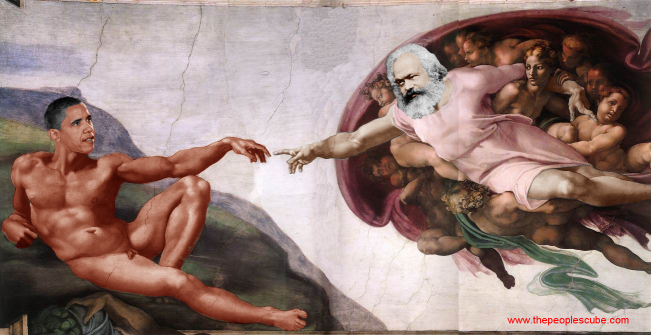 Comrade Whoopie
To be sure, Obama is divine.
Fraulein Frankenfeinstein
Should that prayer be in Islam? We don't want to offend dear Leader.

And it seems to me that he..... He need an little tiny winy fig leaf.

Comrade_Tovarich
Comrades,

Are The One's huevos perdido or has he already donated them to his presidential Kindle for us to fondle?

Fraulein Frankenfeinstein
Oh, is that what it was? Foolish me. I thought that a mousing dropping and was concerned for his dignity.

humm, I suppose I still am.....

Leninka
No need to be concerned, Comrade Pulloskies, nudity runs
in the family:
Czar Czar
Obama father, who art in Heaven, Marx be thy name.
Obamacare come, Constitution be undone,
Mother Earth ,by cap'n'trade, made Heaven.
Distribute us today our share of bread.
Forgive us not our debts, lest we be no longer debtors.
And lead us not into capitalism; but deliver us from it's evils
For we give up our KKKingdom, Nuclear Power, and Old Glory
So Barry may rule forever. Amen.