Ivan the Stakhanovets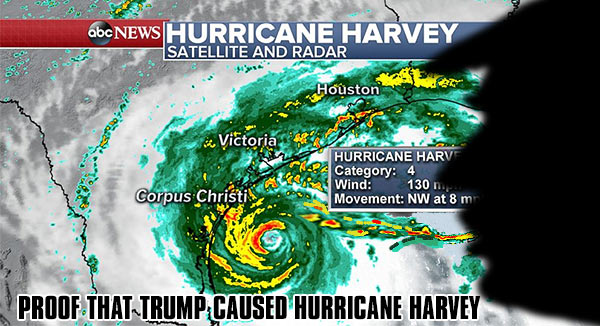 Not since George Bush summoned Hurricane Katrina has a Rethuglican Head of State shown such hatred!
Donald "Build that Wall" Trump has paid with his own ill-gotten billions for Hurricane Harvey to oppress Hi-Spanic Democrats who came to Corpus Christi to do the jobs that Americans won't do. The Coastal Texas LGBT community is just so peeved that they may have to tend their own flower beds and get sweaty because Enrico and Manuel couldn't produce ID and were evacuated, probably to one of those FEMA camps that Alex Jones goes on and on about.
Trump's jack-booted thugs of ICE will be checking identification and voter registration cards as refugees seek higher ground, and prevent them from returning. This will result in a properly Balkanized society when the rich white landowners (their homes gone) return to their property.
Additionally, Corpus Christi Mayor Joe McComb refuses to follow the precedent of New Orleans Mayor Ray Nagin in promising that his city will be "chocolate once again." Since Trump has proven that failure to say the required words is an endorsement of the opposite, Mayor McComb's deafening silence surely proves that he intends to deny re-entry to minorities, women, Muslims, and other disadvantaged groups of diversity.
Red Square
I liked the updated Current Truth in the above post:
Q: What do you call rich white homeowners whose homes got destroyed?

A: Rich white landowners.
As long as the Party controls the narrative, it will remain invincible.
Be afraid. Be very afraid.