INGSOC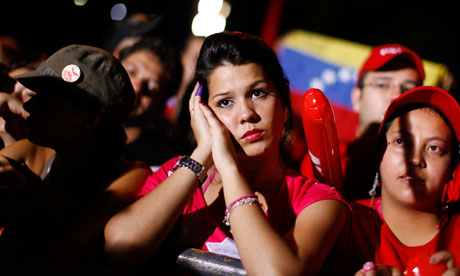 Venezuela election loosens Hugo Chávez's grip on power
KKKapitalist subversives must have infiltrated the election authority. Since it is obvious the system has been compromised we must
send in
establish a
kangaroo
Court of Supreme Justice to charge and try the guilty. I have a .22 and 5000 rounds of ammunition. All we need is a cinderblock wall outside wherever we assemble the proceedings. If we have this wrapped up by Wednesday we can have a proper election by Friday and sanity will be restored as our dear firend Jon Stewart would say. Those bastards made this formerly oppressed daughter of the revoloution almost cry! Just look at her grief and sadness! Sign up for jury duty below.
Opposition is claiming 52% of the vote. As previously posted the system is rigged so that they'll end up with about a 3rd of the seats and the hard left with 66%. I don't see this ending well for Venezuela or Chavez. Every time I consider what Chavez is doing down there along with the U.S. administration's amused indifference, to the point of allowing him face time with our president, I'm blown away by the thought that I'm living in the same nation I grew up in during the 80s. What a dramatic sea change in our national attitude.
Opiate of the People
Someone call Oliver Stone and Sean Penn! They'll talk some sense into those fools.

Comrade Buffoon
Vote shmote, we know Chavez isn't going to go without a fight, or at a minimum some legalese vote fraud type maneuvers.

Surely our Dear Leader has enough of his stash left to fly a few thousand ACORN operatives down there to save the day.

ThePeoplesComrade