Dedhedvedev
Need we ask Google to tell us these things?
YES!
According to Bloomberg:
Google's AI Hasn't Passed Its Biggest Test Yet: Hunting Hate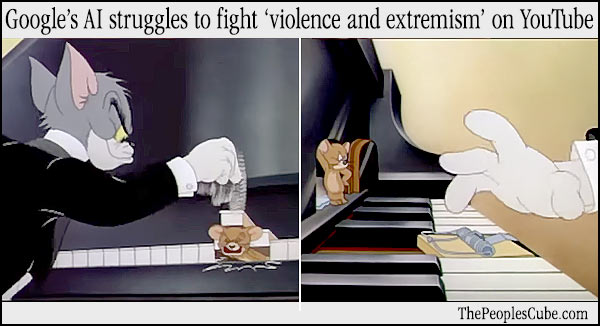 Bloomberg says that "some of the world's biggest marketers" are "halting YouTube spending this month" because "their ads have been found running on YouTube videos" that are "hateful and extremist." To this end, Google's AI experts have been called front and center to write software that can "understand everything that is going on in videos, including gesticulations and other human nuances" to cull the hateful and extremist videos from YouTube's herd of videos that grows by "300 hours of content every minute."
This is a tremendous task, even more tremendous than Hercules' assignment to clean out the Augean stables, but similar in scope. So let's help Google out by selecting two YouTube videos as test cases, on which they can release their AI software to determine the hate score of each.
I've selected test case video #1, a Tom & Jerry cartoon titled
The Cat Concerto
. It's a picture in picture (PiP), actually a video in video (ViV?), the cartoon is inset in a classical piano video, but the only intact version I could find. I found it to be both violent and hateful, but am interested in your opinions of it:
I haven't chosen video #2 yet, but think an ISIS beheading video might be a good candidate. I haven't ever watched one, so if you know of one suitable for this experiment please speak up. That video of Snoop Dog assassinating President Trump might be yet another worthy candidate. Suggest away, Red Square will select test case video #2.
The above is all in fun. But, more seriously, do we really want to hand the task of judgement, of anything, to a computer, any computer, regardless of who programs or controls it? Would we want a computer to judge the arts, paintings, literature, poetry, religion or philosophy? Could it? More specifically, could a computer ever understand the meanings or intents of Paul Celan's poetic phrase "the pillow of dust called Once," Samuel Beckett's literary statement "No symbols where none intended," Francis Bacon's paintings, or Jesus' dictum "Do unto others as you would have them do unto you"?
The Left's not so subtle messaging in the media up till now has been suspicion of technology. Computers, in TV and in films, have been portrayed mostly negatively (think
Star Trek
's Landru and Vaal, both computers in back rooms subjugating human societies, and
2001: A Space Odyssey
's HAL, a supposedly "conscious" computer that turns malicious). Other TV and film examples abound. I find it very odd that they're now embracing computers as judges of material produced by human beings.
Genosse Dummkopf
.
To AI or not to AI, that is the question.
And here a sketch of a most korrekt answer.
What the Progressive March of Humanity™ needs ‒ e.g. concerning video content ‒ is a Catalogue of Approved Elements.
That is: character-elements, gesture-elements, pose-elements etc. Of course, attire-elements too
*
. Next: background-elements, action-elements, scene-elements, and so forth. Also scene-transition elements.
A
vast
catalogue, of course. So creativity is
in no way
restricted. On the contrary ‒ think how much creative work is needed to learn the whole content of the Catalogue, including memorization! And then, continuous Updates, Recalls, Fundamental Transformations, etc.!
The creation and maintenance of the Catalogue is of course a supranational task. It must be ceded to the Empyrean Leadership of UN and guarded by Supreme Comrades of the Hague Tribunal.
*
Compliant with Comrade Director's new
April-1 Marching Directive
("progressive hearts [are] now being increasingly [reoriented] to Islam"), the quadruple hijab-niqab-chador-burqa ‒ often made "fun" of ‒ will be extra protected. Same with M-gendered Arabo-Levantine garb, beards etc.
COMRADES !
LET'S PROGRESSIVELY DESIGN APPROVED ELEMENTS
AND PRESENT THEM HERE TO THE KOLLEKTIVE !
Dedhedvedev
W/r/t "pose-elements."

Face on floor, butt in air: LOVE!
On knees, head bowed: HATE!

AI—it's just that simple.

Papa Kalashnikook
Genosse Dummkopf
Dedhedvedev
... "pose-elements"

[

:

]



Face on floor, butt in air: LOVE!
On knees, head bowed: HATE!
Derived scene-transition element :
[Face on floor, butt in air]
→
[On knees, head bowed] : outrageous, sick, 350% VERBOTEN!
[On knees, head bowed]
→
[Face on floor, butt in air] : most korrekt, APPROVED ELEMENT!
So simple!
Don't need Comrade "Brain-in-the-Jar" Betinov ‒ even AI can manage this!
Dedhedvedev
"May," "might" and "could," the fudge words of both climate change (nee global warming) and AI.
How humans will lose control of artificial intelligence
Lose control? Are they losing control or ceding it? As in the case of Google's AI being assigned the task of screening YouTube videos for "hate."
More and more AI and super-AI stories in the news, where are they going with this? For what are they preparing us? The next Big Scam. the inevitability of computers deemed artificially intelligent by whomever to intrude deeper and deeper into our culture and our lives?
Question: How does one argue with a computer?