Will Beria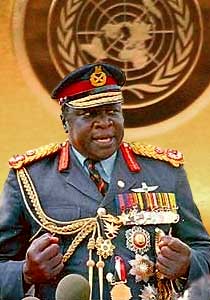 A block of nations comprised solely of dictatorships and absolute monarchies has proposed a resolution to change the bylaws of the UN restricting democracies from voting. Said a spokesman for the group, "The international community believes in one man, one vote. Face it, we're the only one-man governments here." Should this be adopted they also propose the UN General Assembly be renamed the General's Assembly.
The first order of business for the group is to streamline the UN process. The notoriously lengthy UN debates take too much time, often resulting in bad or inept decisions. The new process will bring the same results in one third of the time. A statement dictated to the press said, "Democracies are inefficient when making decisions. We can improve the UN by eliminating the inefficient. Hard decisions are only hard because people are given choices. Our way makes hard decisions easy."
No dissenting members from any block member state could be reached for comment.

Comrade Whoopie

My only comment is to say that I have no comment.


Colonel 7.62

Your comment of not commenting has been duly noted, and factored in. Along with your race, age, religion, sexual orientation, carbon footprint, and membership in progressive organizations.


Comrade Nika

Uh oh Comrade Whoopie, maybe you should have just said "present".


Juche Couture

Kim Jong Illin' discusses the Sacred Retribution Plan For South Korea with his secretary. Let's listen in.....
(crick on rink)
Kim Jong Illin's Sacred Pran