Donate now to keep the Cube rolling!
Ask yourself, "How much does The People's Cube mean to me?" Then choose wisely.
VOLUNTEER COMPLIANCE IS MANDATORY
A. It does all the thinking for me.
B. I basically live here
A MONTHLY DONATION
select a level of your attachment
---
Thank you for helping the glorious cause! Clip out this coupon and keep it in a safe place (e.g., inside your Party card). It may save your life.*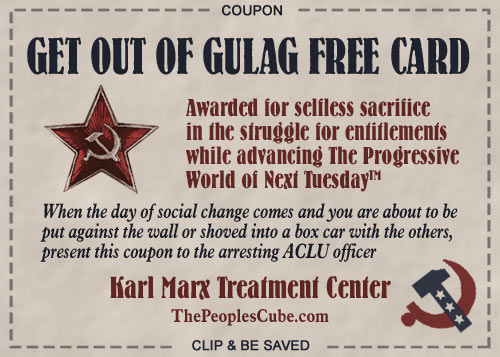 * Not valid for purges and show trials. The Party reserves the right to interrogate your family. Dialectical preconditions apply. Cannot be combined with any other promotion and/or demotion. Valid for a limited lifetime only.
---
The uncontested absurdities of today are the accepted slogans of tomorrow. They come to be accepted by degrees, by precedent, by implication, by erosion, by default, by dint of constant pressure on one side and constant retreat on the other - until the day when they are suddenly declared to be the country's official ideology. ~ Ayn Rand

Rubiks & Rubik's Cube ® used by special individual permission of Seven Town Ltd.

©* 1917 – 2022 The People's Cube, Politburo and Central Committee of the Socialist Shadow Party, Ministry of Truth, Comrades of Armed Organs, Young Pioneer Organizations, Komsomol, Society for Sport and Technology, Society for Advancement of Secondary Sexual Characteristics, and other groups and collectives of our great Socialist American Motherland.
____________
* People's Property notification (known as copyright in the degraded non-socialist economic region of dying capitalism)