Gult Quiz for the Guilted Age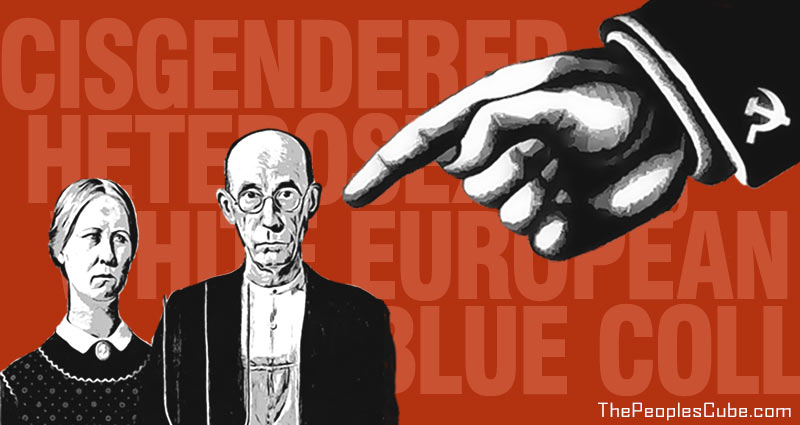 Guilt Quiz & Guilt Level Chart:
Tools for the Guilted Age
The Guilted Age is similar to the Gilded Age, only instead of being motivated by the acquisition of gold, the nation is motivated by the distribution of Guilt™.
A guilty electorate is less demanding: beggars are not choosers. Collective remorse makes the masses more malleable. Not only do workers toil harder for less, they also donate surpluses to progressive causes within the hope that it would offset their culpability for having the wrong color, ethnicity, religion, zip code, profession, hobbies, vehicles, grocery bags, shopping patterns, dietary choices, wages higher than in Zimbabwe, and exhaling the CO2.
The pursuit of happiness in the Guilted Age is redefined as follows: the stronger your guilt, the happier you are to give your stuff to us. We call it Sharing™.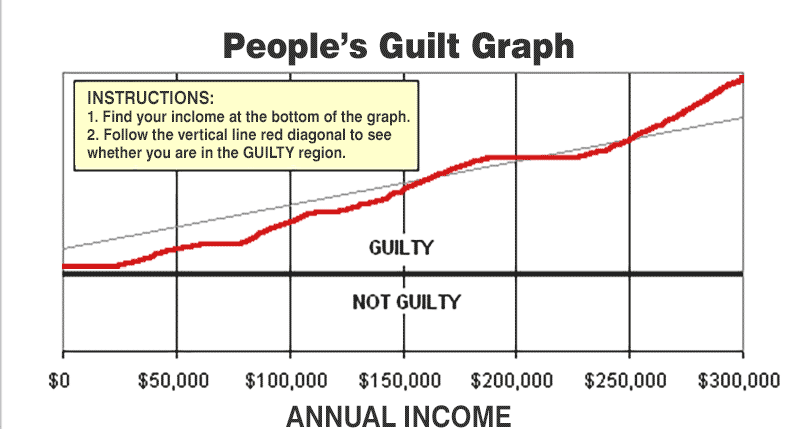 We don't like taking chances, that's why we hate capitalism. We can't leave Guilt™ to chance either - it is a fickle sentiment that must be systematically reinforced and replenished. To sustain our massive guilt-fueled American economy, the concepts of Guilt™ and Sharing™ must be institutionalized and managed in a planned, scientific manner from a central location by experienced professionals.
To rule over the guilt-ridden nation more efficiently, we are working towards establishing the US Department of Guilt - a federal agency tasked wih stimulating and enhancing guilt complexes among the electorate through various guilt-inducing campaigns in the media, public education, and entertainment subdividions of the progressive establishmewnt.
Guilt czar is to be selected from among professional guilt trippers on the raster of Socialist International, to oversee a proper distribution of Guilt™ among all residents as per assigned quotas (see diagram below).
The US Department of Guilt will steer and support a planned transition from Conspicuous Consumption™ of the Gilded Age to Conspicuous Compassion™ of the Guilted Age, as mandated by government edict.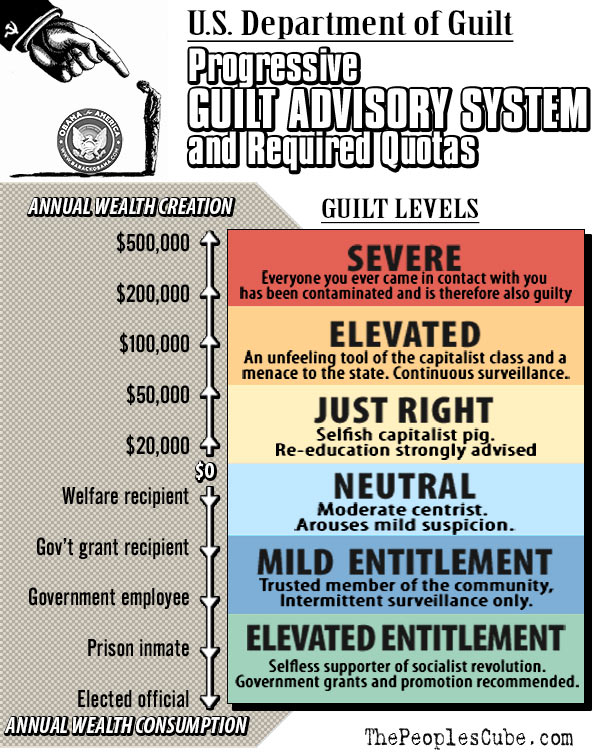 To this end, scientists at Karl Marx Treatment Center developed the following Progressive Guilt Quiz. It is to be taken by all residents at the start of each fiscal year, to help us estimate their position in the Guilt™ hierarchy. The level of Guilt™ they are required to feel is directly proportional to the money they are required to Share™ with the Party and its organs in order to receive their annual Guilt Offsets.
---
Progressive Guilt Quiz
Your level of Guilt™ is calculated in Guilt points. Print out the result and staple it to your government-issued ID card. If requested, present it to the arresting ACLU officer.
INTERPRETING THE RESULTS:
Find your number in the Guilt™ hierarchy
+551 to +800 Guilt points = Non-person
You and your life's work are barred from being mentioned in media publications. Ineligible for re-education. After the Revolution subject to Revolutionary Tribunal Che Guevara style (shot in the head without trial). Everyone you ever came in contact with has been contaminated and is therefore also guilty. We will find them, too. You are all incorrigible corporate war-mongering Zionist terrorists; the people will continue to resist your capitalist attacks by any and all means.
+301 to +550 Guilt points = Patriarchal chauvinistic war profiteer
You are an unfeeling tool of the capitalist class and a menace to the state. Barred from working in educational, media, or entertainment industries. Not qualified for government grants or any other public assistance. Re-education strongly advised. After the Revolution you and your family will be arrested and relocated to a place where The People's Scientists will remove your guilt.
+101 to +300 Guilt points = Selfish capitalist pig
The only way for you to redeem your existence and feel better about yourself is to donate the amount that matches your score to the People's Cube. Donations are to be made here (link to PayPal). Print out and show the receipt to your local Kommissar. After the Revolution one receipt will be redeemable for one Get Out of Gulag coupon. Not for sale. Not transferable to family members. Violators shall be subject to Revolutionary Tribunal Che Guevara style.
+100 to -200 Guilt points = Moderate centrist
You are neutral, neither good nor bad, but only one who arouses suspicion. Expect to be placed under continuous surveillance. Eligible to work in the media but only as a token "conservative commentator." Grants or any assistance from the government and charitable institutions denied.
-201 to to -400 Guilt points = Idealistic progressive
Entitled to government grants and promotion within the administrative hierarchy. Recommended for media appearances and awards. As a trusted member of the community you will be placed on only intermittent surveillance. We will count on you to provide us with useful information on your neighbors, co-workers, friends, and family.
-401 to -600 Guilt points = Selfless supporter of socialist revolution
The sense of entitlement is strong within you, comrade! Indeed, you are qualified for public assistance in the amount that matches your score. Print out your score and bring it to the local Kommissariat to redeem for one of the following: (A) free NPR broadcast by members of Media Workers Union, (B) free indoctrination by members of Teachers Union, or (C) free entertainment by the best state-sponsored members of Artists Union who will place a cult object of your choice into a bucket of urine.
-601 to -800 Guilt points = Hero of the Revolution
Qualified for a position of a media darling, most-talked-about celebrity, the sexiest man / woman / transgendered person alive, and positive role model for the young generation. Entitled to winning national and international prizes in the field of the Party's choosing - from Oscar, Nobel, Pulitzer, Emmy, and Golden Globes to the prestigious "Pinky's Beet of the Week at the People's Cube Award and Bumper Sticker."
-801 to -900 Guilt points = Protector of The People
Congratulations, Comrade! The People welcome you as an Ultimate Guiltless Member of Society! Call the Obama Administration and tell them you are entitled to leadership positions inside the government, non-profit, and community organizations, as well as subservient media, educational, or entertainment branches.
REPORT YOUR SCORE AND COMMENTS HERE >>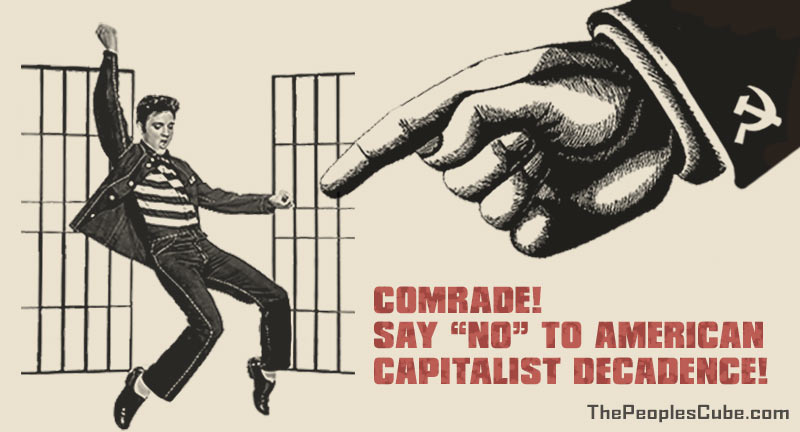 The uncontested absurdities of today are the accepted slogans of tomorrow. They come to be accepted by degrees, by precedent, by implication, by erosion, by default, by dint of constant pressure on one side and constant retreat on the other - until the day when they are suddenly declared to be the country's official ideology. ~ Ayn Rand

Rubiks & Rubik's Cube ® used by special individual permission of Seven Town Ltd.

©* 1917 – 2022 The People's Cube, Politburo and Central Committee of the Socialist Shadow Party, Ministry of Truth, Comrades of Armed Organs, Young Pioneer Organizations, Komsomol, Society for Sport and Technology, Society for Advancement of Secondary Sexual Characteristics, and other groups and collectives of our great Socialist American Motherland.
____________
* People's Property notification (known as copyright in the degraded non-socialist economic region of dying capitalism)