Opiate of the People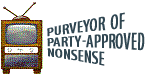 California Ballot Initiative to Impose 45% Income Tax, 55% Wealth Tax & 36%-54% Exit Tax
A California activist is trying to gather the 694,354 signatures needed to place a tax initiative on the ballot that would:
* Impose a new 35% income surtax (in addition to federal taxes and the existing 10.3% top state rate) -- 17.5% (on all of the taxpayer's income) when income exceeds $150,000 (single)/$250,000 (joint), and an additional 17.5% (again, on all of the taxpayer's income) when income exceeds $350,000 (single)/$500,000 (joint).
* Impose a one-time 55% wealth tax on assets exceeding $20 million held by a California resident or held in California by nonresident.
* Impose an exit tax of between 36.5% to 54.3% on both income and unrealized appreciation in asset values over $5 million when a resident dies or leaves California.
http://taxprof.typepad.com/taxprof_blog/2008/08/california-acti.html
~
Comrades! The age of Obama has begun! Not only does the Party get to tax your income, it
takes over half of what you already have
and
taxes you even more if you try to leave!
Think of the wonderful social programs that can be implemented in the People's Republic of Pelosi...
illegal aliens
undocumented workers will be able to cross the border in Rolls Royces instead of beat up old vans. State will be able to build McMansions under highway bridges for all victims of capitalism living there. And if agents of bushhitler invade another peace-loving country in the future, California will be able to raise an army and fight on the side of the victims. This truly is the utopia Marx dreamt about all those years when he was smoking opium! And the best thing is that due to Federal Alternative Minimum Tax, greedy rich fat cats will not be able to deduct California state taxes on their US 1040!
Fellow Progressives, we must ensure this ballot initiative is passed so that social justice can come to state of California. I'm sure all of the fine upstanding citizens representing the film industry will join us in this quest. I suggest we contact comrade producers, actors, directors, et al, and inquire how soon they will be coming out to support this fair tax plan. Babs Striesand, Susan Sarandon, Jane Fonda, are you listening?

Commissar_Elliott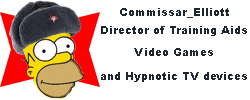 As I've said in the past, why not tax everything out of everyone, redistribute it, and call it good?


Opiate of the People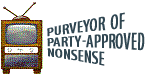 Glorious! Why must we bother with all this withholding and FICA nonsense? Why not just have all employers send worker's pay directly to Party and Party will send back anything they didn't spend (Ha, ha, ha.... "send back anything they didn't spend" - I make a little joke here, Comrade!) But seriously, next time workers gather for another Streisand comeback concert, have Party members standing at box office to put all receipts directly into Party coffers! It's for the public good!


Chairman M. S. Punchenko

Weak Liberalism at best. If this "activist" (probably a Rove stooge) wanted to really bring progress to the masses, he would certainly petition for a wealth tax of at least 100% -- at least 100%, Comrades!

Ugh... amatuers.