Opiate of the People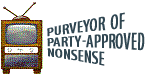 In a bizarre incident in NYC, elite journ0lists and civilians alike expressed shock and dismay at reports that People's mayor Mike Bloomberg would soon make a proposal to improve the city's garbage collection.
"Where the hell does a big city mayor get off thinking about things like that?" spake one disappointed pundit. "Bloomberg has always been about things like global warming, national gun control policies, the proles' eating habits... these are the kind of things we pay a mayor for, not garbage pickup."
"I can hardly believe my ears", stated one former associate who vowed never to speak to the mayor again. "How does he think he's going to go to sophisticated dinner parties with nothing to add to the sparkling conversation except
garbage
? He'll never dine with me at a five-star restaurant again!"
As the day wore on, the trash talk spread while the city's nobility grew increasingly agitated and disgruntled. Dark oaths were muttered, quickly followed talk of impeachment and possibly even dropping him from the city's celebrity A-list.
Wild rumors began to crop up; one report suggested Bloomberg was actually going to visit Hurricane Sandy victims on Staten Island. Another claimed that he was observed calmly
listening
to a group of Tea Partiers. The city was seemingly on the verge of panic.
~
Late in the day, the mayor's office caught wind of the brewing storm and quickly issued a clarification. The mayor had no intention of stooping to addressing garbage pickup. The true intent of his forthcoming proposal was
announced
:
The Bloomberg administration is considering banning Styrofoam cups and containers — popular at thousands of delis and food carts across the city— as it prepares to roll out a major recycling announcement in the coming weeks, a Sanitation Department official said yesterday. …
"Whew, what a relief!" sighed NY Times columnist Quimby Snotman from his multi-acre estate in Larchmont. "I should've known Mikey would not lower himself to address something lower-class people care about. It would be like President Obama caring about middle-class jobs in Missouri instead of gun control and green energy. It'll never happen."
"He's back on my dinner list again!" quipped the fellow who earlier vowed never to speak to the mayor again. "Banning styrofoam for the good of the planet... that's his most impressive idea yet. I hate those damn greasy little delis and food carts with their smelly styrofoam. The mayor and I don't need styrofoam to eat a meal, why should anyone else?"
The mayor's office later apologized profusely for the miscommunication with the important segment of the public and to show their hearts were in the right place, made the following announcement:
Homeowners in an exclusive waterfront enclave in Brooklyn thought Hurricane Sandy was as cruel a blow as they could suffer — until the taxman proved them wrong.


The city is claiming that property values have actually shot up for many homes in Manhattan Beach and it's going ahead with hefty tax hikes for the houses devastated by the October superstorm, shocked property owners told The Post.

Homeowners in other neighborhoods hit by Sandy, including Coney Island, the Rockaways and parts of Staten Island, also said they've received increases.


"Now that the crisis is over, we can all have a good laugh about it" joked one wealthy supporter.
"Raising property taxes on homes that people can't live in.... that's the kind of mayor I voted for!", said another.
"I don't know why he calls himself 'No labels'", groused one deli-owner and likely Tea Party member. "I can think of plenty of labels for the #$@#$@$@!"

Captain Craptek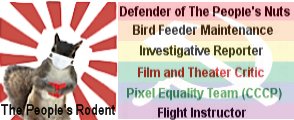 His Secondary Highness, Mayor Bloomturd, explains the scientific basis of his mandatory limitation of cup size as applied to soup and/or soft drink consumption.