Commissar Wahoo

Glorious news Comrades! Foreign Policy magazine is reporting that Comrade John Fing Kerry (D. Viet.) is the favorite among Russians to relieve the Hildebeest as Commissar of State!
Who (according to anonymous sources) will be the next Secretary of State?
Quote:
Finally -- and least expectedly -- the Russians seem to be pulling for Kerry. An anonymous source in the Russian foreign ministry reportedly told Kommersant business newspaper that Moscow would "much prefer" the Massachusetts senator. According to the source, Rice is considered "too ambitious and aggressive" and would make diplomatic relations between Moscow and Washington "difficult." How much the Massachusetts senator appreciates the support from the Russians is an open question.

Kerry, for his part, told the Boston Globe in June, "I'm doing the job I love as chairman and senior senator...I'm working hard at both, and I'm already preparing to run for reelection" in 2014.

Give thanks that Dear Leader has finally vanquished the evil Ben Ghazi and believe that the even more evil Bibi is next...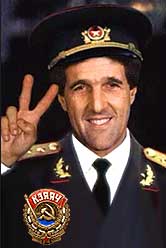 John Frum
Dedhedvedev
This just shows how bass-ackwards America used to be, and how it is now wonderfully "transformed." What other country in the world weighs the opinions of its enemies in the selection process of its public officials. I'm so proud. All Hail Obama.