Comrade Stierlitz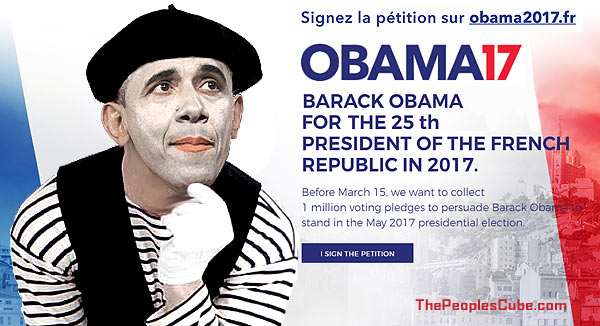 Looks like there are a lot of hopers and changers in the Demokratique People's Caliphate of France! Our Islamic Cultural Enrichment programs have finally started to pay off. The website
Obama2017.fr
spells out their pleas to have a Truly Revolutionary leader:
The French are ready to make radical choices. That is good because we have a radical idea to propose to them.

After a phantom quinquennium and faced with the announced failure of the next presidential election, we think it is time to move on to the 6th Republic to get France out of its lethargy.

To launch this 6th Republic, we wish to strike a blow by electing a foreign President at the head of our beautiful country.

Barack Obama has completed his second term as President of the United States on January 21, why not hire him as President for France?

Our goal is simple, to collect before the 15th of March, 1 million voting promises to convince Barack Obama to run for the presidential election of May 2017.

- Barack Obama has the best resume in the world for the job.

- Because it is still possible to vote for a President and not against a candidate.

- Because at a time when France is about to vote massively for the extreme right, we can still give a lesson of democracy to the planet by electing a French President, a foreigner.
Komrades, I propose that we launch a campaign to get all of the peoples of the USSA to do what Obama would want and sign their petition as foreigners who believe in the French dream.
Also, to our Islamic friends, why not migrate to France and vote for His O'liness? Heck, why not become Muslim and migrate? You would be helping this gentleman, who undoubtedly has the best resume, to continue his legacy of Hope and Change on another continent.
Minitrue
Comrade Stierlitz, you made my day. When they come to collect me for the Gulag, I'll at least go laughing!

RedDiaperette
I have already collected proxy petition signatures and filled-in absentee ballots for hundreds of residents of French cemeteries as well as newly arrived refugees. Now I need a government grant for postage to mail them in.

Papa Kalashnikook
Can he take Kalifornia with him? The French would love Kalifornia.

Ivan the Stakhanovets
John Kerry speaks French, if he's part of the deal, he can translate key phrases like "He's playing golf, we'll get back to you" and "if you like your cheese you can keep your cheese..."

Obama/Kerry 2017! Vivé le Revoluçión!

Red Square
I just went on Obama2017.fr and downloaded a marvellous social media kit. I just tweaked it a little to make it look more realistic.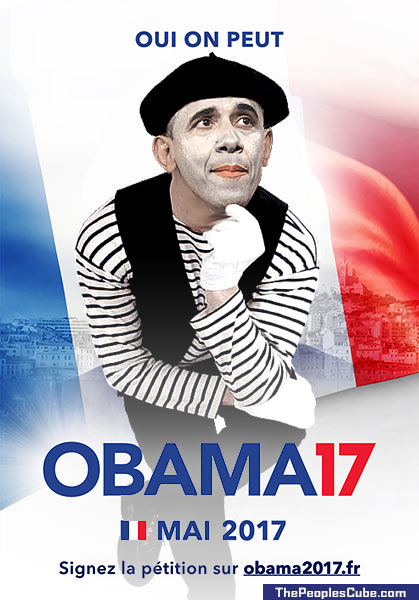 Why the mime, you ask? Since Obama doesn't speak French, nor is he likely to learn it except for the word "moi," he'll be silent most of the time and deliver his inauguration address in the mime language. He's already mastered the "mime trapped in a bubble" routine quite well.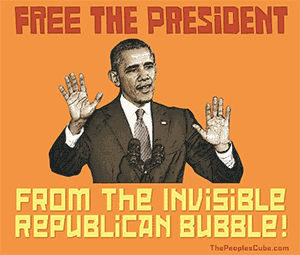 Alternatively he can be holding up signs, "it's Bush's fault" and "let me be clear."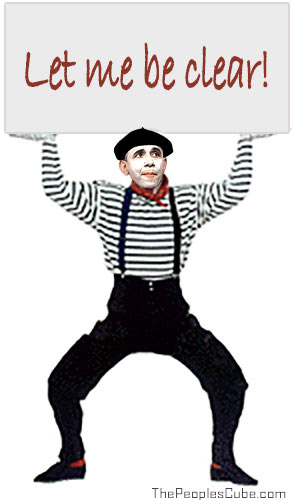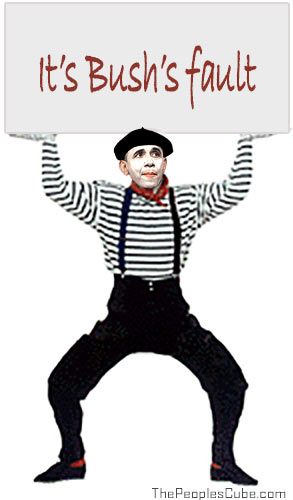 Minitrue
I endorse another candidate...
Comrade Putout
.
Comrade Putout
.
.