Proletarian Robot
Comrades: We have had a minor set-back on setting up the wondrous new Chocolate City of Next Tuesday (much like the Glorious New Detroit City). Former Mayor and sticky fingered untiring people's hero Ray Nagin is under investigation for allegedly defrauding the city out of money. His non-white glorious vision was as follows:

"he was planning to rebuild a bigger and better New Orleans where diversity, equity and fairness ruled….. Nagin also stated that New Orleans "will be a majority African-American city because this was what God wants it to be."


Comrades I can't tell you what a travesty of justice this is when it has been clearly documented that the Katrina disaster is solely the fault of the vile rethuglican Bush. These hypocritical right wingers don't even know their own Bible!?! The Scriptures (hahahah) says:
"You must not muzzle an ox to keep it from eating as it treads out the grain." And in another place, "Those who work deserve their pay!" Well obviously it wasn't enough pay or wasn't fair pay for Nagin to have allegedly taken an extra pay raise. Who do they think they are to try and muzzle such a stalwart visionary??







Red Square
How could Mayor Nagin have cash problems after we supplied him with a load of "Fund Raisin' Nagin's Chocolate City Bars With Nutty Liberals Inside"? What could go wrong?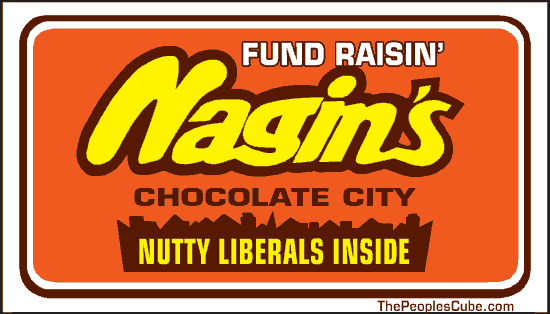 Opiate of the People
Comrade Robot, I am sure Commissar Holder of the DOJ is in the process of discovering the alleged "fraud" was simply an unauthorized loan from the city to Hiz Honor which was not expected to be repaid until someone stumbled upon it and illegally reported it. I am sure that those who violated their oaths by making these reports will be punished severely and then go mysteriously missing. I expect these retaliations to be both fast and furious.

Proletarian Robot
Comrade Opiate: Holder was specifically instructed not to look in Nagin's freezer and if he does what they find there belongs to William Jefferies.......