Red Square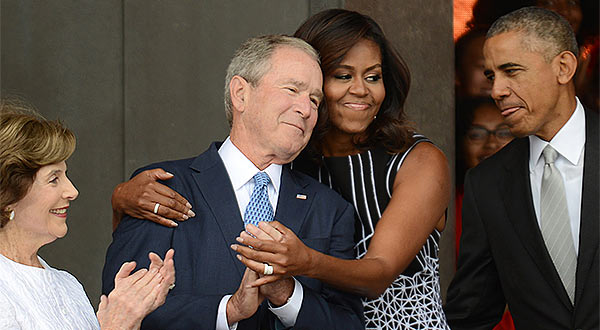 According to CNN, over the past eight years, George W. Bush and Michelle Obama have been seen becoming increasingly chummy, sitting next to each other at public events, sharing laughs, or lending a hand to hold. The picture above was taken during a recent dedication of the National Museum of African-American History and Culture, when Michelle reached over and grabbed George for a hug.
Questions must be popping up all over the country: how could our brainy and beautiful First Lady befriend such an evil and stupid monster? What's next, hunting with Dick Cheney? Doesn't she remember how for eight dark years we cowered in the shadow of the most corrupt, the most evil, the most murderous, and the most bloodthirsty administration ever in our history, both past, present and future?
How could she do this when even now, eight years after his illegitimate dictatorship had been finally overthrown by Barack the Lightbringer, the children are starving, the minorities are being killed by the police, the middle class is collapsing, and even the most enlightened minds in her husband's cabinet still can't put this country back together again because of all the damage done by the previous administration?
Has the current truth been changed without notice? Because there can only be two options: either Michelle has gone to the Dark Side, or - you better be sitting down - George Bush is not really evil. If so, was Bush Derangement Syndrome based on a lie? Does Michelle realize how much pain and suffering Bush had caused her fellow progressives? How much money they'd spent on therapy sessions? How are they supposed to feel now, knowing they went into therapy over a lie?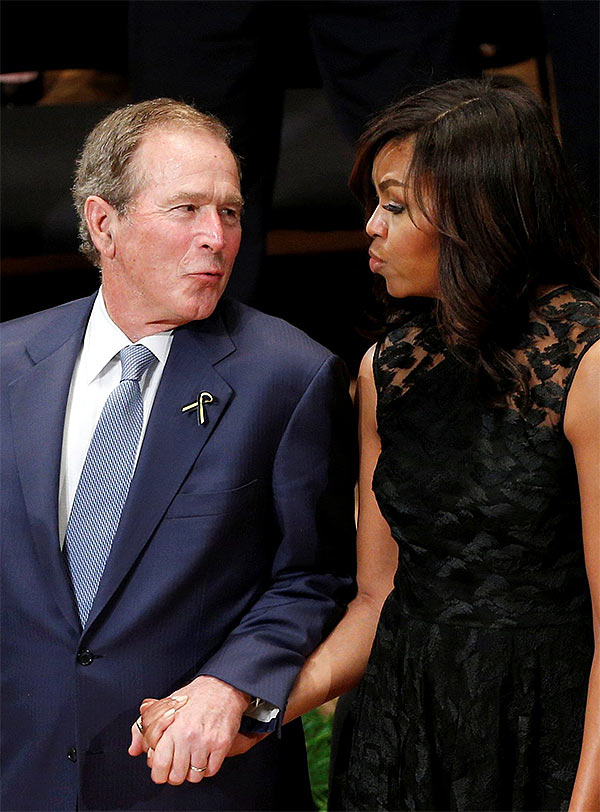 Inquiring minds are shocked. Please tell us this is only a tasteless hoax by some ex-Soviet propaganda artist running a click-baiting, Snopes-hating, fake-news website.
Relax, comrades. Yes, the pictures are real. And no, the current truth hasn't yet been canceled: Bush is still an evil and stupid McChimp. The Battle of the Narratives continues as usual. The unwashed are still expected to selflessly fight one another, sacrificing their sanity and everything they hold dear in order to defeat the Dark Side, the Ultimate Evil, the Next Hitler, etc. - especially during the election years, because every election is the Most Important Election in Their Lifetimes.
And yes, our betters in the picture are well aware of it. They know the current truth and how we fight each other tooth and nail in the Battle of the Narratives. They know everything. It's just that those who live above the stormy clouds that soak the rest of us with acid rain, they also see the other truth, a better truth, that rises like a mountain peak above the clouds, propelled by the colliding tectonic plates out of the dirt that keeps the pressure down below.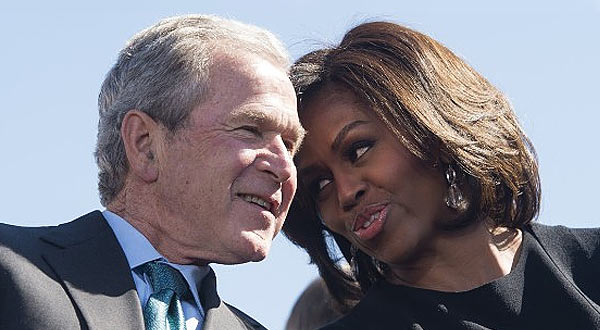 They know they've also been propelled above the crowds by the tectonic collision of the narratives; at least that's how it looks from their celestial angle. But down below it looks like a gigantic skirmish between two dirty crowds of the unwashed - a skirmish our betters need to keep alive so they can go on living above the clouds.
Up where they live, there's no point in spoiling a pleasant afternoon with silly hostilities. Painful words like "screw you" is not in their lexicon; that's for the deplorable unwashed to say while fighting the Battle of the Narratives. This sunny disposition and the absence of fighting at the top is what makes their cloudless and crowdless existence so desirable.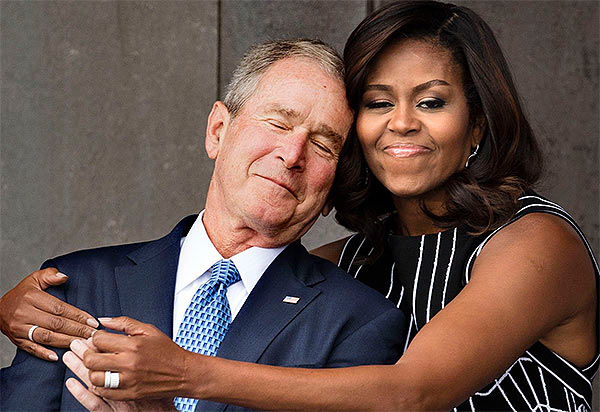 But we, the unwashed below, are not supposed to know that their beautiful and painless living is made possible by us fighting and hating each other. The fiercer the battle, the higher our betters rise above us.
Conversely, if we were to stop the fighting and said "screw you" to our betters instead, the tectonic pressure that keeps them at the top would cease and our political elites would tumble down into the dirt at our feet. That's why our betters and their media lackeys are very careful about dividing us and keeping us apart, so that the Battle of the Narratives would never stop.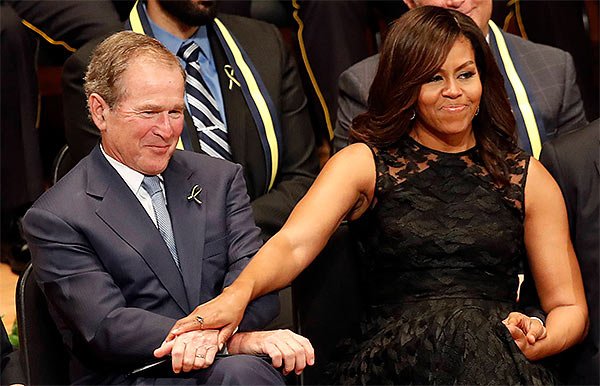 At least that's how it was until Trump came along and said "screw you" to everyone at the top and at the bottom, and "screw you twice" to the media. Naturally, the elites from both parties sensed the danger and interrupted their love fest to attack Trump from both the right and the left, deploying narratives that could have easily felled anyone in their circle. But when the dust settled, they saw Trump standing tall, while their own foundations began to shake.
What they didn't realize is that Trump wasn't playing their game. He had risen above the crowds on his own merit and didn't need the Battle of the Narratives to stay up there. Screw you, he said, and screw this game. Let's stop fighting each other. Let's start living like normal people, without the stupid narratives, and let's make America great again. And if anyone wants to screw with us, we'll screw them up.
The unwashed heard Trump loud and clear. His "screw this game" movement began to grow exponentially, absorbing deserters from both sides, as the elites began to tumble down, one by one, into the dirt. And while the current and former presidents with their spouses still enjoy a special status, their celestial days may also be numbered. Sorry, George and Michelle. Try to make the best of it while you still can.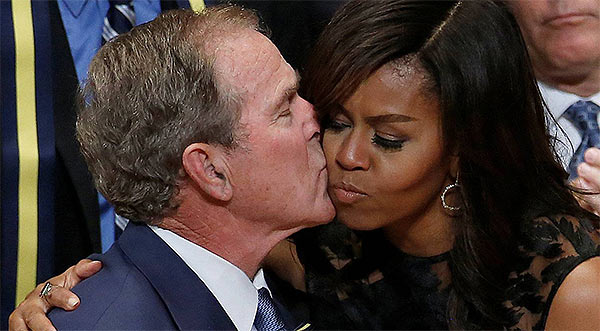 To be continued after the election. No matter who wins it, American politics will never be the same.

Dedhedvedev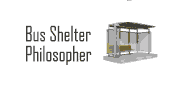 What do I do with my Evil Bush Halloween costume now?


Mikhail Lysenkomann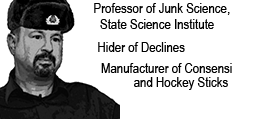 Red Square
how could our brainy and beautiful First Lady befriend such an evil and stupid monster?
The answer really is quite simple, Comrade. It's just basic "biology," you know.
It's widely known that Michelle can "take" a fire extinguisher, and she gets no "satisfaction" from a throws-baseballs-like-a-girl sissy who is endowed like a...
...well, let's just say that a pebble rattling around inside a cave just doesn't help the cave.
Mr. BuSSSSSh, however, being Evil, is very generously endowed (it's amazing what can be done with tentacles, you know) and Moochelle can't help feeling attracted to him! Also, women are naturally attracted to danger.
So there you have it. My Scientific explanation.

Comrade Stierlitz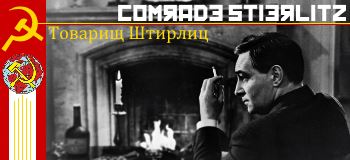 [OFF]

I'm liking the idea of reincarnation more and more. Mainly because people like Obama and Hillary get to re-live their lives, except under the laws they made. And I do think that the more bad things you do the worse your next life is.


Pamalinsky

I was gobsmacked when I first heard this "New World Order." I didn't like the sound of it, or the idea of it.
The last 10 years I have had to listen to people say to me, "Bush did it first!" (In order to justify Clinton and Obama's actions)
They were right!
Oh, and happy first day of Obama turning over the Internet to hostile forces at the UN!
Obama did it first!