Red Square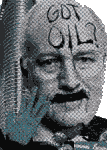 $.$.Halliburton featured on the cover of
The Great Unraveling
, a book he helped Paul Krugman of
The New York Times
to co-author
---
We at
The People's Cube
make every effort to maintain the image of an unbiased mainstream media outlet. Nevertheless we are being spattered with a lying demagogic red-baiting Big Joe McCarthy-like campaign of persiflage and downright ontological terrorism denouncing us in a kangaroo court manner that our timely news coverage and insightful opinion pieces are skewed toward the left hand side of every debate.
To answer these perverse charges we followed the example of The New York Times that keeps at least one paid conservative columnist to shield itself from the accusations of bias. In that The Times follows the example of Joseph Stalin who shielded himself from accusations of anti-Semitism by keeping one vodka-drinking Jew in the Politburo.
Please welcome to our pages $.$. Halliburton, a dark-spirited reactionary neo-conservative with a shady pharmaceutical past, tarnished by a personal friendship with Rush Limbaugh himself. Though his Neanderthal opinions may be a direct opposite from ours, Mr. Halliburton is a proud addition to our editorial staff, a symbol of
The People Cube
's commitment to intellectual diversity.

Premier Betty

Beware the guillotine after the revolution comes.


Commissar_Elliott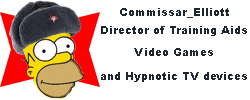 Foolish rethugliKKKan, your ideas have paved the way for the ultimate destruction of the world, with your tax cuts, war, crimes against humanity, competition in business, and other atrocities to horrible to mention to some comrades.
Thank you, commie rat. I try.
$.$. Halliburton

Comrade_Tovarich

Comrade $.$. Halliburton,

I have recently purchased 30 shares of HAL for under $20. I am telling you this to know that I'm going to stick it to you, The Man, by using the dividends to fund revolutionary activities, with what's left after buying my Fair Trade coffee, organic arugula creme brulee, and other foods befitting a revolutionary intellectual such as myself.

If I might, please let me suggest you increase the dividend. Arugula has become more costly of late.


$.$. Halliburton

Margaret, new letter. Take this.
Dear Commie,
Glad to hear you're using your shares of Halliburton stock to make socially responsible purchases. You'll be happy to know that Hallliburton Corporation produces, processes and markets just about all of the "alternative" foods sold in the world today. All "Fair Trade" coffee comes from our plantations and all "organic" produce and meats come from our exclusive factory farms. I, for one, particularly enjoy the foods we sell through the Che Gourmet line of quality foods that we designed exclusively for dumbass Manhattan and Hollywood liberals.
[url=[https://thepeoplescube.com/red/viewtopic.php?t=92]Che Gourmet commercial at People's Cube Videos[/url]
Bon appetite you longhaired Marxist scumbag. And don't forget, like our ads always say -
"No matter where you go, there's Halliburton!"
Sincerely,
$$ Halliburton

Comrade_Tovarich

D'oh! Hoisted on my own retard.

Just wait, come the revolution, you'll get yours, although it seems you're already doing so anyway.


Dr. Nyet

What I want to know is , who will pay for the primitive accumulation of coffee I just spit over my shirt after reading the evil capitalist's reply?


edgarinventor
Great opening poster, $.$.Halliburton, reminds me of some Posters from way back when.
My Country was still Independent, then, not a Kraut Colony, pardon, EC member.
Almost makes me nostalgic for the Red Period, nah, no way...
P.S. I've sent that picture along for some of us to do some Red Annoyance.
It's always Annoy-a-Commie Day...
As every Capitalist must be a good shot, here's a template for you to train your 50 cal rifle: