Kommissar Chernobylski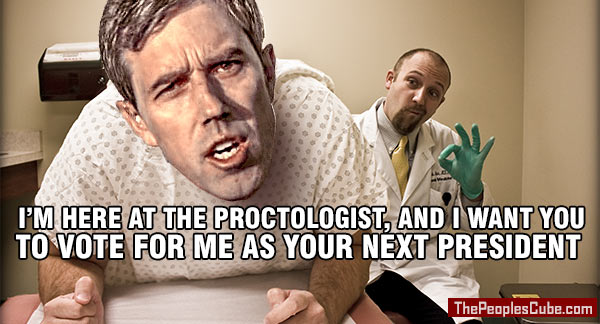 Former US Senate candidate Beto O'Rourke of Texas will be first 2020 presidential front runner who has nothing to hide, in contrast with all the other Democrats who will tell us what their plans are
after
they have won the presidency.
On Thursday morning O'Rourke
posted
an Instagram story from the dentist's office. "So I'm here at the dentist," he explained, after his hygienist removed a pair of tooth-cleaning things from his mouth. Beto O'Rourke, who is a Hispanic-Irishman or an Irish Hispanicman, assured his fans that everyone in this world and beyond was intensely interested in what came out of his mouth and other cavities.
Speaking in a mixture of Gaelic and Spanish, Mr. O'Rourke said, "Just because I lost as the Democrat senatorial candidate after spending
many times more money
than my opponent, most of it from out of state, coming in in small amounts repetitively donated to cover up the identity of the givers, doesn't mean I can't win."
"Just because these small donations added up to
hundreds of thousands
from one man or another woman," he continued, "doesn't mean that I am not a grassroots candidate, like Vladimir Lenin, representing the chronically poor who can't afford their own Safe Spaces and Crying Rooms. Just because new votes were trucked in in duffel bags from Mexico in the middle of the night three days after the election, and then counted, doesn't mean that the dead going back to the Mexican War won't vote for a President Beto!"
Asked about his sure-to-be political backer, Amazon honcho Jeff Bezos who owns the Washington Post, Beto complimented Jeff's new girlfriend, "Look, she's gorgeous! The last time I saw lips like hers they were attached to a hook!"
In addition to unveiling his formidable teeth and other appendages, he also unveiled his plans to solve America's formidable immigration problems, promising
to bus all of Honduras
, Guatemala, Columbia and El Salvador to Los Angeles across the border checkpoint Trump left in his wall. Beto's other campaign promises include putting up a welcome sign in Irish and renaming the United States "La Tortilla."
When a reporter questioned such a massive change, Beto said simply,"Don't you like tacos?"
As America's first candidate with
nothing to hide
, Beto is expected to make his next live announcement from the proctologist's office, followed by a televised colonoscopy, which Democratic strategists say will appeal to the LGBT community and get the women's vote.
According to inside sources, Beto further plans to address the nation during his sex change operation, detailing the process of him turning into Betty.

Red Square

Captions?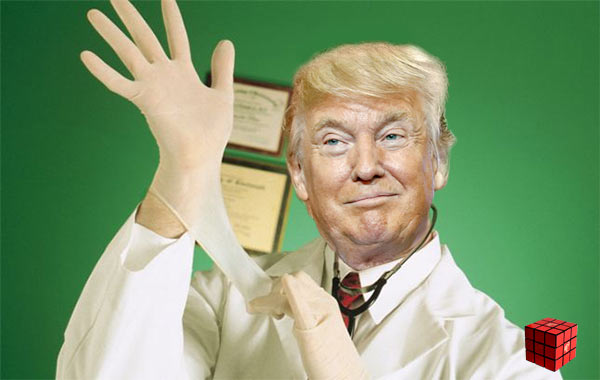 Ivan the Stakhanovets

"...you're going to feel a little pressure..."


P.P. Gogol