Chedoh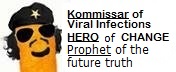 TAMPA BAY, FL - Members of the local Black Lives Matter chapter (BLM) are calling for a boycott of local businesses that sell merchandise designed for white people, such as sunscreen lotions and related skincare products. According to the organization, the sunscreen industry has a history of glamorizing white culture through advertisements that show only light-skinned people, while completely excluding the people of color.
"Sunscreen commercials always portray wealthy white people lazying about on clean beaches or expensive motorboats that minorities just can't afford," says a statement released by Tampa Bay BLM. "When was the last time Big Sunscreen used non-white models in their advertisements? Why aren't they ever showing an upper-class black family enjoying the good life on a sunny beach? The sunscreen industry has always been catering to white privilege; as such, it remains one of the last remaining vestiges of racism in our nation's economy."
Example of subliminal racism:
Angry BLM protesters picketed sunscreen aisles in several area supermarkets over the weekend, preventing shoppers from purchasing sunscreen products and claiming that anyone who patronized a sunscreen-selling retailer, even while buying unrelated food items, supported systemic racism and was guilty of oppressing racial and ethnic minorities.
Media reports of the controversy have helped to spread the sentiment to other American cities, with more and more BLM activists calling for a nation-wide boycott of bigoted skin care products that peddle subliminal racism by suggesting that white skin should stay white.
According to the BLM, this is now turning into an urgent problem on a global scale. "For years Big Sunscreen has been advertising its racist standards for whiteness throughout the world, while paying billions to avoid scrutiny of government regulating agencies. This must stop immediately, or else every sunscreen-selling store will become a fair target of legitimate looting. No justice, no peace," the BLM statement said.

Ivan Betinov

al-Blogunov, I am shocked at your callous geoism displayed in your edit. It is perfectly acceptable to place sale items on a small table or free-standing kiosk, an "isle" if you will, in a retail establishment. But you, with a combination of capitalism and religion dominating your subconscious, cannot accept an isle as a viable sales agent, replacing it with "aisle" as in a regimented capitalist sales system (instead of a traditional marketplace of haphazard vendors jumbled together without rhyme or reason) or as in a rigid and conformist church layout with an aisle running down the center of the nave.
Not only do you make this hurtful edit, you glory in it. The edit button has the option to make changes without notifying the reader (in the proud tradition of modern journalism), yet you chose instead to proclaim your changes, trumpeting to the world your hate and intolerance.
You disgust me.
Just a quick note to all comrades, see how easy it is to manufacture outrage by minutely examining anything written or spoken, focusing on one tiny, peripheral element and blowing it entirely out of proportion, and missing the point entirely.
REASON: I have changed "al-Bluganov" to the proper, highly respected, and non-Islamophobic/Russophobic "al-Blogunov". Thanks to this smart decision, made early in my administration, the seas began to recede, the Children™ have been saved, and

Komissar al-Blogunov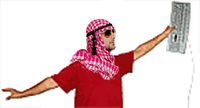 ...the earth began to heal."
However, I do concede one point: if an aisle wishes to self-identify as an isle, who am I to cast the first lexicon?

Red Square

Regulate Big Sunscreen!
As a minimum, their commercials should include 60% of non-white models to reflect the changing demographics.
In addition, I am outraged - OUTRAGED! - that the article doesn't mention the suntan lotion that helps white people to look more like the people of color, which is a blatant cultural appropriation on a scale worse than dreadlocks on a white student.
Ban Big Suntan!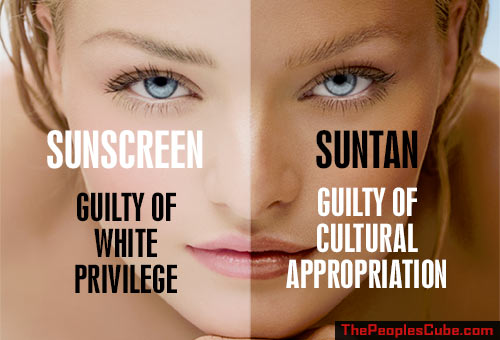 Komissar al-Blogunov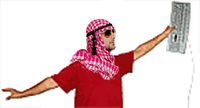 Also, an apology to Comrade Chedoh. I didn't see how to suppress the editorial comment. Maybe it's a Chrome thing.
But then again, if he's a thought criminal for not seeing the cultural appropriation hegemony inherent in suntans, then let me be the first to denounce him!

mi

I await a thorough investigation of all claims herein by the Snopes.com.