karl aderer
Toronto Mayor Rob Ford has recently gone "internationalist" with his dishonourable mention on John Stewart's "Daily Show" and other bona fide U.S. news networks. The Toronto Mayor is known as an outspoken anti-Communist and I have no choice as a Canadian patriot but to denounce my treasonous fellow citizen of the beloved Socialist Republic of Canuckistan.
Comrades, Mayor Ford is in fact a capitalist and wealthy philanthropist who donates his money and spare time to at-risk youth. Absolutely disgusting. He also refuses to take a salary as Mayor – this is an insult to our socialist bureaucracy and a slap in the face to Canadian taxpayers by refusing our collective money and attempting to lower our taxes by stealth.
Moreover, our Comrades at the distinguished newspaper the Toronto Star (known affectionately by the people as the "Red Star") have reported that they have seen a cell phone video of Mayor Ford smoking crack cocaine. The video was shown to reporters by other upstanding Canadian citizens – local Somali drug dealers who offered to sell the video for a mere $200,000, purely out of the goodness of their hearts so Mayor Ford could be publicly denounced.
The money was raised by the bona fide "Gawker" news blog in the U.S., but Canada's patriotic drug dealers have since mysteriously disappeared together with their video! Apparently the Somali drug dealers have been shooting each other – completely unusual behaviour for drug dealers.
This is obviously a vast right-wing conspiracy by Mayor Ford and the Capitalist International to destroy evidence. Moreover, Ford's propaganda machine is in full swing – his counter-revolutionary supporters are brazenly contradicting the people's Red Star and claiming that the crack video is either a fake or it doesn't exist.
I even found the following counter-revolutionary reports published on my own site mocking the "Commie Pinkos" in Toronto. I disgust myself. I vigorously denounce both myself and Mayor Ford as counter-revolutionaries!
And the Ford counter-revolution continues -- murder!

ThePeoplesComrade

Comrade Karl, you have hit upon a cherished progressive position. Once an accusation is proffered against any conservative, the weight of that accusation exists not in the facts or the truth but in the seriousness of the accusation. A mayor smoking crack is serious (exemptions for Mayors of D.C. or any minority mayor). No further proof is needed. Add to this the mention of a video and the coffin is nailed shut. Whether or not the video was a total fabrication matters not. A video would be serious and like accusations, the importance lies in the seriousness either real or imagined.


Kelly Ivanovna/келя ивановна
He's a horrible example to those poor welfare-bereft youth! Eh?


Captain Craptek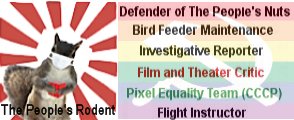 Anyone who spends money helping others is to be scrutinized closely. Obviously he is trying to buy prole votes and is therefore guilty of usurping Party prerogatives. I suspect smoking crack is only the beginning of Ford's troubles.


Red Menace

I bet he had sex with Margaret Trudeau, too!


karl aderer
Yes, of course you are all correct -- as a collective -- as individuals I sh'ant remind you that we are collectively enemies of the people.

I have hence updated my link(s) based on collective wisdom -- if you are all in agreement then please stand at the count of three ... 1, 2, 3...face in the direction of Lenin's tomb (or Hugo Chavez as a substitute, or in Canuckistan the Party has accepted Trudeau's tomb) and clap slowly and methodically in agreement in 16/4 time for precisely 30 seconds.............There, that's better!

Now to expound on my tactics Comrades, I must submit that the "poor Black people exploited by wealthy White people who turned them into crack dealers" was not my invention -- it was the creation of our dear Comrades in California during the '80's when the "crack explosion" first occured -- excellent tactic and it provided more than a decade of political fodder for our Comrades to exploit for the furtherance of class warfare. It is a tried and true tactic, and I must bow to our California Comrades in this case.