Nomenklatura-climber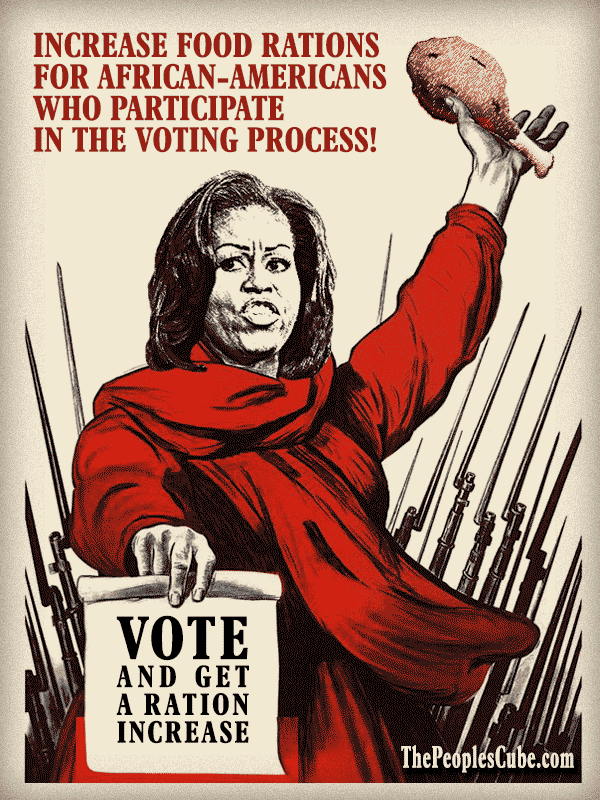 Dear Comrades,
To celebrate the victory of the Socialist Democratic Party of the USSA in today's mandatory elections, Comrade Party Vice-Chairperson Michelle Obama has announced
an increase in food rations for African-Americans
who participate in the voting process.
Under the Party'Äôs 'ÄúLet'Äôs Move'ÄĚ Ration Program, citizens are limited to an 800-calorie-per-day menu. However, to properly salute yet another sweeping triumph for Progress in today'Äôs elections, African-Americans, with proof of voting for Party candidates, will be allowed to consume up to 2,200 calories of traditional food and beverages.
We all know that the People's Quota of Marijuana and THC, being that they are calorie-free, have no cap. However, each citizen is expected to smoke at least one marijuana cigarette per day as the quota is presently set. Increases may be necessary after the elections.
Citizens are reminded that this extension in the ration plan is ONLY for African-American workers and peasants who bear the proper Race Card and can demonstrate that they know what is good for them, namely,
loyalty to the Democratic Party
.
Fried Chicken for loyal African-Americans! Increase their rations to celebrate their victory on Election Day!
Faithfully submitted to the Collective of the People's Cube,
Comrade Nomenklatura-climber
Dialectical Progressivism Translator
----------------------
Update:
An earlier American Thinker article by Thomas Lifson has been updated with our illustration:
Michelle Obama grants black people permission to eat fried chicken if they vote today

Pamalinsky

Excellent!

Just minutes after this broadcast, a brotha busted on the TV show, Bait Car, was axed why he did it. He whined, "Hey, Man, I just wanted to get me a little KFC. Michelle said I could."

H/T: Bait Car episode unknown, but seen by me.


KOOK

Comrade Nomenklagture-Climber,
Your inspirational post is, of course, wonderful, but I must point out you were remiss in not providing the authoritative audio-link to the actual interview in which Michelle Obama gave black Americans "permission" to "eat fried chicken" as an after-voting self-reward, so here it is for the benefit of those who might doubt the authenticity of the numerous reports of such welcome advice:
http://newsone.com/3068179/newsone-now-exclusive-michelle-obama-election-2014/
The vital advice begins circa 7:32 into the audio session of Michelle being interviewed yesterday (Nov. 3, 2014) by Roland Martin on the importance of turnout by President Obama's supporters at the polls today (Nov. 4, 2014).
But, as a loyal progressive, I would also be remiss if I were to fail to admonish Michelle for failing to offer comparable advice to members of other political-interests groups contemplating voting today:
Irish Americans should consume at least one case of beer for breakfast and another case for lunch BEFORE trying to remember when and where to vote and for whom to vote.
Tea-Partiers should consume at least three gallons of 50%-Terbal-Tea/50%-Prune-Juice for breakfast and again for lunch BEFORE making plans to travel a polling station.
Libertarian-minded voters should smoke at least five joints after breakfast and ten after lunch to make sure they are sufficiently mellow when it comes time to decide when and where to vote.
She also offered similar pre-voting dietary suggestions for older tea-partiers, but I have forgotten what they were. What's worse, I can't remember where I put my daily pill box.
--KOOK

Red Square

Update:
An earlier American Thinker article has been updated with our illustration:
Michelle Obama grants black people permission to eat fried chicken if they vote today