Genosse Dummkopf

.
uh, dse Greekenland
...
_
( 2011..2012..2013 )
~
Having created "problems", "politics" seeks "solutions" :
that was 2011..2012..2013 (and Greece shouldn't have become a member of Eurozone in 2001, first of all ; their financial data were heavily doctored, and that was no secret...)
fast-forward to 2015 :
Apex of glory :
It says, in GoogleTranslator—slightly—botched—Deutsch and then in Arabic :
Umm ul-Muminin, singular form of Ummul Mu'mini (Mothers of [Faithful] Believers), a top-level Muslim honorific for meritorious women — like e. g. Muhammad's beloved Aisha.
That pic, 12 ' ' x 16 ' ' sized, was often held and waved to TV-cameras & photogs in the endless processions of migrants dragging through the Balkans to Austria to Germany in summer 2015.
Must have been a Muslim-induced breaktrough in PoD|UyP|MaR technology (Print—on—Demand—just—Using—Your—iPhone—while—Marching—as—Refugee).
Cover of an "inconvenient" monthly journal of Internet era :
Umvolkung
: Nazi-time neologism, primarily denoting the envisioned process of filling conquered
Lebensraum
(first of all
Ostgebiet
, stretching from
Führer's Reichskanzlei
to Ural) with Aryan
Übermenschen
while dislodging non-Aryan
Untermenschen
.
'Umvolkung' evokes 'Umtopfung', which means repotting a plant.
Bertolt Brecht
(ardent Communist since his mid-twenties, moved after WW2 to GDR) :
it's a part of a short poem (
Die Lösung
- The Solution) written following the East Berlin uprising of 17th June (1953 ; crushed by - local - Soviet troops, including tanks in streets) :
[indentr][After the uprising of the 17th of June
The Secretary of the Writers' Union
Had leaflets distributed in the Stalinallee
_______
(Stalinallee - fans of Socrealism go

here

)
Stating that]
the people
Had forfeited the confidence of the government
[And could win it back only
By redoubled efforts]
.
Would it not be easier
In that case for the government
To dissolve the people
And elect another?
[/indentr]
Pic above Brecht's lines
: Following the Charlie Hebdo massacre (Jan. 7, 2015), a symbolic 'Unity' March was staged in Paris (Jan. 11). And 2 days later (Jan. 13), a Version 2.0 'unity' palooza was set up in Berlin - whole Gov. plus Muslim organizations (the latter lead by kinda CAIR-of-Germany, well known for taqiyya tactics).
It had an air of those compulsory assemblies of Stalin's era, #JeSuisCharlie hollow sentimentality hovering over the 10.000 crowd. Mr. Taqiyya (ex-journo, connected to Saudi Arabia, kinda self-appointed "speaker" of Muslims in Germany) in the very center of the
hullaballoo
.
Frau Merkel got heavy critic from leading legal scholars (blatant lawlessness - both against German and EU law, self-empowerment to single-handed decisions) and also in her own party (CDU/CSU - think Repubs). In the CDU-caucus, irritated, she blurted out:
"
I don't care if it's me to blame for this influx of refugees. But now they are here, bear it.
"

Willkommenskultur
(Culture of Welcoming) was coined — or heaved from dusty bureaucrat-KrautSpeak into garish daylight — in early September 2015, in an as bold as frantic attempt to put lipstick on the pig, here : swarms storming across borders in a fully out-of-control mode. That
Willkommenskultur
eyewash was ad nauseam regurgitated by the (pretty mindless) "Refugees Welcome" crowd, including - of course - "refugee industry".
Allegedly, in those heady days Joseph Goebbels was seen turning merry somersaults in his gloomy crypt.
Achtung
! (
klatsch
,
klatsch
, clap, clap)
evribodi hier listen! Herr Obama vill say tu dse Yurop ant tu dse Brit, yu not haf brexit
!
... ant dsen dsey vatchink dse come-out :
Closing remarks
:
BRexit —
this
is what happens when hoi polloi, lacking sophisticated knowledge and nuanced reasoning, are given a permit to vent their obtuse emotions via "voting".
BRexit —
this
is what happens when EU's exit-rules miss a loop-clause : in case a nation votes to exit, the voting has to be repeated until the result is deemed satisfactory, by EU's High Kommissars.

Comrade Biffinaditch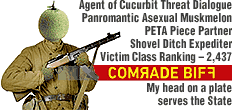 Minitrue

Comrade genosse, as a member of the European Reich I applaud this post. Thank you for such a good summary of the glorious events that happened in Europe these past years.

What I find very funny:

* a government wants to change it's constitution: because this is deemed to be very important and almost irreversible, in most countries you need a 2/3 vote to accomplish this

*one sick udder-complexed mother cow wants to change the population of an entire continent, altering it irreversibly, end effacing thousands of years of culture: nobody needs to vote. She just does it.