Karl Marx Treatment Center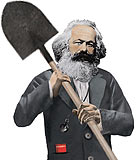 IN THE NEWS
The Current Truth Network,
Washington D.C.
-- In a rare public appearance, the head of the Karl Marx Treatment Center, the extraordinary Doctor Utopia, confirmed today that the wrongdoing on the part of the IRS due to the conflicted policies it has had to interpret and labor under, stemming from the partisan political Supreme Court finding of the Citizen's United case, did in fact result in many other groups than just Right Wing groups being targeted.
"It is simply flat out wrong to say that only Right Wing groups were targeted by the IRS," he stated.
"The IRS destroyed the Occupy Wall Street movement and several other nascent democratic groups whose purposes were to foster democracy and self-government. The vast Right Wing conspiracy would use this simple short circuit in the system as if a crisis to be used against our government. The simple fact is, it proves we need more stronger government in order to better serve the people."
Learn more at THE CURRENT TRUTH Network.

Red Square

People on the Facebook link are divided as to this news, from giving the OWS the middle finger of solidarity, to saying this:
Quote:
The danger with you posting stuff like this is that some moonbat lefty is gonna see it and think, "hey...this is a great way to spin this story", and then we'll see all the leftist "squeeze toy aliens" on the sunday shows claiming that the IRS wasn't singling out right wing groups. They were being fair and also targeted occutards, and "anti-war" groups, thus explaining their disappearance, and portraying the IRS as more fair and balanced than Faux News.

Nincompoop

even Nincompoop knows you need to mess with a couple of lefties to make it look good.