El Presidente

Dear Leader's padawan apprentice, Lord Vader,
accurately called out the Tea Party
people for what they are. RACISTS! It is Great to see Lord Vader speaking truth to power. It reminded of me the great
Hooper X
who so eloquently pointed out the facts regarding the racists who waged intergalactic "gentrification".
EMBEDDED VIDEO NO LONGER AVAILABLE

El Presidente


Commissarka Pinkie

Whew! When I first saw the subject line of this thread, for one ghastly moment I thought I was going to have to rethink Dick Cheney the way I have John Roberts.

Anyway, glad to learn James Earl Jones can still read from a script.


Opiate of the People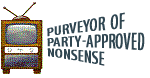 Luke: Come with me. Leave everything behind.

Darth Vader: Obi-Wan once thought as you do. You don't know the power of the Dark Side. I must obey my master.


R.O.C.K. in the USSA

These aren't the racists you're looking for...


Red Square

James Earl Jones, man who commands thousands of white folks with laser sabers, labels Tea Party racist. They're finished, I tell you!

El Presidente


El Presidente


Comrade Pistov
The Farce is very strong on the weak minded.


Dr. W. S. Palimpsest

Ohh...now I understand why the Stormtroopers wear white. They're the klan from a galaxy not so far away.