R.O.C.K. in the USSA
The United States
military announced today
that they have been testing, in close collaboration with the Internal Revenue Service and the BATF, a new robot to be used in the enforcement of Obamacare.
"The government has a duty to collect as much money from the
serfs
people as is physically possible, and with these robots the IRS will be much better armed than the holdouts in flyover land still clinging to their guns and religion," stated Senior Robotics tester Irving R. Schweitzer of the military's Darpa Initiative.
Schweitzer also mentioned that the testing was in its final stages, and said that - while there are bound to be some glitches when the robots are deployed nationwide on April 15, 2014, such as accidental deaths and dismemberments of taxpayers - if it saves just one dollar for the People's Treasury, it will all have been worth it.

Captain Craptek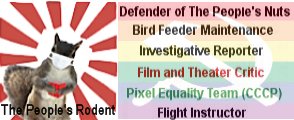 Amazing device comrade. I hope our acting IRSS Commissioner. Daniel Werfel, doesn't wind up in the same shape as the late Robo Cop.