Commodore Snoogie Woogums

New economic team members relax a bit before tackling the economy


President Obama has announced that his new economic team that he has chosen personally for their brilliance, is now ready to get to work tackling the economy. "With this team now in place, I am confident we have the right mix to turn this economy around and create the jobs of the future", President Obama stated. The President went on to state that he believes with these new members in place, that it would be shocking if they weren't able to jolt the economy out of its current doldrums.

Fraulein Frankenfeinstein

I have no doubt that dearest fearless Leader is made a most superb choice among his choices. These are the highest trained trainees within our open borders, all graduated from the most prestigious schoolings we have. The foolgentleman about to fall out of the pool, is was a head brainiac at GE, I do believe. We have high hopes they will light up the sky with new, inventive ideas that will get the economy rolling into a real meltdown. (I think that is what I meant to say but I might need to change it sometime in the near future?)


Comrade Whoopie

What an electrifying group of thinkers. I'm certain they'll lead the charge to overcome any and all resistance.


Krasnodar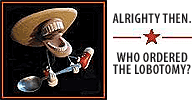 Comrade Whoopie....what shockingly bad puns ......... how absolutely revolting ! No Saturday night potato for you !