R.O.C.K. in the USSA
Today President and Father Guido Hussein Obama was observed at a Chicago airport making Comrade Godfather Rahm Emanuel an offer he couldn't refuse: "Either get rid of all the Rethugglikkkans and Teabaggers in Chicago who are keeping the city from being the shining example on a hill it deserves to be or lose your head".
The president occasionally gestured at a non-rotating airplane propeller and was heard saying "Let me be clear - it doesn't take congressional approval for me to start that plane up - and those propellers are sharp."
Emanuel's hair visibly turned a lighter shade of gray as he promised the president that all would be made
right
left in Chicago, certainly well before Obama's third term begins.

Nomenklatura-climber

"Oh, yeah, right there, Rahm, just like that, yes..."


Captain Craptek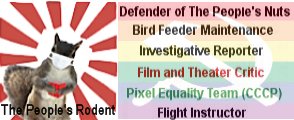 Opiate of the People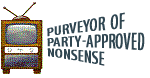 Comrades, the Puffington Host recently featured this:

Rahm Emanuel Presidential Run? Rumors Over A 2016 Run Fly As Chicago Mayor Plays Down Interest

Comrahm Rade, er... Comrade Rahm once said "never let a good crisis go to waste." Decapitation would not be a problem for him, he would simply sell himself as the "first headless head of state." (I know what you're thinking here... Joe Biden could run. But remember, I said "headless" not "brainless.")


Kommissar Brainiac

"Death is the solution to all problems. No man - no problem."
Comrade Joseph Stalin


Kommissar Brainiac

Comrades, as seen
elsewhere
, this is an ingenious use for the propeller! Check the link to see how this glorious new weapon is being utilized in the struggle for Chicagograd!