Commissarka Pinkie

Welcome to the People's Official Marco Rubio Denouncement Thread™, where comrades are cordially invited to smear, trash, bash, revile, excoriate, and otherwise assassinate the character of GOP Presidential Candidate Marco Rubio. We want you to have fun, and all we ask is that you do not say anything nice about him, mainly because there is nothing nice to say.
Bad. Dangerous. Evil. Stupid. Liar. Bloodthirsty. Vile. Hypocrite. Villain. Scum. Monster. Traitor. Tyrant.
Just totally, utterly, absolutely WRONG!
I refer, of course, to Marco Rubio, who wants to steal the 2016 election. I hate Marco Rubio, and you should, too. Everyone should hate him. Anyone who doesn't is just a hater.
Marco Rubio is the worst thing that could ever happen to the whole universe since George W. Bush. And that's saying something, since I never dreamed anyone could ever be worse than Bush.
Marco Rubio will destroy society, civilization, and all of humanity forever. George W. Bush only destroyed everything till the end of time. But Marco Rubio will take the mass destruction into infinity and beyond, and laugh the whole time he's doing it.
Mass starvation, homelessness, joblessness, death and disease will be everywhere. Everyone will be thrown out of their homes and onto the streets, forced to take shelter in cardboard "Rubiovilles."
Marco Rubio is also guilty of treason because he's one of the 47 Republicans who signed that sick, seditious letter to Iran. This already disqualifies him from the presidency. If Iran gets a nuclear weapon and uses it, you can blame Marco Rubio—unless, of course, they drop it on Israel, in which case—well, you can still blame Marco Rubio. No one should give Marco Rubio credit for anything.
Marco Rubio hates everyone and everything except his own lust for power. He's also a liar who lies about everything. Even his name is a lie. "Rubio" is Spanish for "blond" and he's clearly a brunet. Obviously he's hoping to appeal to White Hispanics with Teutonic-sounding names, like George Zimmerman.
Marco Rubio can't say more than ten words without pausing to take a sip of water. This totally disqualifies him from the Presidency. State of the Union addresses go on long enough because of all the interruptions for Congressional applause. Must we stretch them out all night because "President Rubio" can't say more than ten words without taking a sip of water? "My fellow Americans! Members of the Senate...members of the
(slurp)
House of Representatives...members of the Cabinet...Justices of the
(slurp)
Supreme Court...and distinguished guests in the gallery. As I
(slurp)
stand before you this evening, the state of our union
(slurp)
is stronger than ever!" See how annoying that is? This will go on until sometime past midnight: "This is what we are. This is what we can
(slurp)
be. A nation united with a robust economy, a strong
(slurp)
military, and tax cuts for all! In conclusion, may I
(slurp)
say God bless you! God bless you all! And God
(slurp)
bless the United States of America!"
By that time, no one will want to watch the Democratic Rebuttal, which is exactly what Marco Rubio wants. Could anyone possibly come up with anything pettier than that? I certainly couldn't. Is that who we want to see in the White House—some stompy-footed, thin-skinned, overgrown man-child who would pull a childish stunt like this on his opponents? And all to suppress dissent—the highest form of patriotism under the oppression of a Republican regime! What a lying, filthy dirty scumbag he is!
Like all Republicans, Marco Rubio is not only evil, but he's stupid. He's so stupid that when he was eight years old, his father called him on the phone pretending to be Don Shula, just to get him to eat his peas or something. And he fell for it! This makes Marco Rubio absolutely, utterly unfit for the Presidency. Is this who we want taking that 3 am phone call? If Marco Rubio can't distinguish his father's voice from that of Don Shula's, then how can anyone expect him to distinguish Vladimir Putin's or the Ayatollah's from a couple of sniggering, prankster DJ's crank-calling on some radio show coming out of Australia?
Marco Rubio comes from Florida—the same state that's been destroyed by first Jeb Bush and now Rick Scott. The same state where, no thanks to Marco Rubio, Progressive hero Charlie Crist has been reduced to donning a sad sack face for commercials in which he says, "If you or someone you know has been in accident, give me a call. Or if you haven't been in an accident, give me a call anyway. Please. No one calls me anymore." Florida is also the state of butterfly ballots, hanging chads, and ultimately a stolen election that saddled us with Jeb Bush's brother—George W! How much more proof does anyone need that he will use his home state advantage to steal the presidency for himself?
Furthermore, Marco Rubio is known as a "Tea Party darling." Well, there's nothing darling, adorable, or cute about him. Look up "Tea Party darling" in your People's Thesaurus or Style Guide, and these are the words you'll see: Terrorist. Hostage-taker. Bomb-thrower. Fearmonger. Hatemonger. Extortionist. Is that who we want to see in the White House? Someone who pals around with terrorists?
If Marco Rubio is allowed to get away with stealing the Presidency from Hillary or Elizabeth Warren, rest assured he will proclaim himself dictator, and say stupid hateful things that will only make the rest of the world hate us and think we all must be just as stupid to have voted for him, when no one did because he stole the election!
We will all be living in fear of our lives because of Marco Rubio's bloodthirsty tyranny.
That's all I have to say for now. Oh wait, one more thing...Marco Rubio is just like Hitler.
* * *
This post was written in accordance with The People's Progressive Book of Style™ and its companion volume, The People's Progressive Talking Points for All Occasions™ . See how easy it is to be a mainstream media journalist—or just talk and write like one—and without putting any thought into what you're saying, because this must-have guide will do it all for you! Demand your free copies today!

Hammer and Loupe

Commissarka Pinkie,

It is great to see the denouncements Rethuggican Candidates. I did not see your Donald Trump article. Truly I have missed it in the heap of articles in the Collective Bin ™ .


Red Square

Marco Rubio drinks water, which is a non-renewable resource, thus depleting Mother Earth of its fluids. AND he drinks it out of plastic bottles - PLASTIC BOTTLES! - manufactured by some American corporation, no less. Do you know how much deadly carbon is emitted into our atmosphere to make just one such plastic bottle? Every time Marco Rubio opens a water bottle made by an American corporation, five or more endangered species become extinct. And every time he throws that empty bottle into the ocean after he's done with it, at least one Miami dolphin chokes on it.
Draw your own conclusions.

Armenian Radio.

I object to the audacity of this traitor's blatant betrayal. I demand that his race card be revoked. Henceforth, He shall be referred to as Mark Blond, and we will expose him as the traitorous imposter that he is.


Dr. Worddust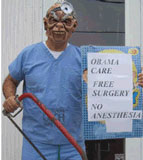 Armenian Radio.
I object to the audacity of this traitor's blatant betrayal. I demand that his race card be revoked. Henceforth, He shall be referred to as Mark Blond, and we will expose him as the traitorous imposter that he is.
Kom Rad, your astute observations are correct. Where was he born? Italy is my guess. His war like demeanor was exposed when he crossed the Rubiocon. We must demand to see his birth certificate. Some say he was born in Transylvania and wishes to suck the life blood from Great Leader AND all the Holy Social Programs granted to us through Great Leaders beneficence. We can see the depths of his evil displayed in the poster he distributed to besmirch one of Great Leaders Hero's Fidel Castro.

Zampolit Blokhayev

I denounce this Mark Blond (formerly Marco Rubio *spit*). It is clear that he is your typically run of the mill RethugLiKKKan troglodyte. He has even admitted to hating kittens! KITTENS, Comrades!!! Cute, sweet, innocent little kittens! NO! This goose stepping fascist must be stopped for the good of The Children™.

Re-Elect Comrade Obama in 2016!!!


Komissar al-Blogunov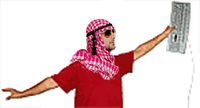 I know for a fact that he hates disabled minority kittens. One time he was awkwardly drinking bottled water (probably manatee blood for all I know) and I told him of my foundation for young felines in need. He actually spit out the water and was alternating between choking and laughing! Disgusting.