Nomenklatura-climber

Dear Comrades,
Counter-revolutionary elements in the City of Cleveland have been defeated by the heroic workers of the US Postal Service Commissariat, who have foiled their efforts to prevent distribution of the People's Postal Products by
attempting to cite and fine USPS drivers
for supposed 'safety violations' and 'traffic infractions."
Local officials of Cleveland, influenced by Fascist tendencies rather than our Socialist values of showing deference to the People's Servants, used electronic surveillance in order to drum up false denunciations against Postal Commissars. Their denunciations led to a hearing at the local People's Court in Cleveland.
Lawyers for the Postal Commissariat have declared that the USPS supersedes all local authority and now has direct control over the City of Cleveland, voiding all non-Conformist operatives within the Cleveland government and assuming Federal control over all city traffic that interferes with Commissariat's mandate to serve the workers and peasants of the USSA. Postal employees will no longer be assaulted by reactionaries seeking to impede their labor.
The Streets of America are for Postal Employees! Patriotic citizens, make way for the heroes of the USPS!
Faithfully submitted to the Collective of the People's Cube,
Comrade Nomenklatura-climber
Dialectical Progressivism Translator

R.O.C.K. in the USSA


Sugar Daddy Bear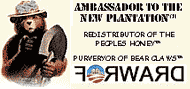 PROG OFF
Being a 27-year disseminator of the Peoples Propagandic materials for the greater good of the Postal Service, I have to find this postal spokesperson quite hilarious and out of touch with reality. Of course postal employees are expected to obey the rules of the road and the laws just like everyone else. There is no immunity to breaking traffic laws that I know of. This just may be one of those situations where the financially imploding postal service would rather not have to waste money on silly things like parking tickets when they're too busy working on more important ventures like putting GPS in the trucks so they know how long a carrier has been parked in that handicapped parking zone.

It's what we call "Priorities™", people.

And Comrade ROCK, the only ones "going postal" are the ones bearing the Union Label™; not those who are not members of their socialist utopia.
PROG ON


R.O.C.K. in the USSA

Comrade Bear, of COURSE I understand that Postal Union Members are more equal than the other fine employees of our glorious Postal Service! Union membership in ANY profession makes one more equal and of course more entitled.

And who can forget that neither rain, nor sleet, nor gloom of night, nor Saturdays...