Evil Smiley

In new video obtained by a thorough investigation of Russian sources, the public has now been shown unequivocally that Trump sabotaged Hillary's chances at being President by making her fall down and pass out while on camera.
He and his minions have gotten away with this - until now, when shocking new video has been uncovered by this brilliant undercover investigation, where it can be clearly seen how Trump made Hillary fall and have seizures.

Evil Smiley

The truth is very complicated, and soon, Hillary will be vindicated and the world will see that all of these unfounded rumors about Hillary's condition were due to sabotage by Trump.

Evil Smiley

Trump hounded poor Hillary relentlessly, causing her to fall down and have seizures using physical attacks as well as psychological warfare.
Here, he and his evil minions released a balloon with his likeness to distract and shock Hillary during one of her campaign events.

Captain Craptek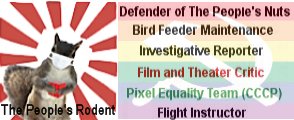 Trump is so stupid he picked a driver for that shot at Hillary entering the airplane. Not enough loft! No wonder it hit her in the back. Every dummy knows you always choose a 4 wood for head shots. What a loser.


Evil Smiley

Trump is always antagonizing her too - how can we stand for this?

Evil Smiley

Hillary was used to ducking from sniper fire, but nobody knew that Trump was going to use Russian golf balls.
A new low.

Evil Smiley

The whole problem is Trump's masculinity. If he had a more feminine side, like Obama; poor Hillary would not have been injured by such a rough, hard ball.
Men should not play hardball with women like that. Hillary, after all has a vagina and this tremendous asset - while alone qualifying her for the Presidency, made her susceptible to this treachery from these macho types like Trump.

Evil Smiley

DISCLAIMER: I did not create this GIF!
All others in this post up to this point were made by Evil Smiley.
This one was shamelessly stolen by me... it was too good to pass up.

Evil Smiley


Evil Smiley