Opiate of the People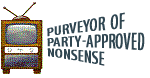 Continuing the bold, creative precedent of
Obama Administration officials to adopt goals for their agencies
which have nothing to do with their tired, shopworn, official purposes, Secretary of State John Kerry recently outlined the important but under-served issue the State Department would be emphasizing under his watch: Climate Change.
In his
first major foreign policy speech
, the successor to Hillary "What difference does it make" Clinton stated:
"We as a nation must have the foresight and courage to make the investments necessary to safeguard the most sacred trust we keep for our children and grandchildren: an environment not ravaged by rising seas, deadly superstorms, devastating droughts, and the other hallmarks of a dramatically changing climate."
"John Kerry has always put his money where his mouth is when it comes to Climate Change", one admirer stated. "I mean, the man went all the way to New Zealand and paid over 7 million bucks to find a
non-polluting wind-powered vehicle
! Now
that's
what I call committed."
Geopolitical experts and climate scientists at home and abroad rushed to embrace the new Current Truth ™ of US foreign policy and agree that this is a change they can believe in.
"This is great news - no longer will American foreign policy depend on the jingoistic, selfish concerns of the American people", said one overseas observer. "At last they are putting the needs of Gaia first, as they should have been doing all along."
"This will give a big boost to climate science", commented one noted peer-reviewed theortist as he rushed to erase some emails. "Its reputation has suffered a bit over the last few years due to phony scandals contrived by anti-science deniers. John Kerry's emphasis on it will restore its credibility as he is someone who does not waffle when it comes to making decisions. Either he's for something or he's against it."
~
Former Vice President and renowned Climate Scientist Al Gore commented that Secretary Kerry's speech totally vindicates his sale of Current TV to non-polluting Al Jazerra but he stepped into his idling limosine and sped away before he could explain further.
In addition to restoring Climate Science to its proper place as the Queen of All Sciences, the new foreign policy directives are expected to shuffle the deck as far as America's friends and foes are concerned.
"Iran and America will soon be allies again", speculated one journalist who reads the NY Times regularly. "Iran's committment to the development of peaceful nuclear power in order to reduce carbon emissions gives them common cause with this country's new policy mandates."
"We can expect better relations with the People's Democratic Republic of Korea as well since we will now share the common goal of reducing the atmospheric pollution caused by excessive power generation."
"We have so much more in common with the DPRK than we did under hateful GOP presidents", said former president Jimmy Carter. "We both have free health care and we're both Democratic. Our common desire to fight climate change will bring our similarities into sharp focus."
"Conversely, expect relations with South Korea and Japan to deteriorate", one observer speculated. "They produce lots of cars with icky internal combusion engines."
"Canada is another country that will find itself on the outs with the US due to their obsessive desire to push dirty, polluting oil on a resistant American public."
"And Israeli Prime Minister Netanyahu will never get close enough to the White House to be snubber for dinner again if he bombs Iran's clean energy program."
Meanwhile, hearings regarding confirmation of former Senator Chuck Hagel as Secretary of Defense continued today. Senator Hagel was applauded after stating that his prime goal after taking office will be to train all US military personnel in the proper use of the USDA Food Pyramid so they can promote proper eating habits in the foreign countries they visit.

KOOK


KOOK