New Paradigm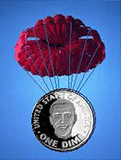 Comrades!
While keeping an eye on the Mitt Romney propaganda machine I encountered this lovely mouth piece for the revolution!
I was sure to test her
disposition
first. She is well trained and does not crack under questioning by who she believes is an individualist pig!
She is a worthy useful idiot indeed as she can explain that the constitution guarantees the right of Collective ™!
Behold!
Rebecca-"In case you missed anything, WE the PEOPLE, UNION, COMMON defense, GENERAL welfare, OURSELVES, and our progeny. Not I the person, nothing about forming more perfect individuals, nothing about ignoring the United STATES and letting each state, heck, each individual, stand alone.."
Extra rations for this one!

Bensnooty
Who would want to read that racist document?! It didn't guarantee any rights to entitlements and free health care. You won't be able to find any rights in it to have a home of your own like they pronounce with lies in the Amerikkkan Dream. I have yet to find any streets paved with gold. All the gold is with the 1%! What a sham!


Comrade Otis

Quote:
In an e-mail to the Sun, a senior fellow at the Lexington Institute in Virginia, Robert Holland, said: "The tight link between the accreditors and the multiculturalists indicates that social justice is being defined by those who despise the very ideal of an American common culture - considering it irredeemably racist, sexist, homophobic, etc."
He says that like it's a bad thing.
The Party should use dispositions throughout society. Make them necessary to get a job anywhere. In fact we could make things simple by just putting together an oath of loyalty to disposition beliefs that people could swear to.

Krasnodar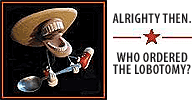 Use of the

" I "

word should be held in reserve for

exclusive use by Our Dear Leader only.
( His speeches go through an awful lot of them....)

R.O.C.K. in the USSA