TheFineReport.com


Jíbaro

I don't know, both are very different.

For one thing, she is VЭЯY STЯAИGЭ.
[indentr]
[/indentr]

Red Rooster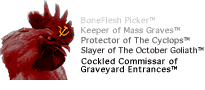 Comrade Finepoint,

The vodka has gone to your meager brain! Everyone knows that Dear Janeane is the victim of being the daughter of an Exxon Mobile kapitalist fat cat. While the Rethuglikkkan idiot Bohner (what kind of name is that!) is the thriving son of a bartender. Think about it. On second thought, don't! We'll take care of that for you.

Vodka all around! Drink up comrades!

Raum Emmanual Goldstein
Apparently, Com. Finepoint...

You have ignored the Party Newspeak Memo on stamping out and irradicating superfilous redundancies.... To say that the Right has useless idiots is superfilously redundant and repetative. All right-wingers are useless idiots, and all useless idiots are right-wingers. Why do we know this? Because useless idiots and right-wingers are worthy of summary liquidation. For you to waste blog space on the Cube pointing out this well known fact is....well...reduntantly Useless.

Furthermore, Janeane is actually NOT a useful idiot. She is a brilliant, progressive genius who resides on the cutting edge of CurrenTruth™ . That you are unaware of this indicates that you are probably an Idiot.

Since you have indicated to us that you are a useless idiot -- according to simple, Party logic -- you have incriminated yourself as a Right-Wing, RethugliKKKan SPY!

At the very least, you are certainly worthy of being mindlessly purged....and you are in luck! We have TWO mindless purges currently underweigh!


Krasnodar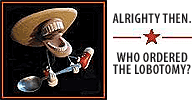 Underweigh ?



One more error like that and you'll be standing by your spy friend,

Finepoint

, over there.It is not healthy to chance abusing the mercies of the State, Tovarich Raum.
What's that ?....... Yes, you can get back in line for your daily beet ration.