Fraulein Frankenfeinstein

Comrades, compadres and compatriots,
Dear leader made yet another glorious speech, regarding our not quite sure comrades in and about Syria. He was for for Action . . . before he was against Action .... or versa vice.
But in any case, he will be calling, or perhaps not calling, on Congress to vote to give him permission to do what the said he'd do without their (lousy) permission. But that was before he was deciding to do nothing, or possibly something, and taking credit away from Comrade Commie Putin and "Ketchup King" Kerry. But it was his to take, right?
These are dark days, made darker by dear leader who is not for war . . . but will drop small tiny little bombs in place of an official "time out" -- but they will not be too small because Amerika doesn't do too small. So. . . these bombs must be just the right size!
I am gathering information as I sip my
vodka
... tea, that dear leader was a fierce negotiator with Comrade Assad, who is a close ally comrade to our dear Putin ally comrade . . . of sorts. It appears, yes, it is definite! Our dearest of dear leaders put the
Barry
Barack "Evil Eye" on, to frighten Assad into the submission he was wanting all along . . . which was. . . . ummm, to do . . . . umm, uh, nothing! Yes, to do nothing! Glorious, is it not?!
Praise to dear "Evil Eye" leader! He has successfully won the
war
"action" of dropping . . . or not dropping tiny, but not too small, bombs on Assad!!
*Here is the most recent up today photo of dear leader enforcing 'evil eye' on the evil Comrade not quite a comrade, Assad

Red Walrus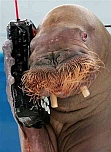 Fraulein you hit the shovel on the head,

Comrade Dear Leader has me so confused, I think I caught a bit of that evil stare on his state of the Syria situation speech. After was all said and done, I decided we will not attack, we will capitulate to Super Putin and his second best friend Assad, and we will let Comrade Kerry continue with his fiery rhetoric and try to act less buffoonish. Dear Leader has everyone fooled. "In five days America we be fundamentally transformed" and by Lenin, he's almost 100% complete in that task. All Heil the Obama. If Comrade Obama plays the rest of his cards right, we should have another al queda run State in the middle east before you can say, Saul Alinsky. Glory be The OBAMA. Hoorah for the muslim brotherhood.


R.O.C.K. in the USSA


Fraulein Frankenfeinstein

Comrade R.O.C.K.... how progressive glorious! I can not be waiting until the movie version of the book version of the mime version is released! It will be as big a success as the killing of Osama Obama.... Osama bin Laden, who we think is dead with out any proof of demise. (there is way too much emphasis on proof, is there not?)


trashmouth

It's not easy being enlightened, and there's a heavy cross to bear for perfection for being a progressive. By using exalted language, our leader described a world in which thrones had been toppled, vast empires have had their psyches swept away with just a small teeny weeny threat. Amid all this turmoil, destiny had entrusted Obama with the charge to defend freedom unconstrained, which was the reverse of Palmerston's dictom…….However, most countries go to war to resist concrete definable threats to their security or moral obligations, as a good standing progressive he needs to present leadership as the trustee of collective security. Our dear leader has made it clear it's not the results that are important but rather his intentions
and that
is the price that change has demanded of his glorious convictions...... or perhaps the subconscious hope that something will happen in the interim to cause the problem to resolve itself…in which dear leader will take credit in the spirit of cooperative action….I think the word here is SPEECHLESS......Forward

Vladimir_Scratchanitch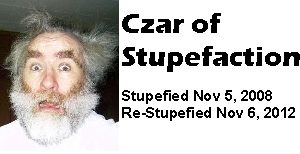 I wish I could get a job managing the Obamination's Teleprompters.

Because us communist Democrats are such funny jokesters and unlike the unhumorous Rethuglicans, WE CAN TAKE A JOKE-

Wouldn't it just be the greatest to put some spoof stupid shit on the teleprompter for Obama to read, like a Reagan speech, just to see if anybody noticed? Or even the Obamination hisself?

From the archives-
Barack Obama's teleprompter dies; trusted speech aid was barely 2
LA Times July 14, 2009
[indentr]
...."For countless speeches, the trusty teleprompter, controlled from offstage, slowly scrolled the ex-senator's

*

magic words, which, along with $750 million, enabled the smooth-tongued fellow to get elected as leader of the free world and enhanced his public reputation as a really good talker."
[/indentr]
*

Make that "first term FRESHMAN senator-Community Organizer from frickking Chicago"
REASON: Had to add the Freshman Community Organizer part

INGSOC

I am told that Dear Leader was able to create cub out of BEAR Putin by showing him this video.



Upon hearing the glorious voices of the Children™ Putin decided that he would take on all US foreign policy decision making responsibilities on behalf of Dear Leader.

This way, Supreme Commandant Kerry could spend more time tending his yacht.

If Super Putin fails (wink, wink) "it is all on him. He owns this" says White Hoose Senior Advisor. However, if Putin succeeds, praise be to Obama! Either way Obama we wins!!!


Vladimir_Scratchanitch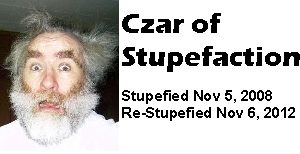 Regarding the "Cute or Creepy" video, I was suddenly reminded of how much the North Koreans LOVE their grate dear leaders. I went looking for the sort of video as popped in my head. Didn't find that, but did find the video of when dear dad dear leader died-

http://wiredandready.net/2012/03/30/northkorea/

The video really gets going at 1:10. Such grief! The poor North Koreans are grieving almost beyond credibility.

Turns out, we are not likely to see so much grief from Amerikans when the Obamination finally gets his evil child/treasonous/stupid ass impeached.


http://tinyurl.com/kmwl6tm