Vladimir_Scratchanitch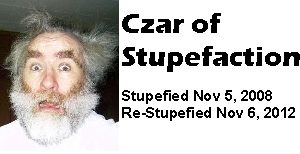 Once Again, America Disappoints Its President
"We've lost our ambition, our imagination"
by John Hayward 10/26/2011
Human Events
Hang your head in shame, America, for you have once again failed to meet the expectations of President Obama.
Attending one of his incessant fundraisers in San Francisco yesterday, the President who led America into stagnancy and downgrade expressed his sorrow at how Americans have "lost our ambition, our imagination, and our willingness to do the things that built the Golden Gate Bridge."
....Obama's lowest points come when he goes past blaming his predecessors and political opponents, and floats the idea that he could have been a success, if only he'd been given a better country to govern.
This guy is exactly what my Avatar is all about- My utter, stark disbelief,
STUPEFACTION
and horror on November 5, 2008.
Last edited by
Red Square
on 8/1/2021, 10:16 pm, edited 4 times in total.
REASON: Added my ProgOff snide statement.