Nomenklatura-climber

Dear Comrades,
The Department of Social Justice is now offering advisories to Young Socialist athletes, many of them from minority and victim-class families,
on how to properly use social media while conducting both consenting and non-consenting rapes
.
The U.S. Attorney for West Virginia Oblast, Comrade William J. Ihlenfeld, has advised these aspiring members of the Political-Entertainment Complex that prudence should be exercised when filming and documenting their activities related to their own personal exploration of their sexual identities, as such information may fall into the hands of counter-revolutionary elements hidden within our State. The Party advises that such information should not be publicized in the best interests of State security as well as social justice.
Instead, student athletes would do well to conduct their experimentation in more private venues without the stark glare of criticism emanating from those with no compassion for the downtrodden workers and peasants of the USSA, who depend upon the next generation of athletes to help lift their spirits and
provide them with reliable political formation
.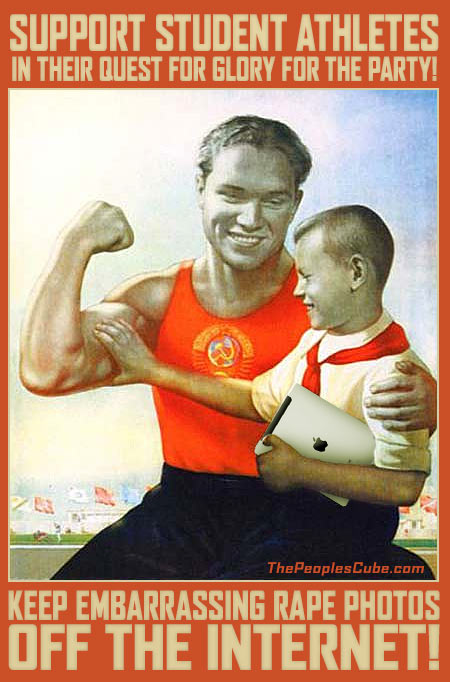 Athletes are servants of the Proletariat, providing vital morale building activities and exemplifying the Party's goals of creating a nation where teamwork and group performance is valued above personal interest and selfishness. Therefore, the Party will continue to support student athletes even when their own developmental journeys occasionally deviate into potentially embarrassing situations.
Support Student Athletes in their quest for glory for the Party!
Keep embarrassing rape photos off the internet!
Faithfully submitted to the Collective of the People's Cube,
Comrade Nomenklatura-climber
Dialectical Progressivism Translator

Captain Craptek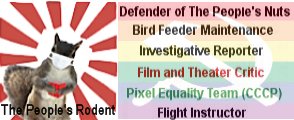 Yes, but Comrade Climber, if nobody knows you did it - well..., what's the point in doing it? Kinda takes the fun out of bragging - don't ya think?


Nomenklatura-climber

Dear Comrade,
In the old days, we used to use more subtle means… such as political-agitation art…
Mystery item No. 1

Captain Craptek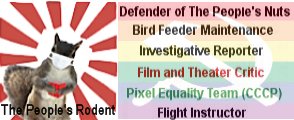 I must agree with Comrade Climber on this point: His example of "political-agitation art" would certainly be cause for consternation in the ranks of our peasantry.


Ivan Betinov

Is that the same guy in both o0f the People's Posters, or is it just a result of Athletic eugenic programs that they look so much alike?


Ivan the Stakhanovets

That sissy lacks the requisite chest hair to be a proper Cubist.