Krasnodar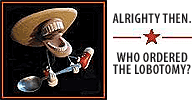 Delivered within 30 days, or it's half-off !
When ordering, just say

" Chicago "

and get a free napkin.

Red Square

Default topping: dog. WARNING: changing default topping not advised.

Anyer Marx

Moo approved, though The She would not eat it. Only 1 topping available, so no troubling personal "choices" *spit* to bother with; no messy sauce or cholesterol-laden-artery-hardening cheese; and, fully recyclable cardboard box doubles as crust! Yum!

Krasnodar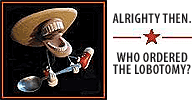 Comrade Anyer, I see you are a conassuer...... conessuor ...... like fine foods as well !
And what could go better with our pizza than The People's festive libation.
Me and some of the boys in tractor maintenance are putting sled runners on the Collective's Vodka Wagon so deliveries in bulk can be made even in mid-winter.
It'll be towed behind the Pizza half-track. Slava !

Believe me, demand has been skyrocketing since last Tuesday.

NancyPeloski

"Demand" you say, comrade Krasnodar? DEMAND?

Under the glorious world of Next Tuesday there is no such thing as selfish, capitalist drivel such as supply and demand. Instead it's what the Majestic O will provide for us. From each according to his ability, to each according to The O's desires.

I have reported you for thought crimes. Enjoy your stay in the gulag.


General Confusion

I was able to rid myself of Papa's John when we moved to a different state.


Ivan the Stakhanovets

Krasno, don't sweat NancyPeloski's report. Dear Leader is out playing golf, and listening to his acceptace speeches on his ipod.

Say, has that Vodka wagon got anything sloshing around in the bottom that is more liquid than solid? (translation: should I bring a straw, or do I need my own spoon too?)


Krasnodar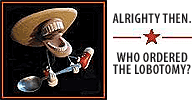 Tov.... you're in luck.... nothing but liquids in there !
Don't you remember ? The inside of the tank gets cleaner with each filling.
Why, it's almost as clean as the outside of the tank !

Pretty cool..... our Beet Vodka doubles as an industrial cleaning and etching solvent.
That goes a long way in explaining why Dry Goods Store #86 is always out of Maalox.