Laika the Space Dog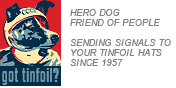 BAGHDAD (Reuters) - Snow fell on Baghdad on Friday for the first time in memory, and delighted residents declared it an omen of peace.

"It is the first time we've seen snow in Baghdad," said 60-year-old Hassan Zahar. "We've seen sleet before, but never snow. I looked at the faces of all the people, they were astonished," he said.
Will somebody please tell these Iraqis it's a bad sign and Global Warming?

Branish
Did Nancy include this in her press release on the war? This is a true sign that the war is lost. The surge was meant to provide the space for the Iraqis to work on the climate change benchmark... but they haven't. We need to surrender now!


Commissarka Pinkie

One doesn't need Al Gore or the Bali Boys or even some second-rate comedian's wife to explain snow in Baghdad. It doesn't take a local weatherman, or for that matter, anyone who even passed grade school science.

That's right. All it takes is a half-drunk, dumb prole like Pinkie to come up with an explanation like the one that follows:

For years now, there's been a war raging in Iraq. An illegal one at that. We're talking lots of gunfire, bombings, fires, more gunfire, more bombings, just lots and lots of smoke billowing and rising from the scorching arid desert that was once one of our prized world treasures.

All that smoke wafted upward and hung over Iraq, blotting out the sun and thereby lowering the temperatures to such an extent that they now have snow.

If this keeps up, in ten years the once brilliantly golden desert will be gone, and the wonderful wadis will be flooded!

What more proof do you need now that Climate Change (let's hear no more of this "Global Warming" stuff) is not only MAN-MADE, but BUSH'S FAULT?


Branish
Commissarka Pinkie
All that smoke wafted upward and hung over Iraq, blotting out the sun and thereby lowering the temperatures to such an extent that they now have snow.

Pinkie, this explains everything! We must send this logical explanation to the masses via CNN, PMSNBC, the NYT, etc.
If I may add in one important detail: this is a war for OIL!!!! Imagine all the smoke and greenhouse gases there must be over Iraq from the exploding Halliburton oil wells!

Ivan Betinov

I hate to burst your psuedo-scientific bubble, Pinkie, but the snows of Baghdad are NOT due to Climate Change. It is in fact further evidence of the damage caused by Anthropogenic Continental Drift. Baghdad and the whole of Iraq have been moving north, a process accelerated by the illegal American bombing of civilian targets, which has sheered off even more of the substrata moorings that had kept the continent of Iraq in place under the enlightened Ba'athist ecological policies.

The good news: While your logic is faulty, your final conclusion is exactly correct: IT IS ALL BUSH'S FAULT!


Marshal Pupovich

Yes brain in a jar, you can not say it was from smoke etc, other wise there would have been blizzards in Kuwait after the first war of Yankee Imperialism. Of course the progressive experts correctly predicted a "nuclear winter" due to the oil fires, but unfortunately, it did not happen so we had to deny we ever made such a prediction.


Commissarka Pinkie

This NYT blogger has an interesting suggestion:
Clouds of Conspiracy
Quote:
Maybe somebody will even blame it on a nefarious secret cloud-seeding conspiracy orchestrated by (insert favorite villain here).


He should be fired. Like he can't even figure out that even if this were true, obviously Bush is the one behind it? Why, Bush is behind everything that's evil, except Cheney! (Or is it the other way around?)
Additionally, some of the blog commenters--ordinary, every day, half-drunk proles with no meaningful lives--just like Pinkie--agree with my suggestion that it's caused by the clouds of Bush's war.
Now if that's not consensus, then I don't know what is, but it's clear the debate is over!

Laika the Space Dog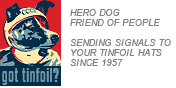 Pinkie,

I loved this wag's post:

13.January 11th,
2008
2:52 pm You all have it wrong. The US Air Force has figured out how to use snow as a weapon. Clearly, the test went awry. Had this new weapon worked as designed, it would have dumped 5 or 6 inches of snow per hour, burying the city, and making it impassable. If an insurgent cannot get out the front door, you cannot go shoot someone……see how this all makes sense? Snow is now "suppressive fire". It IS good to be Empire.

— Posted by Mr. Know-It-All


Marshal Pupovich

Hmmmm. a question.... did they bury Saddam or was he cremated? Not that I would suggest that was the return of Saddam.....


Commissarka Pinkie

Methinks Mr. Know-It-All may be on to something. This snow could've contained fluoride, and would've soon melted into the waters of the Tigris and Euphrates.


Premier Betty

Commissar Pupovich
did they bury Saddam or was he cremated?

Our agents stole the body and made sure it was turned into fertilizer for the communal farms. After registering him to vote democrat of course.