Angiecomics

Angie my sister doesn't know DDT is the enemy! It's UN-natural! These people want to be one with nature!
-Francis

Father Prog Theocritus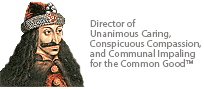 You're quite right--DDT is unnatural.

In the same vein we should outlaw inorganic drugs. Who are we to say that metapropolol, which is entirely synthetic, should be used to regulate heart rhythms? Also, we should not use artificial materials to fill teeth.

There should be no false teeth. Or cataract operations.