Angiecomics

My sister can't see the BIG picture here! Think of how simpler everything would be! Simplicity lowers cost!

Opiate of the People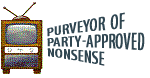 This is an excellent point. The cost of news is too high which is why valuable
party organs
public services like the NY Times and the Washed Up Post are losing money like a car company and may fail! What's more, many consumers are priced out of the news market because they can't afford newspapers as they are spending all of their money on house payments and big screen TVs.
THIS IS A TRAGEDY! DOING NOTHING IS NOT AN OPTION!
We must reform news NOW. I propose a National News Reform plan built around the following principles:
Everyone will be forced to subscribe to a daily newspaper whether he or she can read or not, or else face fines fees of up to $50 per person per week.
A public news option will be established which subscribers can purchase their daily newspaper from in case they can't afford their local private paper.
Everyone will still be able to keep their local papers but if they move or their local paper goes out of business, they will be REQUIRED to start taking the public paper.
I'm sure everyone will agree this plan will help keep the cost of news down while ensuring everyone has access to this vital public service. I urge all party members to call the Polituboro now and demand they begin working on this! IT'S FOR THE CHILDREN!

Red Square

Welcome to the Cube, Angiecomics! Hope our comrades will become one big fan collective of yours.