Father Prog Theocritus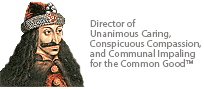 Vodkavich, your idea of working proles to death is a time-tested one. The lifespan of a Roman slave was just over 20 years, if they worked in construction. Well, plenty more where they came from.

But you might consider keeping them alive on paper, if you can get them qualified for disability checks. Then they have value--as long as they are thought by the government to be alive.