Red Square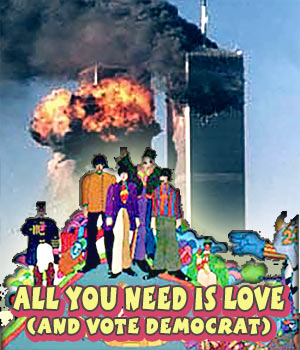 It has come to our attention that this year the City of New York is planning to commemorate 9/11 by playing the French national anthem. At 2pm sharp, at Ground Zero and all over New York's five boroughs, dozens of local bands will be playing "La Marseillaise" in honor of France's contribution to the War on US Imperialism.
Technically, the bands have been booked to play "All You Need Is Love" which begins with "La Marseillaise" (from the Beatles' psychedelic Yellow Submarine album and cartoon) - a choice made by Commissioner Kelly's wife who's in charge of the musical part of the project.
The City officials are expected to be joined by a large
"9/11 Truth" peace rally
which is in part sponsored by Yoko Ono, who has written a
testimonial haiku poem
for the occasion and is donating a number of materials promoting her current world tour exhibition, "Imagine Peace."
A large march is also expected on Sept. 10 at Ground Zero, with the purpose of distributing Yoko Ono's promotional posters, buttons, placards, and fliers - as well as to heckle George W. Bush who is scheduled to speak there.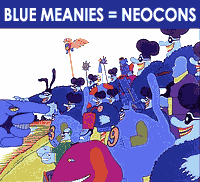 ---
Simultaneously, and absolutely coincidentally, both US Senators from New York (Schumer and Clinton) leaked to us details of the famously secret Democrat platform with regards to homeland security.
According to the source, Democrats are planning to build a giant Yellow Submarine and use it to crush the Blue Meanies. While it remained unclear just who exactly the Blue Meanies are, it is safe to assume that Democrat leaders use it as a code word for Bush, Cheney, and Rumsfeld.
"It is obvious that once Bush and his Neocons are gone, all violence will stop and the world will love us again," the source said. "That is why we urge everyone to vote Democrat this November."
Armed with these facts we went out into the street to see what New Yorkers had to say about that.
STREET INTERVIEWS:

"All You Need Is Love" and "La Marseillaise" is a tasteful mix of struggle for peace with anti-Americanism, which in my progressive book is the same thing.
---

All nations are inherently good and peaceful - except Americans who are inherently evil and violent. Therefore, to achieve world peace we must destroy the United States. Once the US is wiped off the face of the earth, eternal peace will ensue among nations never to be broken again, ever. People will finally be able to celebrate their differences and cooperate peacefully - gays, Muslims, union workers, and people of color - like they used to live before America started to oppress everybody. I know it because my social studies teacher said so.
---

Excellent choice of music. Absolutely. "All You Need Is Love." Either that, or an instant overnight 1700 ft. office block erector kit to fill this gigantic hole that's been sitting here for five freaking years, you know what I'm saying?
---

How about Yoko Ono takes her music to Waziristan where Al-Qaeda is, and see if she gets any converts there. If they sing along, hey, I'm all for love and smooching. But if they don't, who are we kidding by playing "All You Need Is Love" at Ground Zero?
---

Love is hardly something normal people would feel while being incinerated by jet fuel inside a collapsing building, but what do I know? I have the courage to enter a burning structure and rescue people from sure death - I just don't have the courage to confront Commissioner Kelly's wife about that music stuff.
---

I'm not so sure that "Love" was on the mind of NYPD officers as they were being crushed by the tons of burning concrete, but hey, who am I compared to Yoko Ono?
---

Forget love. All you need is good anti-terrorism laws, and a President who follows through with his promise to hunt down and kill terrorists so we don't have to jump down to death from a hundredth floor of a burning skyscraper. All you need is security agencies that care about our right to live more than about the right of a terrorist not to be offended by profiling. All you need is a Patriot Act to be in place 13 years earlier when the World Trade Center was first bombed by the same terrorists. All you need is Air Force, and Army with its Infantry and Armored divisions, and Marines, and Navy!
All you need is for all the stupid turncoat idiots out there to shut up and let the grown-ups do the job of protecting the country. That is all you need right now. Then you can have all the love you want, what do I care?
---

Ivana Kielbasa aka Irene
But it's so true-- an eye for an eye will leave the world blind. Even though those of us in Progressive America abhor religion, we must further the one religous idea of the most tolerant (and most humanistically similar)religion in existance-- Islam. We must further Islam's idea of suicide, uh, oops, I mean "forgiveness."

Instead of an eye for an eye, let's do the appropriate Liberal thing and poke our second eye out ourselves. No pain to our aggressor. So much the better to see with.


Laika the Space Dog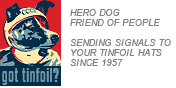 General Ivan
Zee Truhh Meen-ink ovf luv and peas Kan not Bee Con -Vehd (Pounding fist in muddy hole outside gulag in pouring rain on sunday)uhhnteel zare isk at leest a qoote froome Zee grate Jon Kerri Zis is Blast-Feemy. I sot zee Beetles Lie- kuh Israel..And vare isk qoote froome Berkely Cool-egde Stue-Dent or oohther eem-port-tant Berkely per-sun. .....Zee Peece Lohwving Pal-ee-stin-ions Moost Reilly loohhv Yoko Ohh-no!!!


Premier Betty

We must all learn to love everyone and let them kill us. Only by letting others kill us will we learn to live in co-existence.


Margaret
All you need is better laws. We need stronger laws with tougher prison sentences for doing things like flying planes into buildings so that the perpetrators, like those hijackers on 9-11, will think twice before conspiring to overthrow western civilization. They should at least get life in prison. In many cases I think some of those 9-11 hijackers should get several life sentences.


Premier Betty

Why don't we create the world's strongest catapult and fling them in the general direction of their home country, and hope that they have a safe landing?


dissident agitator #96
LOLOLOLOL !

the defeat-oooohhhhhs...