Groupthink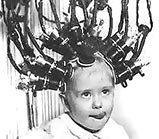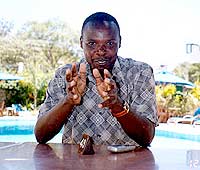 Godwin Kipkemoi Chepkurgor:
"How much for your daughter?"
---
A love-struck African playboy,
i
nspired by Hillary Clinton's values, has bid
40 goats and 20 cows
for her daughter Chelsea. Normally, Godwin Kipkemoi Chepkurgor is not interested in American girls.
However, Godwin and his family were impressed by Hillary Clinton standing by her husband during the Monica Lewinksy scandal, saying, "
She behaved like an African woman
." Godwin is hoping the apple does not fall far from the tree, and his premeditated sexual dalliances will be forgiven in advance.
Members of the right-wing conspiracy immediately went on the attack. Said one anonymous conservative pundit, "Hillary's third world values seem to play really well in the sticks (of Africa that is). This should give her a boost in popularity polls amongst the Congolese."
Bill Clinton stated that, while the final decision is up to his daughter, he would consider the proposal more seriously if offered the traditional father's bounty of three nubile cow maidens. Hillary Clinton characterized her husband's statement as yet another proof of ex-President's willingness to learn from other cultures and effectively implement this knowledge in practice.
Although Hillary considers herself lucky with cattle futures (in the past, an investment of the equivalent of 40 goats had brought her the equivalent of a diamond mine overnight), she won't let anything distract her from investigating the Karl Rove scandal, which she has called the worst scandal to hit the White House since Watergate.

Paul Kurgman
I won't humiliate anyone by posting my complex methodological approach and mind-bending formulae, but suffice it to say that:

A) A fair price would be $2.63 Billion.

B) We should be paying that amount to Mr. Chepkurgar so that he will be able to support his new bride.

C) The entire amount should be funded with new taxes and money diverted from the Oil War.

We've done it before, and we can do it again. And again.

Elsworth Toohey
I wonder if Bill would be willing to trade Hillary instead?


Hillary

First of all, I am never distracted!
Especially anything about campaign money launderin...$orry, I mean contributions
.
Verstehen Sie das?
Krugman, what the hell do you know about cattle futures?
http://www.agcenter.com/cattlereport.asp
20 head @ $125/head = $2,300.00
Sell that and invest in futures I should make twice as much as last time.
Hey, I'm looking at a quarter million!
The deal is on.
Somebody call Jim Blair......he is out of jail, isn't he?

Premier Betty

Elsworth Toohey
I wonder if Bill would be willing to trade Hillary instead?
I think Hillary plays the man more than Bill does in their relationship.
WJC vacationing in Kenya
Some say I'm an "Old Billy Goat" ha ha...Well, you know what I say? "Bring on the nannies!" Hell, come to think of it, I haven't had a nanny since Chelsea was a 'lil tater tot. Boy, she was somethin', let me tell ya! She had these nice firm nip.....ooops, gotta run, I hear footsteps.


Hillary

There you are! Get back here William Jefferson Clinton! Stop that taxi. Somebody stop that taxi! Polizei! Polizei!
Crap, all I wanted was for him to ink the deal with this Godwin Mugwamptorie or whatever the hell his name is. I can't pass up a quarter million! A quarter million earned is a quarter million saved. It all adds up! Be it $17.55 or $250,000.00
It's mine, mine.....OK Hill, take a deep breath.......

Premier Betty

Sounds like you are becoming Golum, Hillary. What with the "mine, mine!" part. Next thing you know you will be uttering the words "my precious!"

I save that for when Janet is in town.

Hillary