Ivan Betinov

The White House released the following statement:
Quote:
Um...er...it uh. seems that some...uh...person has...stole er stolen ummm...things belonging to uh,

Komissar al-Blogunov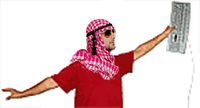 Somebody posted online "The president had no comment" which extracted a guffaw from me. However, there is a very serious breach of security here. Someone was able to touch something that would be near the president, and that's a huge problem. Who's looking after the president, the Secret Service or the TSA?