Red Square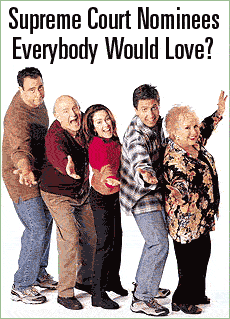 Soon after President Bush
named Fred Thompson
, former Senator and actor on the NBC television series "Law & Order," to help shepherd his yet-to-be named Supreme Court nominee through the Senate confirmation proceedings, he also announced a much-awaited list of nominees.
"After a long process of selection, aimed at satisfying all parties and groups," White House spokesman Scott McClellan said, "The President has finalized a list that he hopes everybody will love."
In his deliberations over potential nominees, George W. Bush considered advice from Sen. Patrick Leahy, senior Democrat on the Judiciary Committee who urged the President to find somebody to unite the country, not divide it.
"
You can certainly easily find somebody who you'd have every Republican and every Democrat voting for and the country would breathe a sigh of relief
," the Vermont Democrat had said. "
The President could easily nominate somebody and you'd see Sen. Specter and me walking out of the Oval Office grinning ear to ear. It doesn't have to be a battle
."
The first on the list of nominees is
Ray Romano
, who for the past nine years has brought one of America 's most-loved characters to life on the hit CBS show "Everybody Loves Raymond."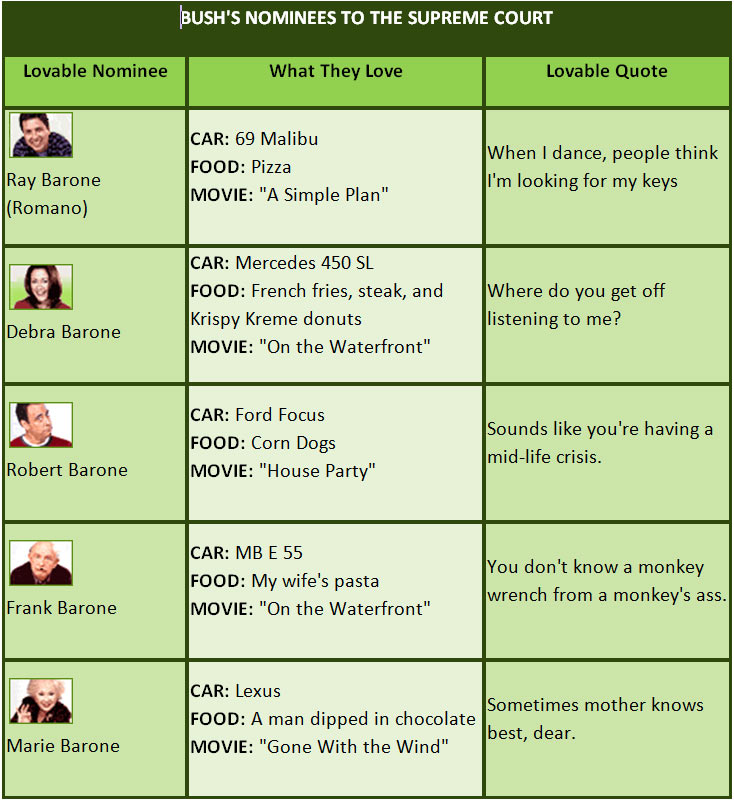 Sen. Ted Kennedy can't hide the look of panic.
---

Sen. Clinton: "I am sick and tired of Raymond!"
---

Sen. Patrick Leahy: "Do you see me grinning ear to ear? No. The country is divided more than ever."
---
With Senate Republicans hanging together with near unanimity in the tough judicial nomination fights, all eyes are now on Senate Democrats to see whether they can present a unified front to oppose this nomination. The first reaction from the Democrats was silence. Senator Ted Kennedy couldn't hide the look of panic on his face. Senator Charles E. "Chuck" Schumer, the Ranking Member of the Judiciary Subcommittee, spoke first: "I don't love Raymond. Nobody I know loves Raymond."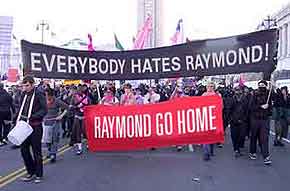 Democratic Leader Harry Reid expressed his firmly held belief that only a tiny percentage of American people, if any, ever really "loved" Raymond. While some moderate Democrats agreed that a few of them might find Raymond "tolerable," Sen. Hillary Clinton put an end to the discussion by shouting, "I am sick and tired of hearing that everybody loves Raymond. Nobody loves Raymond. In fact, everybody hates Raymond!" It is impossible to predict with any certainty which Democrats, if any, will stray from the party line after this remark.
Spontaneous protests erupted in several American cities with protesters burning effigies of Ray, Debra, Robert, Frank, and Marie - their signs reading "Everybody Hates Raymond" and "Raymond Go Home."
Prompted by the controversy, the Pew Research Centre examined public opinion in ten predominantly blue states. "Anti-Raymond feelings in most parts of the country we surveyed seem pretty entrenched," said Andrew Kohut, director of the Pew Center.
"Only 2% of Americans surveyed admitted they loved Raymond. 1% respected him, 5% found him bearable, and 67% had no feelings towards him whatsoever."
Pew Research Centre Questions:


Who do you love better, Raymond or your own mother?
Would you say you love Raymond enough to donate him your liver?
If Raymond were a woman, would you still say you love him?
Ricky Neva
Monitor this cyper pigs who love to watch the innocent! You peeping Tom; I hope you go blind! Now, what about this shit for Kangaroo Court? If that is what it is then this section is of no use. Get on with the Revolution and dump this court. I want a Sureme Rulerand not this fake democracy stuff.


Premier Betty

How did they get the name "Everybody Loves Raymond", if everyone really hates him?

DogByte6RER
Ray is an evil greedy capitalist pig. Only the bourgeios corporate swine in America love Raymond. Glory to Comrade Hillary and Comrade Teddy for opposing this nomination! They are true Party members of the highest order.
Stalinism will rise again!
Kommissar Betty
How did they get the name "Everybody Loves Raymond", if everyone really hates him?
The Ghost of Mary Jo K.

S.A.F. Marshal Pravda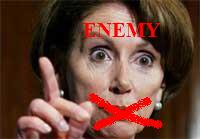 Quote:
How did they get the name "Everybody Loves Raymond", if everyone really hates him?

I denounce you KB! This is basic Party Propaganda 101 at work! Have you not been re-educated?
Bush got elected in the very same way...everyone SAYS they love him, but they REALLY hate him! So, you see, the swine Bush really DID steal the last election in 2000!! How else could he have beed "selected"???
Oh, I understand... I think...

Kommissar Betty
Groupthinker
I heard that Raymond keeps a private plot for growing potatos and beets...

He cannot be trusted.

Also, he eats babies...