Red Square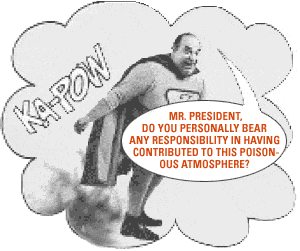 Superhero Fartman questions President Bush at the White House press conference, April 28, 2005 (re-enactment).
---
WASHINGTON, April 28. President Bush's
press conference
at the White House was, as always, jam-packed with relentless questioning directed at G.W. Bush by the White House press corps. Even though most questions were of vital importance for the future of America and the rest of the world, admittedly, the biggest question on everyone's mind still was, "who farted?"
The smell appeared shortly after a portly man entered the room, wearing brown cape and yellow spandex with the letter "F" embroidered on his chest, a half-finished can of Heinz Cheesy Tomato Baked Beans in his hand.
Within minutes the stench became nauseating, covering lenses of major TV networks' cameras with solid fog. The gasping press corps stoically remained seated, held in place by professional ethics, as everyone believed this was the biggest opportunity in years to point an accusing finger at President Bush.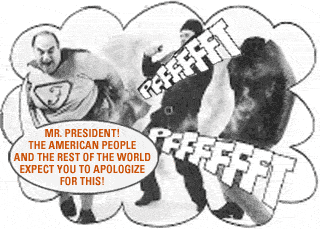 Before any of the accredited journalists could reach the microphone, the man in the brown cape took the matter in his own hands. He introduced himself as Fartman and confidently proceeded to question President Bush whether he admitted any personal responsibility for having contributed to the poisonous atmosphere in this room, and whether he felt the need to apologize.
Fartman's bold and relentless questioning made him an instant Superhero among the White House press corps who cheered him while holding their noses (something they had not done since John Kerry ran for president).
---
The People's Cube correspondent later conducted an exclusive interview with the Superhero as he was getting ready for takeoff from the White House lawn.
Red Square
: What is your political affiliation and are you a registered voter?
Fartman
: I'm an independent but I voted for Kerry. I love his style.
Red Square
: What do you think of the level of today's political debates?
Fartman
: I watch C-Span regularly, and the level of political debates troubles me deeply. What have become of us? Senators sit all day behind closed doors and point fingers at each other, and in the end nobody knows who farted. That's a lot of people in one room, many of them elderly, I mean, come on! There's got to be at least one who did it. I think the American people have the right to know.
Red Square
: Which Party do you hold responsible for this situation?
Fartman
: The Republicans can definitely smell a fart, but by the time they're done looking around, all fingers are already pointing at them. The Democrats are faster, they've picked up some of my tricks.
Red Square
: Can you give an example?
Fartman
: The crowded elevator trick, for instance. I love visiting office buildings. You fart on the eighth floor and exit on the ninth, and on the way out you throw an accusing stare at the guy who pressed the highest button. That's what Clinton did to Bush before leaving office, with the stock market bubble, the economy, and the Middle East . It was a classic! Jamie Gorelik and Sandy Berger were also great but they got caught. It's a lost art, really. The best they can do these days is cry 'knobs' and punch Tom DeLay or John Bolton because they didn't cry 'safety' first.
Red Square
: Who is your favorite political figure?
Fartman
: Ted Kennedy is my type, definitely. I'd like to take Barbara Boxer for a ride in an elevator one day; she really gets my juices flowing. But I don't want to make any political endorsements at this time.
Red Square
: What made you come here today?
Fartman
: My citizen's duty. There's been enough immature bickering. With all the meaningless squabbling around social security and judicial nominations, I thought I might just go on national TV and show people some real class.
SBerezin
Uh, I think the National Lampoon will quite interested to see their graphics being used uncredited.  But then again, that's what Communism is all about.  From each according to his abilities to each according to his needs.  You must not have had the ability to draw your own fartman. No?


Kommentariat
Off to the re-education camp with you!

Kenneth the Kulak
Oh, wow, there's a real twist.
Original graphic copy(?) going uncredited from National Lampoon being used as satire.
Whodda thunk it?
That's not funny, that's sick!
And the Black Sox won the World Series last year.
I didn't know anybody still read Natty Lamp.
Yes, oh yes. Natty Lamp will be quite interested. Your attitude has been noticed!
Somebody call State Security Humor Committee!

Kenny K.


Premier Betty

Who is the man behind the Fartman suit? could it perhaps be Comrade Michael Moore? Altough if he farted, then there would be no one left to tell the story.


Commissar_Elliott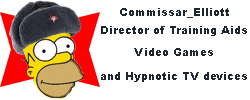 Premier Betty
Who is the man behind the Fartman suit? could it perhaps be Comrade Michael Moore? Altough if he farted, then there would be no one left to tell the story.
Hey, don't blame Comrade Moore, he's just a little too in love with the spoon, and besides, it's the spoon's fault for making him fat.

Grigori E.R.