Red Square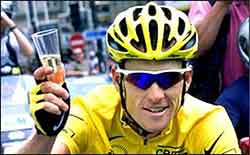 ---
As
Reuters
reported yesterday, the seven-time Tour de France winner Lance Armstrong, in the sportsmanlike display of fairness and transparency, showered representatives of French media, the French Ministry of Youth and Sport, and Parisian drug testers yesterday with a convincing stream of "surprise" urine sample, which he explained was a head-on shot to persuade the world that he was clean as a whistle.
The triumphant Texan's puissant message to the French media came after it had printed doping allegations against him based on Armstrong's
six-year-old urine sample
found in a Parisian laboratory. The allegations of using performance-enhancing drugs persisted even despite six negative "surprise"
urine tests conducted on Armstrong
by the French Ministry of Youth and Sport in this season alone, making him the most urinating athlete in any sport.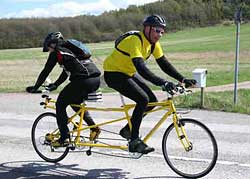 Lance Armstrong and Sheryl Crow
---
"I gave them their deserts, consider this a confirmation sample," says the 33-year-old bicycle whiz from Texas. "They pissed me off, they got their comeuppance. The whole thing stinks to the skies, but I guess in France that's the norm."
World's leading sports commentators are treating the Tour de France winner's latest exploit with a mix of admiration and envy. "Gary Cooper could have played him in the movies: strong, silent, determined, humble enough, an all-American boy making a splash in the French media," wrote
one observer
. Others, claiming to be experts, maintain that just like his seven victories in a row, such feat could not have been accomplished without performance-enhancing drugs.
In an article entitled "The Niagara Falls in Paris " the French newspaper L'Equipe claimed that the sample they had been soaked with yesterday once again contained the banned red cell booster EPO. "We caught Armstrong with his bicycle shorts down," claimed the paper.
"The only performance booster they'll find is six packs of Budweiser," says Lance Armstrong who dismisses the French claim as envy of his miraculous performance, hinting that he might not sue them for such allegations. "
Freud called it penis envy
," said the Tour de France champion.

Chairman M. S. Punchenko

Anything that occupies close quarters with Sheryl Crow is not "clean", sorry Lance...


Premier Betty

Why is he holding his urine sample in a shot glass like container?