Red Square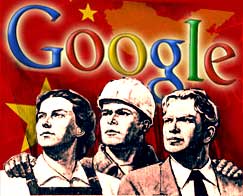 URGENT ANNOUNCEMENT:
Google, KinderStart, Face-Off in Federal Class Action Free Speech Lawsuit
The hearing is scheduled for 9:00 a.m. on Friday, June 30, 2006 in United States Federal Court, 280 S. First Street, Courtroom #3, San Jose, California. While the hearing is open to members of the press and the public, cameras will not be permitted. If you live around the Silicone Valley you've got to be in that courtroom to show the judge that the People are watching! Be there or be square!
QUOTE:

The lawsuit was filed in Federal court on March 17, 2006. According to the company, Google's co-founder, Larry Page, declared that a search engine should be ''like the mind of God.'' Victor Goodman, Founder of KinderStart.com commented, ''It's clear Google is acting like God as they determine what we mortals shalt and shalt not see. Is this company that censors speech and ideas in China now doing it in the USA? Google decides what news we get, what sites come up, and what sites disappear -- in effect, what we buy and think. This case is about far more than Kinderstart; it is about our freedom to know, speak and choose without a self-appointed Gatekeeper.''


---
This Friday the world's future will be on trial. It may be only a major pre-trial hearing, but that's where the judge will decide if Google should be subject to a class action Free Speech
lawsuit
. If the case goes through, Google's entire
Great Leap Forward
may be at stake, to gain control of the world's free speech and manipulate it in the interests of the
Greater Good
™ the way they already do it in China.
Our own
experience with Google
tells us that despite their claim that the entire page ranking process is automated, there's a palpable presence of an invisible hand that shuffles the deck for you. How can you know what's good for you unless Big Brother tells you that?
That's why
Al Gore works at Google as a senior adviser
. - to decide what information matters most and how it ought to be distributed. In fact, it takes so much of his time that he's been neglecting his own
Technical Advice column
at the People's Cube.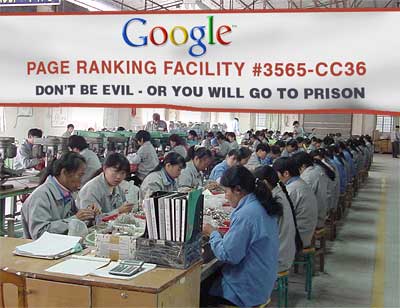 Komrade Zuulski

Margaret
Komrade Zuulski
Comrades rejoice! The new and Improved Google is here!
Komrade Zuulski, Communist Google is a glorious tool! Thank-you so much. I would feel much safer though if the Internet Police were watching over it.