Sister Massively Opiated

RedtheProgressiveFox
Would not it be a nice touch to say that Moses was a Jew?





{Character off}



Does anyone remember if he was from the tribe of Judah or not? I know, I know, so sue me for forgetting.

{Character on}
My pointy trans-specied Comrade! Where have you been? How are the little ones? I have missed you and the Tupolev is needing many replacement parts if I am to keep from ditching Meow and Dr. P. into the ocean....
I realize that some of this has been answered by other Comrades, but some clarification is in order from The Yid...
Yes... Moses was a Jew but Moses is neither an Israelite nor Jewish name. Rather, it is derived from Tuthmosis and it was Pharoah Tuthmosis I's daugher, Nefure or Nefurer, who found Moses and was allowed to keep him as her own. Tuthmosis I was a commoner and he would have passed on the position of the Pharoah, Tuthmosis II to Moses, because he had no sons of his own at that point. He had married Ahmose, a sister of Amenhotep I, and was named king when the king died childless. Further (Acts 7:22) Moses had been educated into the Wisdom of the Egyptians, but (Heb. 11:24) By faith Moses, when he had grown up, refused to be called a son of Pharaoh's daughter. And so when Nefure's father, the Pharoah, Tuthmosis I died, she was 15 and ascended to regnancy as Pharoah Hatsepshut - a female Pharoah who dressed as a man, in order to rule as Pharoah and who was accepted as such. Moses became her steward, Senenmut (also called Hatshepsut Xnem Amen). He appears in literature until about the 16th year of her reign. Although Tuthmosis I died and his daughter ascended to the throne, he did have sons by secondary wives who were Nefure's half brothers.
Moses when 40 years old slays an Egyptian who is beating a Hebrew slave (Ex 2:12) and flees Egypt (Ex 2:15) because pharaoh (Moses replacement) wanted to kill him. He flees to Midian/Midren, and Hatshepsut marries her half brother who becomes Tuthmosis II. It was because of this half brother that he had to flee, because Tuthmosis I had wished Moses to become Tuthmosis II and so although he refused, he was seen by the half brother as a rival... Confused yet? The Egyptians were a pretty messed up inbred bunch... eventually, they developed Marfans because of inbreeding...
Anyway... the Hebrew slave that was being beaten by the Egyptian that Moses killed WAS NOT building pyramids, by the way... the Hebrews built for Pharoah the store cities of Pithom and Raamses. They had not become slaves until Joseph and all his brothers and that generation died and a new Pharoah arose who had not know Josheph, and so he enslaved the Hebrews... blah blah blah... beginning or Exodus...
As for Moses, despite having been "educated into the wisdom of the Egyptians", he turned back to Judaism, and as his brother, Aaron, BECAME the high priest, this is where it gets confusing... There were Kohenim... Levites... and Israelites... EXCEPT - all Jews today are descendants of the two tribes Benjamin and Judah... before the dispersion of the 10 tribes, the Levis (Levis... not Levites) were special in that they had no land of their own and moved and lived among the other tribes. But after the Exodus, there were three tribes... or classes... Kohenim or in English Kohens - the priestly class. Levites - the helpers to the priests... and Israelites... proles... Aaron was high priest and the descendants of Moses and Aaron were High Priests and so they would have been Kohenim... EXCEPT, they were descended from the old Levi tribe (not Judah or Benjamin because they were of the wandering tribe of Levi and because they were in Egypt, they retained their status of Levis... all other Jews would have been from the two remaining TRIBES - Judah or Benjamin)... so, the problem is not to confuse the tribes with the classes... Any Jew might be from Judah or a Benjamini, but after the Exodus, if you were of the priestly CLASS, you were a Kohen. If you were a helper to the priests, you were a Levite - and they had special privileges that the Israelites, or commoners, did not, as a result of their work in the temple... they had access to the spoils of sacrifices, just as the Kohenim did, though were only helpers...
So, Aaron and Moses were Levis by tribe, but a Kohen by class... I hope that makes sense...
Jews today are still considered, through lineage, to be Kohen, Levite, or Israelite, though it is not something that can be accurately discerned by looking at someones' name. It is passed down from parent to child through one's paternal grandfather, and marked on a child's Jewish birth certificate. There are things within Jewish ceremonies that Kohenim and Levites can do but Israelites cannot and theoretically, there are limitations on the ways that each can mix... but as it is impossible to tell who is really what, there are ceremonies/blessings that are performed that basically give an Israelite a pass in some respects. That said, most Jews know which of the three they theoretically are and there are things that Kohenim and Levites can do in synagogue or when leading prayers that Israelites cannot if there is a Kohen or Levi present. Kohenim are given first right in saying certain prayers, then Levites and then Israelites, and when a Kohen or Levite dies, or is born, the designation is appended to their name. They used to say that you could tell a Kohen by whether they could make the priestly blessing with their hands - that is, make the shape with your hands that Mr. Spock does when he says, "live long and prosper" - splitting the four finger of each hand into two and two like this: \V/, ,\V/ the little things beign your thumbs... the ability to spread one's hand this way is genetic, as is the ability to roll one's tongue or curl it... some people can and some can't but they've proven that it is a genetic ability that is passed on. The problem is that over the intervening 3,500 years, not only have Jews interbred enough but they've interbred with non-Jews to the point that the ability is a meaningless indicator... I can do it and I'm an Israelite... but surprisingly, there are people who cannot do this with their hands and it is an inherited abilty... It's not recessive enough that it remains a wholly Jewish genetic indicator, like Jews beign almost the only people who can get Taysachs disease... but it's genetic nonetheless.
Since the destruction of the 2nd Temple, most priestly and Levite privileges and prohibitions have been lost, but some still remain... it's a rather long list even now and the reasons are rather convoluted, since Jewish law cannot be altered in any way since the destruction of the San Hedrin... and so Judaism is a religion that is, strictly speaking, frozen in time, and unable to react to changes in society/culture/knowledge. Some might say that no religion can change, but Catholicism changes, as do other Christian religions. Without the traditional Jewish court (not the Bet Din, which is simply a religious court of law for things like Jewish marriages, namings, divorces, etc.), no dogma can be altered, but there are thing that can no longer be done, such as sacrifices, because they could only be done by the priestly class (which no longer exists - we only have Rabbi's, who are only 'teachers') and only in the Temple (which no longer exists).. which is why Judaism is so often a religion of lament. Until the Temple is rebuilt, we are a religion unable to react to the realities of modernity.
Which is why I'm a Buddhist, or a JuBu... or a dolphin... The religion of my birth, despite containing many wisdom traditions as all religions do, is one in which I am fundamentally unable to find meaning in, in the modern world. Too much has changed, particularly for women, so that unless I want to cut myself off entirely from the world and live a ghettoized existence, my religion has no resonance for me. It is the reason that the only service I will attend is Kol Nidre - the evenining service of Yom Kippur, which translates as All Vowes, and is a lament to God for the sins we have committed toward God and toward our fellow man and which requires that we ask not only God, but also those we have wronged, for forgiveness. It requires that there be no intermediary between me and God, and I must take responsibility for the wrongs I have comiitted and ask for forgiveness from the person I have wronged. It has also come to be a lament for the loss of our religion and the Temple, and so because it requires me to take responsibility for myself, requires no intermediary between myself and God, and allows me to mourn the loss of relevance and resonance of my own wisdom tradition in my life, I will sometimes go to service. More often, I stay home and say the prayer on my own, which is also lamentable, as Judaism is a religion which values community and the care of that community, but which is a community I feel alienated from. You can understand why I often say I am conflicted about religion. Even my own has deteriorated into a political and power structure, which has little to do with it's roots, and which, if I want to find meaning in it I have to practice cafeteria Judaism... though I suspect that would be the case even if it weren't as it is.
"As heaven is high from earth so are my ways from yours, and my thoughts arenot your thoughts." (Isaiah 55:8 )
"There are more things in heaven and earth than are dreamt of in yourphilosophies, Horatio."
(Shakespeare-Macbeth)


If God's ways are not mine, and his thoughts, not mine, how then can the 'magisterium' of any denomination tell me the truth of existence. I suspect, were it to come to it, that I'd be a Jesuit, and to quote a good friend of mine who is a Jesuit, "There are Catholics, and then there are Jesuits." I know a handful of Jesuit priests because of my interest in astronomy and having visited the Vatican observatories on Mount Kitt, and most would tell you privately, that they no longer consider themselves part of the church... they've just seen too much of the universe, which is why they are called the Sons of Galileo, both within and without the Catholic Church... Of course, I'm a woman, so that's impossible too... so basically, I'm fucked.
Sis

Sister Massively Opiated

Mikhail T. Kalashnikov
I too have conformed to the wishes of the party. Thank you for the mass-transit resources, I would have had trouble getting there without them.

-AK
My Goodness... Everyone is back....
Ak!.. ak ak ak!...
Missed you Comrade Kalashnikov...
I found a spider in my linen closet yesterday and left her...
there... so I thought of you and I wrote you a dolphin haiku... or two...
Sis

Marshal Pupovich

Commissar Theocritus
The alcohol intake is about the same, you know, but Meow, even at his very worst, has never left a girl to asphyxiate in a car while he slept off a drunk.
Speaking of which.... I ran across the most amazing quote....listed under "You Can't Make This Stuff Up:"
"If she had lived, Mary Jo Kopechne would be 62 years old, Through his tireless work as legislator, Edward Kennedy would have brought comfort to her in her old age,"
- Charles Pierce, in a Boston Globe Magazine profile of Sen, Kennedy, Jan 5, 2003
I ask you know Commissar, is there a more to the point endorsement for Sen Kennedy than this? It makes tears come to one's eyes.

Father Prog Theocritus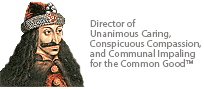 Well, consider his tireless work for the environment. Not wanting wind farms off the Massachusetts coastline. Might interfere with his sailing.


niHil
If people are thoughtcriming to delve into that not-quite-banned scripture thing, there is this tidbit:
Quote:
John 10:8
And Jesus said unto them, I beheld Satan as lightning fall from heaven.

Let's look up lightning from the highest place and see what Strongs Concordance says:
(There is one online, you can verify)

1300 baraq - baw-rawk' ; lightning;
1116 bamah - bam-maw', high place