Hillary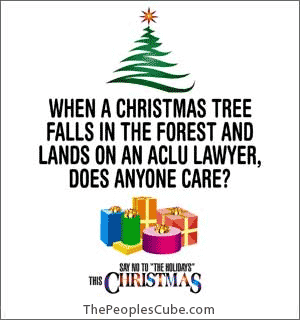 'Twas the week before Christmas, when all through the Land

The ACLU lawyers schemed and they planned......

St. Nicholas was hung on the lamp post with care

In hopes that the Christians would get a big scare.

The children were drugged with their Ritalin meds

While the Pledge of Allegiance was offically proclaimed dead.

With Momma and I working , there'll be no relaxing

'Cause the Federal government wasn't done taxing.

When out at the courthouse there arose such a clatter

The ACLU trotted out their atheist mad hatter.

"There'll be no more Christmas" they said in a flash

and no their client won't settle for cash.

"1st Ammendment!" cawed the barristers, just like a crow!

"Seperation, church and state! It's in there you know!"

When , what to my wondering eyes should appear?

An appellate Judge, from the Ninth Circut, my dear!

With a commie opinion, so stupid and slick

a normal person would be considered mentally sick.

More rabid than beagles, his law clerks they came

And he gavelled, and shouted and called them by name;

Now, Chavez! Now, Marx! Now, Engels! Now, Lenin!

On Castro! On Brezhnev! On Khrushev! On Stalin!

Remove the Menorah candles and Manger stall,

Now stash away, stash away, stash away all!

They spoke not a word and went straight to work

For Hannukkah and Christmas were only for jerks!

They gave us the finger and thumbed us their nose.

There is no freaking God! The ACLU knows!

Now Christmas is gone, you can all go and whistle

Who cares if the ACLU are like thorns on a thistle.

But I heard them exclaim as they slunk outta sight

"Litigation to all, go screw all your rights!"

Premier Betty

Cool, in 7th grade I wrote a poem about Christmas. The only line I remember from it was:

"As Santa came sliding down the chimney his first thought was: 'Oh shit! The fire's still lit!'"

Obviously I got sent to the principle's office and had to write a whole modern day version of "'Twas the Night Before Christmas" with the same rhymes. Too bad I deleted it, it was funny.


Commissar Vladimir Ivanov
I don't know about the ******mas part, but that was a cool poem. Certainly we know who's leading the USSA next.

Vladimir Ivanov

Ivan Josefovich
If we can't count on the ACLU to protect us, who can we trust?